For most college freshmen, working in a lab typically means following the step-by-step instructions of class assignments with the goal of performing a specific experiment to produce a predetermined result.
But a handful of Harvard freshmen got the chance to experience real lab work by exploring how altering genes in yeast affected the cells' functions.
Created by postdoctoral fellow James Martenson and Vlad Denic, a professor of molecular and cellular biology, the Wintersession class was designed to give undergraduates an up-close-and-personal view of the research that takes place in Harvard labs, and the opportunities they have to take part.
"Students often aren't aware these opportunities exist, so we think of this as a gateway for freshmen interested in doing research," Martenson said. "But we also wanted to emphasize some of the critical thinking skills we use every day as scientists, but which may not be emphasized as much in more traditional coursework."
Over the course of the multiday class, each student worked with genetically altered strains of yeast to perform a series of three experiments.
"We chose yeast because it's a classic model organism in biology," Martenson said. "A lot of very important work has been done in yeast. In fact, much of what we know about basic cell biology we've learned from yeast."
Using their various strains, he said, students performed a series of experiments aimed at testing how genetic changes altered organelle function.
A critical part of cell biology, organelles are essentially compartments inside cells, and include everything from mitochondria — which act as the cell's power plants — to nuclei, which contain genetic material.
"One key question in cell biology is how organelle quality is maintained, because many organelles house toxic chemical environments," Martenson explained. "You also need a way to ensure the organelles are healthy, and if they do get sick, they need to be identified and eliminated before they cause a problem for the rest of the cell."
To probe questions of organelle health, Martenson is focusing on an organelle called the peroxisome — and students did the same.
"We started with a list of genes we had reason to believe were important for peroxisome function and quality control, but which were uncharacterized," he said. "We thought it would be interesting for students to be involved in something that we're actually interested in studying, so their work could yield interesting results that could inform our research."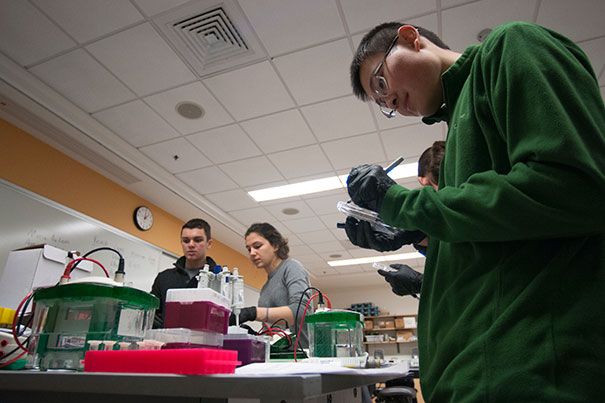 For the students who took part, the experience was invaluable.
"I didn't have a lot of lab experience, and I felt this class was a good way to expose myself to it," said Dylan Rice. "I feel like I've learned a lot, and I've really enjoyed it so far."
Though she had already worked in another lab, Irla Belli said the relaxed atmosphere of the class helped her learn that making mistakes is often a key part of research.
"You learn a lot from them," she said. "In this four-day span, I've learned more than from all the labs I had in class. This has solidified my desire to pursue the Ph.D. part of an M.D./Ph.D, and even though it's very serious science, it's relaxing."
For Amanda DiMartini, the class was a chance for an in-depth look at a field she's considering as a concentration.
"I did some research in high school, but it was relatively simple," she said. "I'm interested in concentrating in some area of biology … and this was a chance to see if I want to continue doing research throughout college. I feel like, in this class, we're learning to think scientifically, and to think critically, and how to do research at a higher level. I don't regret [this class] at all."