University officials, staff, administrators, faculty, alumni, and students stood alongside alumni veterans and active servicemen and -women on Thursday evening at a Pusey Library reception for an evocative exhibition that traces the interwoven histories of two of the country's oldest institutions: Harvard and the military.
Delivering brief remarks at the crowded event, Harvard President Drew Faust thanked alumni and students for their continued support of the Reserve Officers' Training Corps (ROTC) and the soldiers for their ongoing service and commitment. The exhibit, "To Serve Better Thy Country: Four Centuries of Harvard and the Military," offers important examples, Faust said, "of service throughout the history of the country and the way Harvard contributed to the essence of America and its ideals and its progress. And also sacrificed."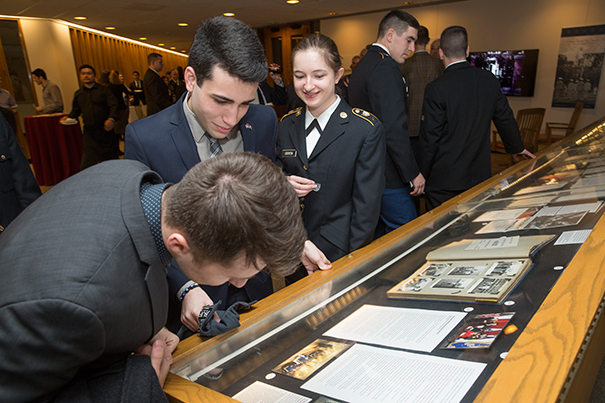 "And so let us honor the sacrifice, and let us honor this noble tradition," Faust continued. "History is such an important part of defining who we are and defining what our ideals are and defining the sacrifices that Harvard has made in the American nation and the American experiment in democracy and justice. So I thank all of you here who have served in dedication to those ideals and that spirit and this nation. And I hope you see this exhibit as honoring you and the traditions you have taken up, and setting a path for the future about where Harvard commits itself and what its values must be as we understand what we owe to the larger world of our nation and our society."
Related
As Harvard's president, Faust has been instrumental in returning ROTC to the University. She welcomed Navy ROTC back after a four-decade absence in 2011, following the repeal of the military's "Don't Ask, Don't Tell" policy. She marked the return of Army ROTC in 2012 and signed an agreement in 2016 reinstalling Air Force ROTC.
Jonas Akins '01, M.B.A. '12, was an intelligence officer in the Navy for six years, and he is now working on a research project with Tom Nicholas, the William J. Abernathy Professor of Business Administration, about Harvard Business School during World War II. Akins thanked Faust for her efforts.
Akins, who also heads the Harvard Veterans Alumni Organization, said he was grateful for Faust's leadership "in returning the military through ROTC and other means to a place of prominence here on campus, and I am glad that Harvard again values and hopefully will continue to value those who have served and will go on to serve in service of the nation and the long Crimson line."
While looking over the Pusey Library show, Amy ROTC cadet and human evolutionary biology concentrator Alannah O'Brien '19 was surprised to find she was in the exhibition. O'Brien, who hopes one day to become an Army doctor, laughed with friends and other cadets as she spied a photo of herself in olive athletic gear passing Dillon Field House after a workout at Harvard's Murr Center.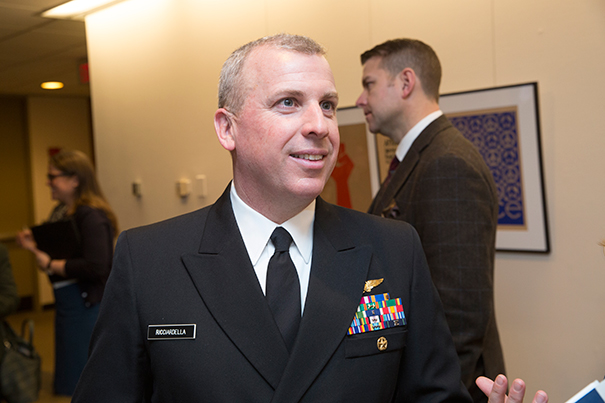 O'Brien said she wasn't aware of the long history of Harvard and the military and that the exhibit and reception helped to foster a welcoming community. "It shows that Harvard is here to support us, and that if other Harvard cadets could do it in the past, then we can do it now."
Harvard Kennedy School (HKS) Dean Douglas Elmendorf, who is also the Don K. Price Professor of Public Policy, said the exhibition "helps people at Harvard to understand how tightly connected University and military service have been over the life of this country."
Displayed on the gallery's walls and in five cases, the show's diverse ephemera track Harvard's military connections from the colonial militia period to the present and include correspondence, journals, posters, sheet music, and numerous photographs. One of those pictures was the favorite item of Evelynn M. Hammonds, Barbara Gutmann Rosenkrantz Professor of the History of Science and of African and African American Studies. Hammonds was dean of Harvard College when Faust singed the agreement with then-Navy Secretary Ray Mabus, J.D. '76, that brought ROTC back to campus.
Hammonds pointed to a photograph of Alfred Frazier White, an African-American soldier and Harvard Law School student from 1916 to 1918 who died of influenza at Camp Humphreys in Virginia in 1918.
"I just love that picture," said Hammonds. "It's just a very vivid picture … and it shows that African-American students were as involved in the commitment to service as other students."
Retired U.S. Air Force colonel and atmospheric physicist James Metcalf '67 said it was "great to see Harvard recognizing this piece of history in such a way."
Metcalf, a longtime supporter of ROTC, recalled how gratifying it was to see Harvard welcome back the military programs. "I felt sort of alienated from Harvard after 1969 when ROTC was official abolished, so seeing ROTC come back has helped me get re-affiliated with Harvard."
Ted Ricciardella, a Navy commander and a HKS national security fellow, perused the show's World War II material.
"It was just a fascinating time here at Harvard," he said, "because the campus really was taken over by the military. All the dorms in the Yard and the Houses down by the river were taken over by military units. The Crimson newspaper was now the Armed Services News. The whole community … it was all about the war effort."
Ricciardella said that he has felt welcome on campus since he arrived and that the exhibit is another an example of the University's commitment to deepening its ties to the military. "When you have less than 1 percent of the American population serving on active-duty military, it is a relationship that needs to be fostered," he said, "and we need to understand each other. Events like this help to further that understanding."
University archivist Megan Sniffin-Marinoff, who helped develop the exhibition, said it was the first to comprehensively document the relationship between Harvard and the military. In researching the show, Sniffin-Marinoff said she was reminded of the important work still to be done to collect materials from more recent activities and conflicts, "especially from the Vietnam era forward, both from students and alumni as well as faculty and Harvard offices."