He is already known as one of Hollywood's most versatile screen stars, but Ryan Reynolds earned an offbeat claim to fame today with his visit to Harvard to collect the Hasty Pudding Theatricals' 2017 Man of the Year award.
The veteran actor, who earned a 2017 Golden Globe nomination as the star of the record-breaking film "Deadpool," was the leading man in a campus visit that culminated with the presentation of his pudding pot at Farkas Hall.
As part of the evening of zany festivities, Reynolds was roasted by Hasty Pudding members, joined them in some skits, and was to speak at a live-streamed press conference, followed by his attendance at the opening night performance of the Pudding's 169th production, "Casino Evil."
Earlier in the day, the Canadian-born performer toured Farkas Hall, took part in a seminar with Hasty Pudding members, and ate lunch with many of them at Harvest Restaurant.
"I'm very excited to be here," Reynolds said as he arrived for his midday tour.
Asked by his guides Derek Speedy '18 and Lola Radev '17 if he knew much about the theater group, Reynolds said he did — a bit.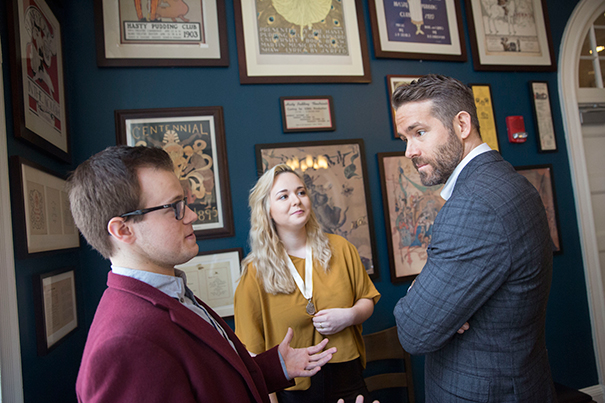 "I know the tradition. I know you've had five presidents in the club — three Johns," he said, referring to Adams, Quincy Adams, and Kennedy. "I know it was created in 17 …," he paused before being informed it was 1795.
"It's our job to give you a little more taste of pudding," Speedy said.
The nation's oldest theatrical organization, the Hasty Pudding Theatricals since 1951 has been awarding its pudding pots to performers who have made lasting and impressive contributions to entertainment. The student group also honors a Woman of the Year, this time Academy Award-winning actress Octavia Spencer.
The Hasty Pudding award places Reynolds in the company of such stars as Clint Eastwood, Tom Hanks, Robert De Niro, and Harrison Ford, all past recipients.
In a varied career that has seen him star in drama, action, and comedy movies, Reynolds most recently earned attention as Wade Wilson in the popular 2016 action movie "Deadpool." A producer of the film, he will also appear in "Deadpool 2," set for shooting later this year. He has starred in "Mississippi Grind," "Woman in Gold," "The Voices," and "Selfless."