Justin Hurwitz never even considered conservatory training. An accomplished pianist, the Los Angeles native wanted more from his college years than countless hours of practice and rehearsals.
So he attended Harvard. And it changed his life.
"I knew I wanted to study music but I also knew I wanted to go to school with a more diverse group," said Hurwitz, whose score and original song "City of Stars" for the musical "La La Land" earned Golden Globes earlier this month, intensifying the Oscars buzz that has been swirling around the movie since the fall.
On Tuesday, "La La Land" received 14 Oscar nominations, a tie with "Titanic" and "All About Eve" for the most in Academy Award history.
The film, a love letter to song-and-dance spectaculars from the '40s, '50s, and '60s, stars Emma Stone and Ryan Gosling as struggling artists who dream of making it big in Hollywood. The storyline struck a chord with Hurwitz, whose own dreams of success began taking shape in Cambridge in 2003.
On the phone recently from Los Angeles, the composer recalled being told a key Harvard takeaway would be "the people you meet." It was a spot-on prediction. As a freshman he met Damien Chazelle, a skilled jazz drummer whose budding passion for film foreshadowed the screenplay and director Golden Globes he took home for "La La Land."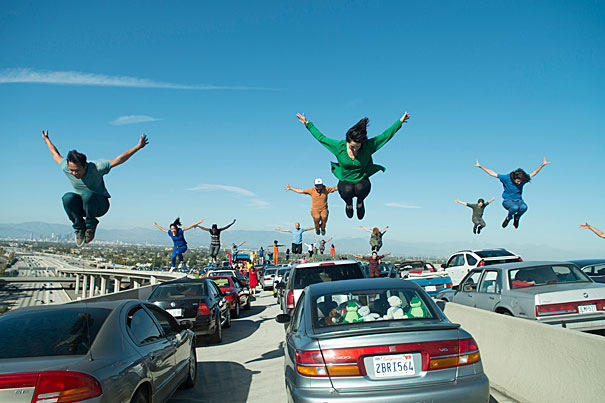 A shared love of music brought the pair together. As freshmen they jammed around Boston with their Brit-pop-inspired band "Chester French" — Chazelle on the drums, Hurwitz on a Fender Rhodes electric piano.
"We were just kind of drawn to each other," said Hurwitz.
Sophomore year the pair left the band, but their friendship deepened. As roommates at Currier House, in a space crowded with desks and Hurwitz's piano, they pushed each other's artistic boundaries, skipping parties and nights out to hone their respective crafts.
"He was writing screenplays at the time and directing short films for Harvard's Department of Visual and Environmental Studies and I started to really appreciate who he was as a writer-director," said Hurwitz. "And he was watching what I was working on, composing at my piano … and he started to appreciate what I do."
Soon they were working on the jazzy musical "Guy and Madeline on a Park Bench." The film, Chazelle's senior thesis and a precursor to "La La Land," made a splash on the festival circuit in 2009. Industry insiders took note.
Related
In 2014, came their next collaboration, "Whiplash," an unflinching look at a rising jazz drummer, his abusive instructor, and how far some will go for their art. The movie earned critical acclaim, three Oscars (sound mixing, editing, and supporting actor), and the backing Chazelle needed to finish "La La Land," a project he had begun in 2011.
Though Chazelle didn't write the screenplay for "Whiplash" until after he had moved to Los Angeles, the story reflected some of the drive and determination of those long nights at Currier House, Hurwitz said.
"Damien and I really bonded over this shared philosophy sophomore year of working really hard and sacrificing … I remember we would really egg each other on and make each other feel guilty for not working hard enough. And we just had a lot of conversations about how we both wanted to be really, really good at what we do, and what it would take."
For Hurwitz, part of the answer was an eye-opening class, "Music 51," which he called "the most life-changing thing I did at Harvard." Professor John Stewart used Johann Sebastian Bach's chorales, complex works for four voices that are widely considered masterpieces, to introduce his students to the building blocks of composition — counterpoint, rhythm, timbre, harmony, and form.
Hurwitz was a natural. Piano practice in high school could be "like pulling teeth," he recalled, but with composing, something he started at the age of 10, "the hours would just kind of disappear."
Stewart encouraged Hurwitz to follow Bach's lead and treat "harmonies as full of little melodies instead of just blocks of notes," and to pay close attention to the German composer's use of "dissonances and resolutions." Hurwitz credits the class for much of the "controlled dissonance" in his own work and for opening up "a lot of possibilities to me as a composer."
In 2005, Professor Joshua Fineberg worked with Hurwitz for an independent study on orchestration. They examined various scores, including the original piano work and later orchestrated version of Modest Mussorgsky's "Pictures at an Exhibition," and explored ways to write for particular instruments.
Fineberg, now at Boston University, lauded Hurwitz's drive to carve out his own path at Harvard and pursue his dream of scoring music for films.
"It was clear [he and Chazelle] were super-motivated," Fineberg recalled, "and that Justin knew the kind of thing he wanted to do from very early on."
Today Hurwitz brings the rigor he honed at Harvard to his work with Chazelle. He begins by plucking out a tune at the piano that he records and emails to the director, who typically says "no." Hurwitz keeps sending files until finally the right answer comes back: "That's incredible. I love it." The process can take weeks, and involve hundreds of rejected clips.
Though "La La Land" was inspired by past musicals, including Jacques Demy's "The Umbrellas of Cherbourg" (1964) and "The Young Girls of Rochefort" (1967), Hurwitz was determined to give his score a unique sound.
"I was deliberately trying not to listen to anything while I was composing," he said, "and instead was just reading the script and reading the story and thinking about what was honest for this movie."
The result is a hummable hybrid with big dance numbers, jazz-influenced melodies, and haunting songs such as "City of Stars."
"I love emotional and emotionally complex music and being able to compose what people are feeling," Hurwitz said, adding, "sometimes with film scores you want to cut against what is on screen and do the opposite to provide a counterpoint … but with musicals, you can compose very emotionally."
It was an emotional night for the Harvard-bred duo when "La La Land" made Golden Globes history by taking home all seven awards for which it had been nominated. After the ceremony Chazelle told the press the highlight of his evening was seeing his former roommate up on stage. That, said Chazelle, "was actually the single greatest moment for me."
Save
Save
Save
Save
Save
Save
Save