Damien Chazelle '07 says he believes in "somewhat unrealistic plans." After all, they've served him well.
The onetime Visual and Environmental Studies (VES) concentrator drove to Los Angeles after his graduation, and made his filmmaking debut with the warmly received "Guy and Madeline on a Park Bench." He took gigs writing pithy horror scripts and, unable to launch another project he'd been working on, turned to his own experiences.
In New Jersey, Chazelle had attended Princeton High School, where he was a jazz drummer, was involved with the school band, and came under the direction of a harsh music teacher who'd eventually become the inspiration for J.K. Simmons' portrayal of a blistering, abusive music teacher named Fletcher in Chazelle's critically acclaimed and Oscar-nominated film "Whiplash."
"It will always be a fresh memory, a somewhat traumatic memory," Chazelle said of his days drumming.
Making "Whiplash" was both serendipitous and stressful. Chazelle earned the backing of two other Harvard grads, co-producers Helen Estabrook '03 and Nicholas Britell '03, who believed in his script and talent. But they needed money, and to get it Chazelle took a scene from his script and made an 18-minute short, which screened at Sundance. It won second place — and investors. With a still-meager budget, the cast and crew worked long hours, with only 19 days to film the movie.
Oscar Wilde famously said that "life imitates art far more than art imitates life," and that could be said of "Whiplash." The film draws on Chazelle's biography. Much like the film's character Andrew, who is in a car crash en route to a performance and crawls from the wreckage to make it to the stage in time, Chazelle was in a serious car accident during the final week of shooting. He was hospitalized — but he turned up on set the next day to make the film's deadline.
Some things you can't make up.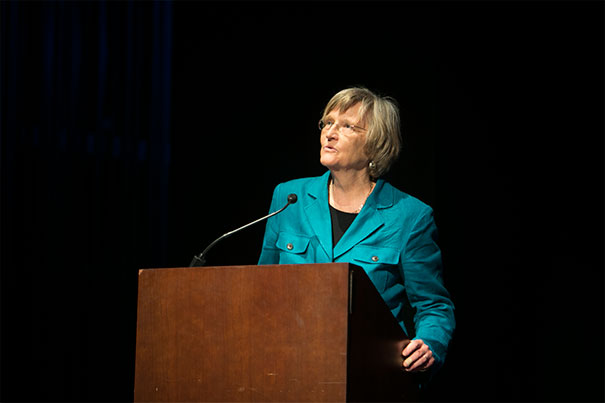 Chazelle returned to Harvard Wednesday afternoon alongside Estabrook and Britell for a talk at Farkas Hall moderated by his former teacher Robb Moss, professor of visual and environmental studies and chair of the VES Department. They were introduced by Harvard President Drew Faust.
"'Whiplash' provokes," said Faust, a strong supporter of the arts in learning. "It raises questions about art and performance, about learning and teaching, about the pursuit of perfection and the mania that pursuit can engender."
While the film was the key topic of discussion, Moss also quizzed the trio about how they ended up in Hollywood. After graduation, Estabrook had headed to New York, where she continued working in theater, but she always knew she wanted to produce. Los Angeles beckoned.
"I ended up getting a job trading currencies by day while writing music for short films at night," said Britell. "But I realized that I really wanted to be doing music, and music for film."
Moss praised the craftsmanship behind "Whiplash" — not only Chazelle's direction, but the lighting, the camera work, and the sound.
"I knew the music world firsthand," explained Chazelle. "When it came to putting these things on screen — more so than if I'd been doing anything that didn't directly reflect experiences of my own — I had a barometer of what was right. I knew I would be as harsh on how to make those things seem accurate as anyone else."
The result is a cacophony of sound mirroring the intensity of Andrew's struggle to please Fletcher, who abuses him both mentally and physically. And at the 2014 Academy Awards, the film won three Oscars — for best sound mixing, best film editing, and best supporting actor for Simmons.
"It was vindicating to us," said Chazelle, "because the entire idea behind the approach to this — within our narrow budget, and the location, and within the insularity of the music — was to make something that felt like a big populace action movie, or war movie."
Estabrook called the film a "parking lot movie," something people would argue about while exiting the cinema.
"One of the greatest joys in my life over the past two years," said Estabrook, "is sitting with my friends arguing about the ending of this movie."