With her small, strong hands, Wilma Tosa worked the dark gray clay across an old canvas cloth, folding in cups of water until the soft, kneaded material made a clean break in her hand.
"If it bends, it's too watery," said the Native American potter, breaking off a small piece and using her fingertips to form it into a long snake. "Maybe you have something on your mind, and it will shape itself."
As she started to coil the snake around a clay base, students from the "Fundamentals of Archaeological Methods and Reasoning" course taught by Matt Liebmann, John and Ruth Hazel Associate Professor of the Social Sciences, and Rowan K. Flad, John E. Hudson Professor of Archaeology, watched mesmerized before trying to replicate Tosa's handiwork.
"We often discuss cultural artifacts from an archaeological perspective — examining them, dating them, putting the pieces back together to gauge their significance," said Landy Erlick '19, who lives in Adams House, while sitting across from Tosa in the Office for the Arts at Harvard Ceramics Program studio in Allston. "We're immersing ourselves in the culture we're studying. Taking this new approach allows us to have an even greater understanding of artifacts, their purpose, and their meaning, because now we've created them, too."
Liebmann, who has worked with Tosa and her husband, Aaron, for nearly two decades, brought the couple to Harvard from their home at Jemez Pueblo in New Mexico to show students artistry that dates back at least 700, probably thousands, of years.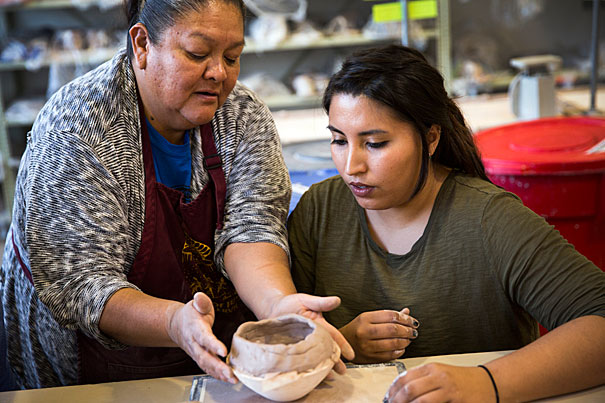 "The way archaeologists study the human past is through objects. It's very tangible, but it can be difficult getting that across just through PowerPoint," he said. "To have the students see what I'm lecturing about, to be able to ask questions to expert artisans — it adds a whole other dimension to the artifacts."
Liebmann added that having students "really getting their hands dirty" with the clay may seem playful, but is "a very active learning process."
"We shouldn't confuse it with a hobby or something that's not academic. This is just as academic. They're just using different tools to learn. It's important to use their hands as well as their brains in learning how these artifacts were made."
Tosa learned her family's pottery traditions as a child, first making tiny pots with the head of a turkey or ashtrays in the shape of the outdoor oven (or horno) when she was 5. She watched her grandmother make pots for cooking and she spent years honing her skills in hand-coiling and sgraffito (etching), created with the broken end of a sewing needle on fine wedding vases.
"We have two kinds of clay that we get from the land. The light clay needs more work, but the darker one found in the mountains on the south side of the pueblo is mixed with volcanic ash. It is much easier to work with," said Tosa, whose tribe numbers 3,000.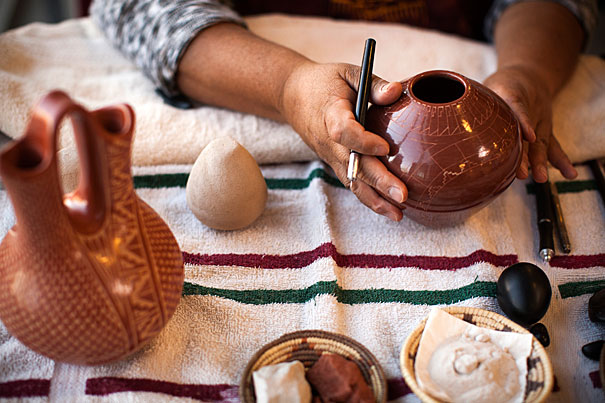 Her lesson for students was part of the larger, hands-on instruction that embraced experimentation and the study of historical and cultural context in clays and pottery-making techniques. At one station in the ceramics studio, Steve Murphy led a mini lesson in wheel throwing, while teaching fellow Wade Campbell led another group of students through an analysis of shards of earthenware. Director of Education for the Ceramics Program Kathy King led another lesson, explaining the science (the temperament of various materials such as gravel, seashell, charcoal) behind the materials, and giving a basic chemistry lesson about clay bodies. She was as enthusiastic about the Tosas' visit as the students were.
"The one thing we cannot do is bring the traditional methods by makers such as the Tosas who still employ them every day. It's a gift, even for us, to be able to give the students the material knowledge behind what they are learning in class as well as the experience of working with these techniques directly. Many students come and see the studio as a place to have fun and take classes, but we love the idea of showing them the scholarly benefits, that we are not just throwing mugs."
Rodrigo Cordova '19, a Cabot House resident who is studying astrophysics and physics, said the intensive pottery instruction, especially the session with the Tosas, brought the past into the present.
"Seeing how different people interact with the earth and civilizations reaffirms how we go to where we are. It's thought-provoking to see the beginning of an art form right in front of us," he said.
Save
Save
Save
Save