The night before he received a call from the Royal Swedish Academy of Sciences, Harvard Professor Oliver Hart didn't sleep well.
"I'm a nervous sort of person," said Hart in a phone interview from his house in Lexington.
So he was wide awake and dressed when the phone rang, a little after 5 this morning, with the news that he was one of two recipients of the 2016 Sveriges Riksbank Prize in Economic Sciences in Memory of Alfred Nobel for contributions to contract theory. The other recipient is Bengt Holmström of nearby Massachusetts Institute of Technology, who is a colleague and a close friend of Hart.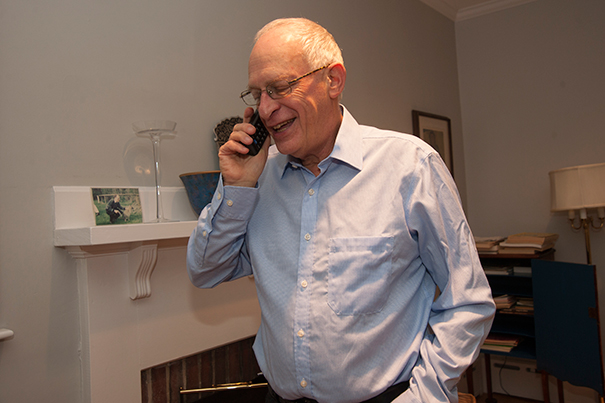 "I'm incredibly happy," said Hart, the Andrew E. Furer Professor of Economics. "It's not a normal day. I have millions of emails and phone calls. It's a busy day, but it's exciting."
Hart's wife, Rita Goldberg, Harvard lecturer in comparative literature, described the exhilarating morning scene. "It's chaos in here," said an overjoyed Goldberg, who fielded numerous phone calls from reporters, friends, and relatives. "We're over the moon."
Born in Britain, Hart, 68, celebrated his birthday yesterday doing door-to-door canvassing in New Hampshire because he said he's concerned about the presidential election. This morning, a half-eaten birthday cake sat on his kitchen table.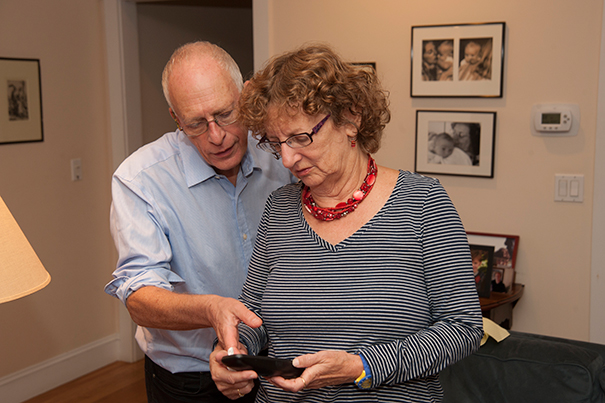 Hart, who has been at Harvard since 1993, teaches contract theory as well as law and economics, and is well-regarded by his colleagues for his brilliance, his wit, and his upbeat disposition.
"As a student, I fell in love with him," said David Laibson, chair of the Economics Department, in a press conference held later in the morning at the Department of Economics' building. "He had a wonderful sense of irony, always winking at us, while teaching us the most important and deep concepts of economics."
In a press release, the Royal Swedish Academy of Sciences said Hart received the award for his "fundamental contributions to a new branch of contract theory that deals with the important case of incomplete contracts, which have shed new light on the ownership and control of businesses and have had a vast impact on several fields of economics, as well as political science and law."
Related
"Oliver Hart is an exceptional economist whose path-breaking contributions in the area of contract theory have not only helped shape the field; they have also had a significant impact on people's lives beyond the academic setting," said Harvard President Drew Faust. "All of us at Harvard send our congratulations to Professor Hart for this remarkable achievement."
For Hart, the prize acknowledges the rising importance of contract theory, a field that has developed over the past 30 years. "Within our profession, it is regarded as the thing that everybody wants," he said of the Nobel award. "It is a recognition that your work is being influential. When you get that call, you realize you've managed to convince some people of the importance of your work."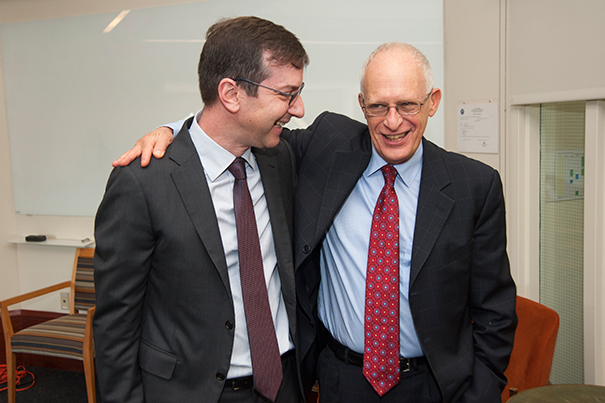 Hart's research, according to his colleague Eric Maskin, Adams University Professor and 2007 recipient of the economics Nobel, offers theoretical tools to understand issues of ownership and property rights, or who owns what assets in a modern economy.
"When we write contracts with other parties, there are inevitably details that we would have liked to have in those contracts, which were not included," said Maskin. "And this means that ownership becomes important because, in the end, it's the owner who decides how assets will be used."
When asked to explain how his theory can be applied, Hart said that most economic transactions are contracts, from buying a product in a store to running a venture capital company.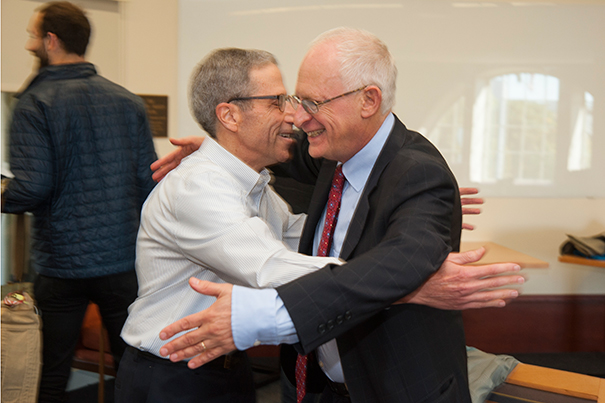 "Venture capital companies is an area where contract theory is at work," he said. "If you're an entrepreneur with a big idea but you don't have money, you find a venture capitalist and write a contract. You divide the cash flow, equities, etc., but the important part is the allocation of control rights."
There have been cases, Hart said, when founders were more focused on how much money they would receive rather than on the control of rights, which they would often give to venture capitalists. In such cases, founders could be kicked out by the venture capitalists.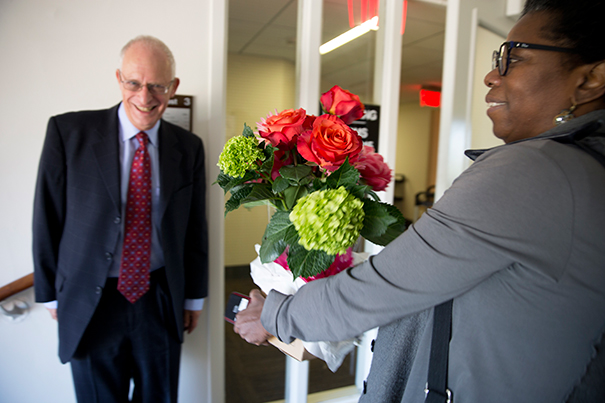 "Sometimes founders might regret they were so greedy," he said, "and realize they should have focused on more control rights."
During the press conference, Hart said he was overwhelmed with all the attention. He was accompanied by his wife, his son Benjamin Hart, a writer based in Brooklyn who was visiting, Laibson, and Maskin.
As for the near future, the self-effacing Hart said he would be back at his office on Tuesday to take part in a student lunch.
"I have to go back to my usual duties," he said.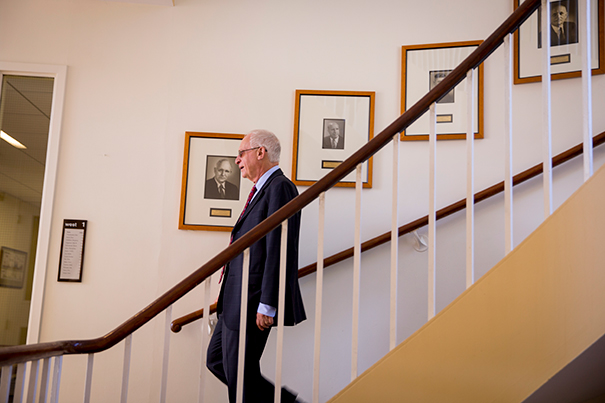 Harvard is known globally as an economics powerhouse.
In 2012, Alvin E. Roth, an economist whose practical applications of mathematical theories have transformed matters ranging from public school assignments to kidney donations to medical resident job placements, won the prize.
In 2007, Maskin '72, Ph.D. '76, was recognized (along with Leonid Hurwicz and Roger B. Myerson) "for having laid the foundations of mechanism design theory."
Save
Save
Save
Save
Save
Save
Save
Save
Save