At a recent reception, an eager crowd followed MacArthur "genius" and 2015 W.E.B. Du Bois Medalist Carrie Mae Weems as she wound her way through the Ethelbert Cooper Gallery of African & African American Art, stopping frequently to explain the thinking or inspiration behind her work. Many posed for pictures with the artist standing next to her images.
Taken from her "Roaming" and "Museums" portfolios, the black-and-white prints show Weems, in a long black dress, standing with her back to the camera before a number of Roman landmarks and grand European museums. In the pictures she uses her body "as a vehicle for pointing at structures of power," she told her listeners, and "to understand something about space, something about the power of architecture, how it rules over us … seduces us."
She also uses her body as a stand-in for the masses, she said, and as a way to guide viewers through history.
"There's something for you — to move past me into that space and begin to imagine what that space might contain. What it is. What it means."
Layers of meaning have always been central to Weems' work, which addresses critical issues within the African-American experience and interlinked themes of family, gender, cultural identity, class, sexism, racism, and history. Within those concerns viewers can always find a common humanity "as a linchpin of engagement," said gallery director Vera Grant, who curated the new show "Carrie Mae Weems: I once knew a girl …"
Weems' work transcends the "siloed conversations" that can limit art to certain groups or individuals, opening up a type of universal dialogue, Grant said.
"She brings out this sense that everyone can participate in this art; to see it, to enjoy it, to listen to it, to reflect upon it."
Through the years Weems has branched out from her early black-and-white photographs to embrace video, staged productions, the spoken word, and painting. The new exhibition, the first solo-artist show at the Cooper Gallery, captures that range. New pieces and older works are among the 52 prints, video installations, and paintings organized around the themes of beauty, legacy, and landscapes.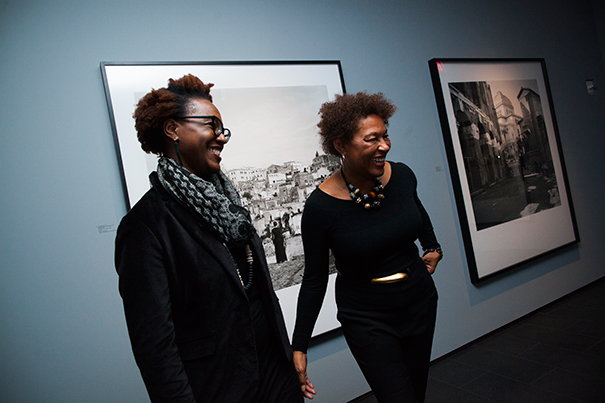 The show opener is a wall covered with the recent "Sites of Production," a color print of the artist again facing away from the lens. Clad in her black dress, she is gazing out over a virtual balcony on the set of the hit TV show "Empire." It's a striking introduction, and a clever counterpoint to one of the last works in the exhibition. "When and Where I Enter — Mussolini's Rome" shows Weems again in front of a balcony, once more with her back to the camera. The work was created in the Italian capitol's Cinecittà, the famous film studio constructed during the Fascist era to help revive the country's film industry.
Blurry images of African-American artists such as Lena Horne and Josephine Baker from the artist's "Slow Fade to Black" series, along with intimate black-and-white shots of Weems alone and undressed in her bedroom from the series "Not Manet's Type," line the walls along the gallery's opening ramp. The works explore the tensions, said Weems, "between the way women have often been imagined and/or used in cinema or in photography or in painting." They also reveal Weems' biting humor, her refusal to be overlooked, and her self-described fascination with the space between "seriousness and play."
"It was clear I was not Manet's type — Picasso who had a way with women — only used me & Duchamp never even considered me/But it could have been worse/Imagine my fate had De Kooning gotten hold of me," reads the text accompanying the selection of images from "Not Manet's Type."
Related
Videos in the show include "The Obama Project," on the racism endured by the nation's first African-American president, and "History Repeating," Weems' take on "the killing of black men that has been devastating the country."
Since her earliest days with a camera she has grappled with how to make images in which "the vastness and the complexity and the richness of our lives will be understood, not typecast, not passed over," Weems said. Her art is focused on putting a "carefully constructed humanity on display," she added, in the hope that her viewers will "see something about themselves reflected in the work."
Weems is again center stage in the show's final installation. Three evocative videos, in which she makes several appearances, are an "inventive celebration and insightful commentary on black beauty, fashion shows, and sexuality," the exhibition text notes, and are an example of the joy Weems finds in shifting power relations, said Grant.
"No matter how solemn, no matter how it's head-on addressing the trauma found within these intimate kinds of personal spaces, her work carries this very strong, powerful, joyful presence," the curator said. "And that just really changes the conversation."
"Carrie Mae Weems: I once knew a girl …" is on view at the Ethelbert Cooper Gallery of African & African American Art through Jan. 7, 2017.
Save
Save
Save
Save
Save
Save