Amid the Black Lives Matter movement, as the first African-American president finishes his second term, the inspirational writings of W.E.B. Du Bois resound, as relevant as ever. On Thursday, as eight new recipients of the Du Bois Medal were feted, presenters and honorees alike related the great man's writing in anecdotes both personal and political.
This year's honorees, who join 22 previous medal recipients, were Ursula M. Burns, chairman and chief executive of Xerox Corp.; David L. Evans, senior admissions officer at Harvard; Pam Grier, actor and activist; Lana "MC Lyte" Moorer, hip-hop artist and activist; David Simon, writer and producer; Jessye Norman, soprano and recitalist; and the 1966 Texas Western Miners men's basketball team, represented by players David Lattin and Willie Worsley. The medal honors those who have made significant contributions to African and African-American history and culture, and more broadly individuals who advocate for intercultural understanding and human rights in an increasingly global and interconnected world.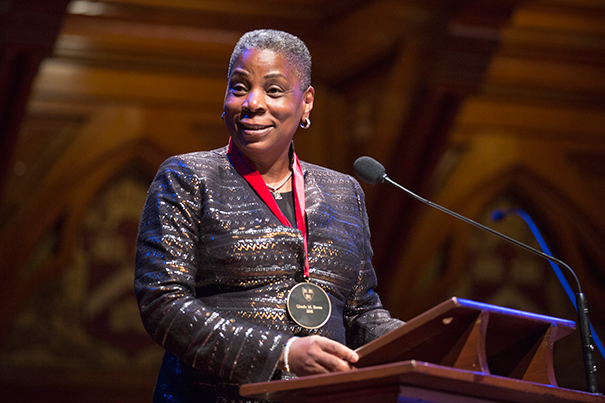 That the past is present was made clear by Henry Louis Gates Jr., the Alphonse Fletcher Jr. University Professor and director of the Hutchins Center for African & African American Research, which presented the awards. Following the uplifting voices of the Kuumba Singers, an opening prayer by the Rev. Jonathan L. Walton, Plummer Professor of Christian Morals and Pusey Minister in the Memorial Church, and opening remarks by Glenn H. Hutchins '77, J.D.-M.B.A. '83, Gates made the connection both current and specific.
After thanking Hutchins and the Hutchins Family Foundation, whose first grant of $15 million made the Hutchins Center possible, for their recent gift of another $10 million to fund the center in perpetuity, he got right to it. "Black Lives Matter is Du Bois' 'Talented Tenth' in jeans and hoodies," Gates proclaimed in kicking off the event, which would feature readings of works by Du Bois (B.A. 1890, M.A. 1891, and Ph.D. 1895, Harvard's first to an African-American), interspersed with addresses to and by the honorees. "Black Lives Matter and black studies matter," Gates said. "The time to act is now."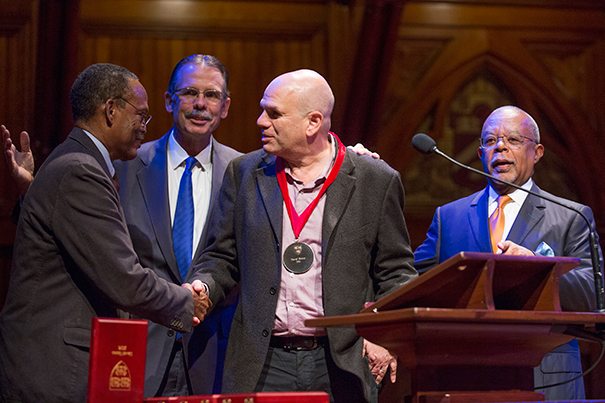 Cornel West, professor emeritus of philosophy and Christian practice at Union Theological Seminary, was up next, honoring Evans by calling him "the best of Harvard." "Veritas," West noted, "the condition of truth is always to allow suffering to speak." But the longtime admissions officer matched West in eloquence, noting the progress people of color have made — and the advances Harvard has been able to make — but warning, "We've changed the guard. But changing the guard without guarding the change is movement without maintenance. Don't let this be the last time all these beautiful things are happening."
Honoring Burns, Michael D. Smith, the John H. Finley Jr. Professor of Engineering and Applied Sciences and Edgerley Family Dean of the Faculty of Arts and Sciences, noted not only that she was the first African-American woman to lead a Fortune 500 company but also that she led her Change the Equation educational initiative to educate girls and young women in STEM fields. Accepting her medal, Burns elaborated on this theme, recalling how her own mother stressed the importance of education as "not only the way up but the way forward."
"Bring other people along," she said. "Change the world."
Introducing television writer and producer Simon, William Julius Wilson, the Lewis P. and Linda L. Geyser University Professor, related how, after hearing people discuss Simon's groundbreaking HBO series "The Wire," he binge-watched the entire first season on a flight to Bangkok. He then designed a course around the show, aware of how with fiction an artist can portray a deeper truth. "David Simon offers us an unflinching portrait of race, class, and poverty in the United States," he said.
Accepting the award, Simon discussed his time as a crime reporter. "You knew you were too reliant on the police to tell you what happened in an alley," he recalled. "You knew the game was rigged, but what else could you do?" In these days of cellphone cameras, he opined, that might be changing. "We're experiencing a little bit of a revolution," he said. "It is painful, but it will end well."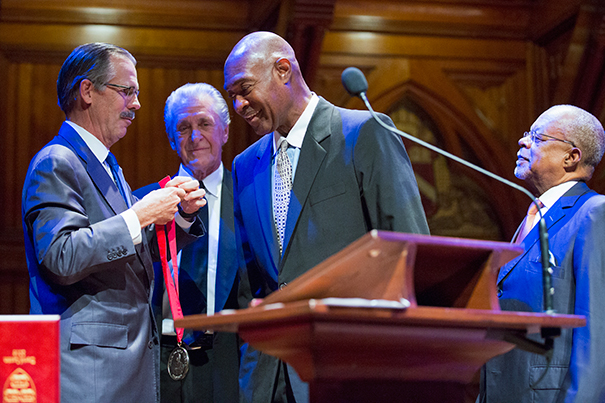 Harvard President and Lincoln Professor of History Drew Faust introduced the award for Norman, who was unable to be present because of health issues. Citing Norman's previous awards, including an honorary doctorate in 1988 as well as her charitable outreach (including a tuition-free music program in her hometown of Augusta, Ga.), Faust said of the opera singer, "Her status as a diva is global."
The absent diva was represented by a video that featured her speaking — and, perhaps more vitally, singing.
Showing the range of the awards — and of African-American artistry — the next honoree was Moorer. Marcyliena Morgan, professor of African and African-American Studies and founder and executive director of the Hiphop Archive and Research Institute at Harvard, announced a "game-changer," noting her "unmatched contributions to hip-hop and commitment to improving the life of women and girls."
Moorer, the first female rapper Grammy nominee, told of "picking up a mic" at 16, wanting to present an anti-drug message. The Brooklyn native, who released her eighth album in 2015, is founder of the Hip Hop Sisters Foundation, which provides scholarships to college students. "I am a practicing activist looking to change the minds of our youth," she said. "We all have the chance to be and create the change we want to see."
Grier was the next honoree, and presenter Lawrence D. Bobo, the W.E.B. Du Bois Professor of the Social Sciences and chair of the Department of African and African American Studies, was positively gleeful as he called her "the consummate badass feminist hero, subverting the expectations and creating new ones with her fearlessness, intelligence, and control."
Grier, whose stardom spans films like "Coffy" and "Foxy Brown" in the '70s through "Jackie Brown" in 1997 and a continuing role in "The L Word," called the medal "a profound honor."
Describing a family that valued strong women, including a grandfather "who taught all the girls to hunt and fish and be self-sufficient," she recalled discovering Du Bois growing up in the 1950s and '60s.
"I read W.E.B. Du Bois, and he set my soul on fire," she said. "He encouraged me to liberate myself. He said: Don't see yourself through the eyes of others. Be yourself. And that's what I did."
The final medal was presented by a gracious loser, Pat Riley, president of the NBA's Miami Heat. In 1966, Riley had been the star of the all-white University of Kansas team that was defeated for the national championship by the little-known Texas Western Miners, which started five black players. The Miners' win, 12 years after the Supreme Court's ruling in Brown v. Board of Education to desegregate schools, accelerated the integration of college sports and changed the game forever. The victory by the disciplined, defense-minded team helped desegregate college basketball across the South.
After a shoutout to Celtic great Jo Jo White, who was in attendance, Riley reminisced about that game and the grace and strength of the men being honored, who were interviewed at length in a video presentation that stressed their teamwork and their reliance on each other.
As Lattin, who was present to accept the award, said in the video. "We were the 'we' team, not the 'I' team."
Save
Save
Save
Save
Save
Save
Save
Save
Save