At the start of The Harvard Campaign in 2013, President Drew Faust underscored the University's fundamental commitment to discovery and to the education of leaders to make a positive difference in the world. Since then, more than 133,000 donors have made contributions to support the campaign, including more than $820 million to provide financial aid for students across campus. As the campaign moves into its final two years, alumni and friends have worked to sustain and strengthen Harvard's leadership in shaping the future of education and ideas — with powerful benefits across the globe.
A generous community of donors has enabled the campaign to raise more than $7 billion in gifts and pledges, surpassing the initial monetary goal set at the launch of the fundraising effort.
"It has been remarkable to witness the response of our alumni and friends to The Harvard Campaign, and I am deeply grateful to everyone who has participated in this outstanding effort so far," said Faust. "Our aspirations speak to our larger hopes not only for a better Harvard, but also for a better world — a world changed by the students we educate, the knowledge we pursue, and the discoveries and innovations we generate every day on our campus."
Fundraising campaigns by their nature are long-range undertakings in terms of both vision and benefits. The current total includes both gifts and longer-term pledges that are paid over many years; some of these contributions are invested in the endowment and will be distributed over time. Yet even as the campaign looks to the continued generosity of alumni and friends to benefit generations of students and faculty, the effort is already bearing fruit.
Through the remainder of the campaign, which concludes in June 2018, there will be a special emphasis on unmet needs and emerging opportunities central to the University's vision for the future. These include: constructing the new Science and Engineering Complex to serve as a cornerstone of the innovative community in Allston; strengthening financial aid for students at all of Harvard's Schools; fostering creative research in basic science; continuing the renewal of the undergraduate Houses; reaffirming the University's core commitment to the arts and humanities; and ensuring that all Schools achieve their priorities.
"The Harvard Campaign is a dynamic partnership among volunteers, academic leadership, and staff," said Tamara Elliott Rogers '74, vice president for alumni affairs and development. "The shared sense of purpose has been inspiring, and we look forward to the hard work still ahead."
Campaign donors have supported people, ideas, and spaces on campus and around the world, providing vital financial aid so that a Harvard education is accessible regardless of economic circumstances, advancing groundbreaking research and discovery to address pressing societal and intellectual issues, and creating new and renewed facilities for innovative learning, cross-disciplinary work, and community interaction.
People
"Harvard must bring the world to our campus and our students and faculty to the world." – Drew Faust, 9/21/13
This past year, Harvard College received a record number of applications — more than 39,000 — for the Class of 2020. Thanks to the Harvard Financial Aid Initiative (HFAI), every admitted student has the opportunity to graduate debt-free.
HFAI, which has distributed nearly $1.5 billion in assistance over the past decade, played a key role in nearly doubling the number of applicants who consider Harvard, said Sally Donahue, Griffin Director of Financial Aid.
"It has always been a dream of mine to come here, but I never thought it would be possible because of financial barriers," said recent graduate Dylan Munro '16. "When I visited Harvard on a family road trip during my senior year of high school, I found out about the comprehensiveness of Harvard's financial aid program and was inspired to actually apply. I still remember the moment I decided to apply, the moment I got that acceptance email, and the moment I stepped back onto campus as a freshman at the College. None of these moments would have been possible without Harvard's financial aid."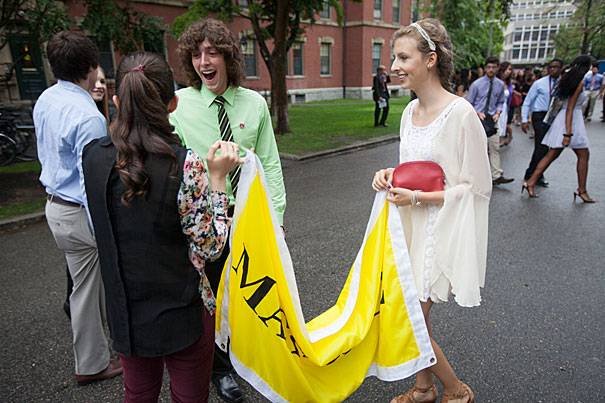 To date, campaign donors have contributed more than $460 million for undergraduate financial aid. They have also made gifts and pledges totaling more than $360 million to support graduate students across the Schools.
While HFAI provides support for undergraduates, graduate student funds such as the Gregory S. Baldwin Fellowship at Harvard Graduate School of Design (GSD) help remove financial barriers to students pursuing their passions. Reserved for a top-performing student in the final semester of study, inaugural fellow Irene Figueroa Ortiz, M.Arch. '15, M.U.P. '15, continues her work on sustainable and fair built environments. Figueroa Ortiz participated in the Go Boston 2030 planning study to develop a strategic plan for the city's transportation system and now works to improve Boston through design and planning with the local nonprofit A Better City.
Earlier this year, teams of first-year M.B.A. students at Harvard Business School (HBS) scattered to all corners of the globe for a nine-day immersion with local companies to tackle a variety of challenges, from improving access to health care services in Brazil to developing product concepts in Morocco. These trips were part of FIELD, a yearlong course that pairs the newly devised field method of experiential learning with HBS's signature pedagogical tool, the case method.
"I am a wholehearted advocate of the case method. However, the case method's largest blind spot is that it doesn't give students much 'hands-on' experience. The opportunity that FIELD provides — to 'pound the pavement,' meet customers, develop empathy, and be humbled by how difficult these things can be — is thus an essential, and extremely valuable, part of the HBS education," said Cameron Parker '10, M.B.A. '17.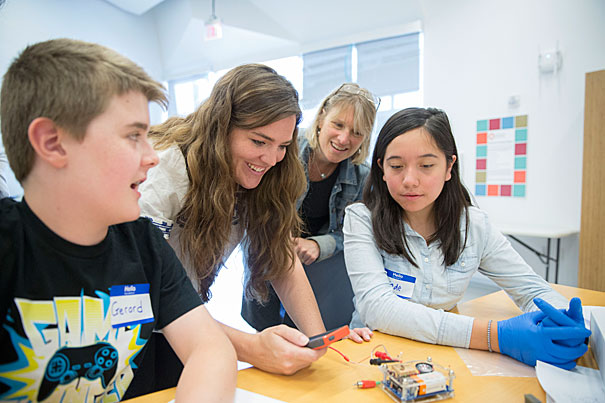 Campaign funding to support nearly 90 professorships has boosted Harvard's mission of teaching and research. Through HarvardX, many leading faculty members are now accessible to a worldwide audience, and more than 80 online courses have attracted more than 2.4 million unique learners. From poetry to global health, contract law to the history of science, the resources of the University are now more broadly available than ever. The digital platform also provides insights into the development of teaching methods. With each course iteration, faculty learn more about the most effective ways to leverage and complement these new instructional tools.
Ideas
"We find ourselves in the midst of an explosion of scientific possibility … Paradoxically, in this very moment … we also confront fundamental challenges and cutbacks to the resources that make this work possible. We need to sustain and extend the work of discovery." – Drew Faust, 9/21/13
Innovative research is seeking answers to challenging questions within the life sciences. Paola Arlotta, a professor of stem cell and regenerative biology, is growing stem cells from human skin into cerebral buds that she hopes can be used in both drug screening and research into neurodevelopmental diseases such as autism. For Talia Konkle, assistant professor of psychology, combining mathematic models with neuroimaging may provide insight into the complex cognitive processes that allow the brain to recognize everyday objects. And the Harvard Program in Therapeutic Science (HiTS) at Harvard Medical School is rethinking the science and business of drug discovery.
Climate change poses one of the greatest threats of our time. At this critical moment, the campaign has provided resources for the University to address this global challenge through multidisciplinary approaches.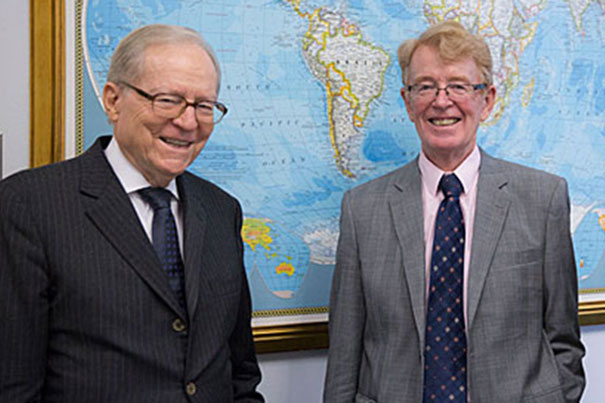 Working under the auspices of the recently launched Harvard Global Institute, Michael McElroy, the Gilbert Butler Professor of Environmental Studies, and Dale Jorgenson, the Samuel W. Morris University Professor, began their pioneering multiyear study of climate change in China. Rohini Pande, the Mohammed Kamal Professor of Public Policy and co-director of the Evidence for Policy Design Initiative at Harvard Kennedy School (HKS), is collaborating on an examination of India's greenhouse gas monitoring and exploring the potential for a trading market for industrial emissions to benefit public health. At the Harvard John A. Paulson School of Engineering and Applied Sciences (SEAS), a team of faculty and researchers is developing a flow-battery technology that could promote renewable energy on a large scale by making its storage both cheaper and more reliable.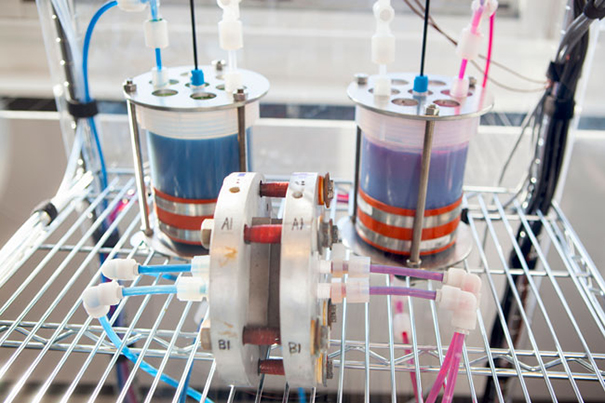 The campaign's affirmation of the arts and humanities as fundamental to a liberal arts education is perhaps most visible when walking down Quincy Street in Harvard Square. The street is bookended by the new facilities of the Harvard Art Museums — featuring reimagined spaces for teaching, research, and public galleries — and the Mahindra Humanities Center's interdisciplinary, collaborative space.
"The humanities play an invaluable role not just in our students' education, but in their lives. These courses cultivate a rare and transformative empathy within the students, and such empathy invites new connections, new perspectives, and new possibilities," said Bret Anthony Johnston, the Paul and Catherine Buttenwieser Director of Creative Writing.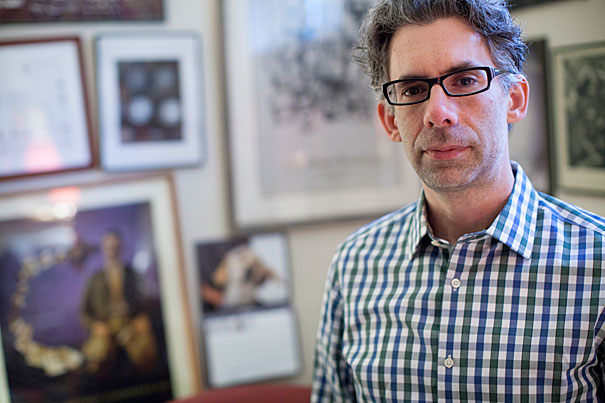 Spaces
 "The future we face together calls for a campus that embodies and enables our ambitions for learning and discovery."  – Drew Faust, 9/21/13
"The planning process has been underway for years at Harvard to create more vibrant spaces on campus where students, faculty, staff, and the larger community can meet up as well as connect across the boundaries that can keep us apart," said Radcliffe Institute Dean Lizabeth Cohen, who co-chaired the University's Common Spaces Task Force. "This campaign helps us move from aspiration to implementation so that Harvard will become an even more intellectually engaging and socially welcoming place."
When renovations to the Richard A. and Susan F. Smith Campus Center are completed in 2018, Harvard will have its first central space to amplify those intellectual, cultural, and social interactions on campus. The Smith Campus Center promises to be a welcoming gathering place for students, faculty, staff, and visitors.
Construction crews also descended on Winthrop House in June to begin the latest House renewal project. Residents of Dunster House, Stone Hall, and McKinlock Hall can attest to the benefits of undergraduate House renewal: They have already witnessed the transformations that provided new common rooms and spaces for studying and learning in the residential setting integral to the Harvard College experience.
The crane towering over the Harvard Kennedy School signals the transformation of an entire campus. With a focus on campus cohesion, convening spaces, and flexible classrooms, the project—to date, funded entirely by philanthropy—will increase the School's square footage by more than a third when completed in January 2018. Three new buildings, a street-level courtyard, winter garden, and new collaboration areas will enhance teaching and learning and amplify the School's mission of improving public leadership and public policy.
In addition to renewed spaces across campus, the University is building an academic neighborhood where science, technology, medicine, and business meet within the fabric of the vibrant community of Allston.
On the HBS campus, Tata Hall, the Ruth Mulan Chu Chao Center, and Klarman Hall (expected to open in 2018) provide additional classroom, meeting, and conference space. The Harvard Innovation Labs (i-lab), where students test out their entrepreneurial ventures, the Launch Lab, where alumni further evolve their companies, and the imminent arrival of the Life Lab, providing laboratory space for life-science ventures, all benefit from their proximity to HBS. In the years ahead, the Science and Engineering Complex will join them to serve as the cornerstone of the expanded campus in Allston.
The state-of-the-art complex will house SEAS scientists, researchers, students, and staff — including more than 800 undergraduate concentrators and more than 400 graduate students — balancing the demands of varied disciplines and specialties. At approximately 500,000 square feet, the complex will run along Western Avenue and will be surrounded by an additional 70,000 square feet of green space. Tapping into the resources of the region, Allston will be part of the largest life sciences hub in the world. The area will help connect Harvard's Schools in Cambridge and Longwood, and it will build bridges with industry, with 36 acres set aside for commercial development in an enterprise research zone.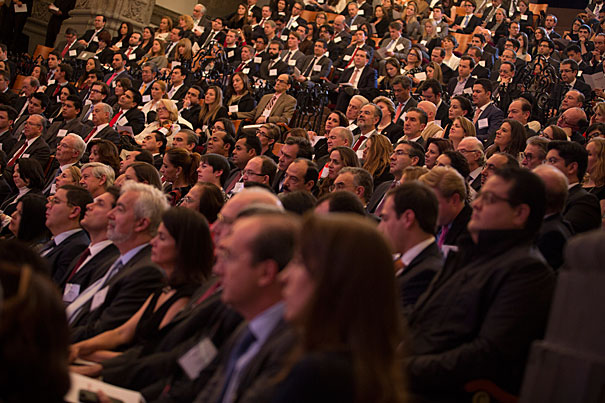 Beyond support for the people, ideas, and spaces that shape the University, the global network of alumni have used the campaign as an opportunity to re-engage with Harvard and each other. More than 5,000 alumni around the world have attended 11 Your Harvard events, gathering to connect, learn about the University's aspirations from Faust, and engage with leading faculty. Berlin plays host to the next Your Harvard event on Oct. 21, and the series returns to the United States on Feb. 16 in Miami.
Save
Save
Save
Save
Save
Save