Excavators are at the ready to begin the Winthrop House renewal, which will start after Commencement. The project will create more unified, accessible environs for undergraduates living in the neo-Georgian-style House, preserving Harvard's deeply historic aesthetic while welcoming modern design elements.
A cornerstone of the renewal that begins May 31 is the addition of Beren Hall. Located at the corner of Mill and Plympton streets, Beren will contain 25,000 square feet of living space, all suites with all their own bathrooms.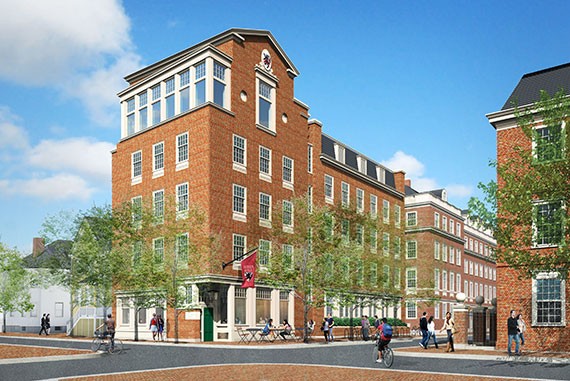 "Winthrop House, which was converted to a House from two separate freshman dorms, presents our team with a great opportunity to help increase and enhance the connection between students and staff in their day-to-day activities," said Steve Needham, senior director for Harvard's Planning and Project Management Department.
Beren, named in recognition of support from Robert M. Beren '47, M.B.A. '50, will connect to Gore Hall, elevating student life with a "smart" seminar room for course instruction, common spaces for academic and extracurricular use, a casual dining spot, and a lower-level space for social gatherings. The architectural firm Beyer Blinder Belle designed Beren, and updated Gore and Standish halls with new space for study, meditation, and dining. Gore's dining hall will increase capacity by 12 percent to better accommodate Winthrop's more than 400 students. All of the student living areas will also be updated to contemporary residential standards, enhancing both comfort and privacy.
"It has been a pleasure to see the collective work of students, tutors, architects, faculty deans, and other University officers mature into the wonderful design for a renewed Winthrop House. Our students will return to exciting new spaces, which will enhance the intellectual and social development of our students for generations to come," Winthrop faculty deans Ronald S. Sullivan Jr. and Stephanie Robinson wrote in an email.
Revitalizing Winthrop's outside surroundings is another critical element of the renewal. An expansive plan designed by Michael Van Valkenburgh, Charles Eliot Professor in Practice of Landscape Architecture at Harvard Graduate School of Design and owner of the Cambridge and Brooklyn design firm that bears his name, includes preservation of existing trees, along with new trees, shrubs, and ground cover. A new generation of yellowwoods will replace ailing trees in the courtyard between Gore and Standish.
The health of the 100-year-old trees, which have hit the average lifespan for this species, prompted a study by the arborist firm Hartney Greymont, which found the existing yellowwoods were structurally damaged to the point of being safety hazards. Recent windstorms have further compromised the declining trees, with the loss of major branches. Young trees with similar characteristics (low branches, multiple trunks) to the stately, June-flowering yellowwoods will be planted in the same configuration as the aged trees.
"It's been an honor for the last 25 years to be involved with replanting the trees of Harvard Yard, a similarly daunting task if you can remember the 100-year-old elms that were coming down in great numbers around 1990," said Van Valkenburgh. "The yellowwood allee is a treasured moment in the walk to the river, and we are pleased to be able to plan its replacement for the future. The eventual effect over time will be similar to what we all love today."