There's Massachusetts Hall, Wadsworth House, Memorial Hall, and Harvard Hall. There's Holden Chapel, University Hall, and the Memorial Church. All around campus stand brick-and-mortar reminders of Harvard's deep and lasting ties to the nation's armed services.
It's a distinguished history that dates to the 17th century, when Harvard students fought in King Philip's War in 1675-1676. Gen. George Washington and the Continental Army famously encamped in Harvard Yard in 1775 following the Battle of Bunker Hill. Since then, thousands of Harvard students, faculty, and alumni have fought valiantly in the country's greatest conflicts, including the Civil War, both World Wars, the Korean and Vietnam wars, and the global fight against jihadism.
Facing a dearth of experienced citizen-soldiers before World War I, President Theodore Roosevelt, Class of 1880, and Gen. Leonard Wood, Class of 1884, LL.D. 1899, drafted plans for what would become the Reserve Officers' Training Corps (ROTC), a program at American colleges, universities, and high schools that prepares reserve officers ready to serve in times of war.
Harvard was among the first schools to sign onto the program when it launched in 1916.
But amid sustained protests over U.S. involvement in Vietnam, the University severed its relationship with ROTC in 1971, ending training activities on campus for four decades (although participants continued to train off campus). After the 2011 repeal of "Don't Ask, Don't Tell," a policy that prohibited openly gay and lesbian soldiers from serving, President Drew Faust welcomed the Navy ROTC program back to the Harvard campus. Army ROTC returned in 2012, and last month Air Force ROTC was formally reinstated.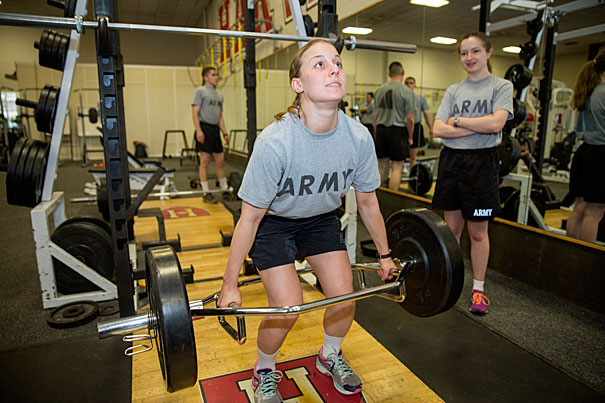 "As a historian of the Civil War, I can attest to the powerful role that individual accounts play in shaping conceptions not only of the past but also of the future — what has been and what may be," said Faust. "Restoring the full and formal recognition of the Reserve Officers' Training Corps on our campus amplifies voices that are essential to our understanding of the rights and responsibilities of American citizenship. Military service is public service, and I look forward to a future in which more students feel free to explore opportunities to support and defend the Constitution, growing in knowledge and in wisdom as they challenge and shape their fellow students' perspectives."
Although polling shows that the military is the last major institution to still enjoy widespread trust from the American public, just 0.4 percent of the country's population now serves in the armed forces.
Former students who have completed ROTC here applaud Harvard's renewed connection, not only because of their own positive experiences, but because they hope it will eventually lead more Harvard undergraduates to see military service as being as valid and desirable as traditional career paths such as doctoral tracks, Wall Street, or Silicon Valley.
Many participants say they have been ambassadors of a kind to their classmates, who have had a mix of reactions to their decision to become military officers, from curiosity to respect to anxiety and even astonishment.
"Usually the first question is, 'Why would you want to do that?'" said Charlotte "Charley" Falletta '16, co-president of the Harvard ROTC Association. "It's not an accusatory 'why.' It's more like, 'I've never in my life considered military service, so why is that something that you are considering? Being a Harvard student, having a bright future in front of you and lots of income-earning opportunities coming out of college, why would your choice be to go into the military?'"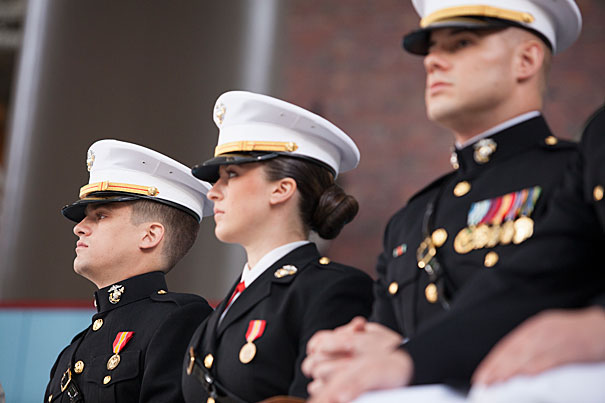 Colin Dickinson '13, a former economics concentrator now in the Navy, recalled, "I still remember interviewing at Yale as a senior in high school when the topic of ROTC and serving in the military came up. The young woman interviewing me suggested that such a route would be not only foolish but a waste of an Ivy League education. Today, I can easily refute such an assertion."
Sometimes family expectations can also be a challenge. "It's not the path my parents would've chosen for me, and I'm certainly not alone in that regard," said Falletta, one of nine women selected to join the Army's armor branch this summer, an active combat area previously closed to her gender.
"For many of my classmates at the College, both from the U.S. and abroad, I was one of the only, if not the only member of the military they had ever met," said Christian Yoo '13, now a lieutenant junior grade studying at the Naval Nuclear Power Training Command in South Carolina. "I think it's a good thing for them to have had some exposure to and a chance to learn about the U.S. military from their undergraduate classmates, and I'm glad I could play a role in facilitating that growth in understanding."
A vibrant ROTC on campus brings greater diversity of experience and information about "an institution that's pretty critical to our country that a lot of people, especially here, don't know anything about," said Falletta. "I've had a ton of great conversations with friends, and even strangers sometimes, about the military and what we're doing."
Training atop course loads
Harvard College students typically enter the four-year program as freshmen and join undergraduates from Massachusetts Institute of Technology (MIT), Tufts University, and a handful of other local colleges on the MIT campus each week for military classes, crack-of-dawn physical fitness training, and leadership laboratories — all on top of their regular College course load. It's a demanding regimen that leaves little free time or energy for clubs, athletics, and other social activities. Participants are not required until their junior year to commit to postgraduate duty.
Cadets and midshipmen say while the training is intense and not for everyone, it offers a great sense of camaraderie, and the extra effort is particularly meaningful because they know they are learning skills they'll put into practice right after Commencement.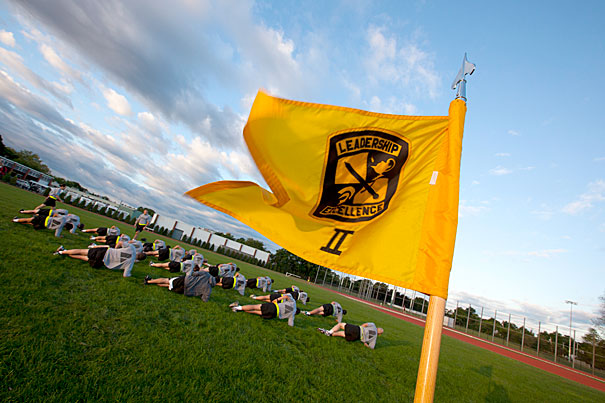 "I'm not an economics major who might go into finance; I know what I'm doing. I know that I'm going to be leading soldiers in some capacity very soon. You literally have lives that you're in charge of," said Falletta. "There are not many jobs I can think of that college graduates are going into where that's the responsibility you face."
Students join ROTC for many reasons: to help pay for college, to challenge themselves, or to demonstrate their patriotism. "But I find, because we have such an array of opportunities and choices that we could take, the Harvard people are very, very driven by service … and they want to be part of the national defense in a very intimate, closely bound way," she said. "We have a drive and we have a passion and we're working toward something that we feel is very, very important, and jobs that we're excited by, so it's pretty special."
A boost from the humanities
Over the years, military service has traditionally attracted recruits with engineering, math, and science backgrounds, but there's much to offer students with a liberal arts education, especially in areas such as economics and political science, said Lt. Col. Karen Dillard, who oversees Air Force ROTC Detachment 365, based at MIT.
"We definitely need the skills of critical thinking, problem-solving, and a diversity of thought," she said.
"Diversity is not just about our platforms and technology, but also the most valuable asset of our nation, its people," said Air Force Secretary Deborah Lee James. "The diversity of thought, ideas, cultures, and talent that we see flourish at places like Harvard has been a characteristic of our nation since its founding. For our country to remain a beacon of freedom and progress, we must continue to seek and embrace the intellect across America, both in and out of uniform."
"Look, the Army for a long time, many of the services have been looking for some very technical-type majors coming out of schools to deal with the technically advanced army that we have," said Lt. Col. Peter Godfrin, who heads the Army ROTC program. "But just from the conflicts that we've seen in recent years, the technological advances only get us so far. We need to be able to communicate and negotiate with folks; we need folks at the highest levels who can think through complex problems because … unfortunately, warfare is a human endeavor."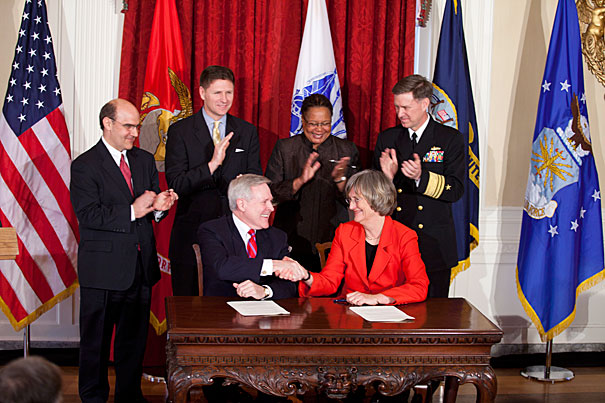 The global nature of the armed forces, coupled with the complexity of cultures, conflicts, and threats, require service members to approach situations after considering a variety of viewpoints. "When I reported to my first command, I was 22 years old and immediately placed in charge of 30 men and women from every different background America has to offer. I can honestly say that I have drawn upon my learning in everything from marine biology to the tales of Homer in my attempt to best serve my sailors and lead them to success," said Dickinson.
Marine Catherine Brown '14 said her Harvard education provided essential skills, like how to think critically and communicate effectively. "Much of a Marine Corps officer's job, regardless of military occupational specialty, lies in receiving information, analyzing it, coming to a timely decision based on that analysis, and then communicating a plan." But ROTC training, which focuses on leadership and ethics, was also useful in handling school pressures. "I was trained to be calm and decisive in stressful situations, and to be rational and cognizant of my teammates and environment while hot, tired, hungry, and uncomfortable."
Lt. Junior Grade Catherine Philbin '14, a surface warfare officer stationed in South Carolina, encourages other students thinking about ROTC and the military to give it a try and look at the bigger picture. "Harvard students are dedicated to all types of service to our global, national, and local communities," she said. "Military service was the way I chose to serve."
Yoo offers two questions for students to think about. "First, are you deeply interested in public service? The military performs a wide variety of functions on a daily basis, from national defense to providing communities around the world with humanitarian assistance during times of crisis. A firm belief in the purpose of your work will help you rise to any challenge you may encounter," he said.
"Second, are you excited about military service? A good dose of enthusiasm goes a long way in giving you the energy you'll need to complete all the work between your academics at Harvard and your military training. … Passion for your work will help you inspire and motivate the men and women with whom you work."