In an age when most radio is programmed through algorithms, WHRB (95.3 FM), Harvard's independent station, remains gloriously autonomous and unfailingly human.
"It's an act of self-expression. I get to choose what I play on the air, and have an audience of dedicated listeners — most who say nice things, some who yell at us," said Eli Lee, a junior from Dunster House who serves as co-director of the station's Record Hospital.
WHRB has been on the air since 1940, when Kenneth I. Richter '43 led efforts to install the original transmitter. Harvard Crimson Network, as it was called back then, got its original funding from The Crimson, which feared it as an advertising competitor, according to David Elliott '64, chair of the board of trustees for WHRB. It applied for its FM license in 1957, and signed on with 88 watts. Nowadays coverage extends to Route 495.
"It's a very vigorous experience within Harvard," said Elliott. "No one is paid, but it sells advertising. The station has never been rich. Most years it takes in enough to pay its expenses."
He credits the station's success to its content.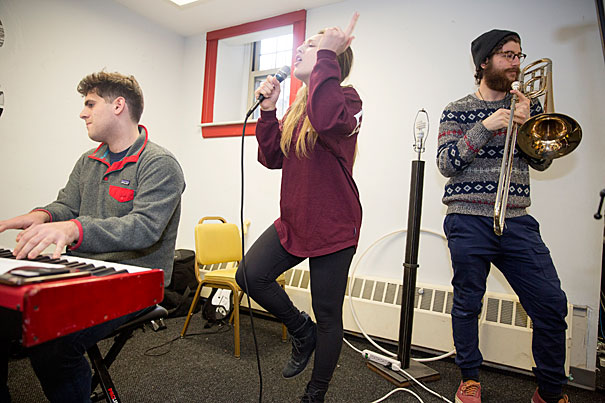 "WHRB is different from other college stations in that the content isn't just whatever an individual feels like playing off the top of his or her head," he said. "It's all well thought out."
As a nonprofit, WHRB operates with student volunteers and on a budget that's funded independently of the College. The station's president, Edward Vasquez, an Eliot House junior concentrating in history, said that the most significant expenses are rent, phone, and Internet.
"The radio is a great place for getting people used to the real-world environment," said Vasquez. "It's making sales, and showing how the media business works in general. As a DJ, I love getting to play music. My dad raised me on jazz and now I get to play jazz for a whole city. From the business side, I get to help people get to do that — play the music they want to play."
The basement of Pennypacker Hall has been the station's home since the mid-'90s. The maze of rooms includes control booths, a performance room, offices, and the Record Hospital, a space under lock and key born from the alternative music scene in the 1970s. Guests entering the main door find a "Comment Book" filled with phone messages, and bins of CDs categorized by department: blues, jazz, classical. Posters on the wall read "Can You Handel It?" and "Be heard, not seen."
In the performance studio on a recent Friday morning, the Boston soul-R&B band The Intrinsics (founded by 'HRB DJs Rachel Horn '14 and Ethan Simon '16) set up to play live amid an assortment of old couches and chairs, two microwaves, and an outdated Ampex machine. From the control booth, Jason Stein, a Pforzheimer resident, gave instructions.
"I've got a Billie Holiday track on. You're on in two minutes," said Stein, a sophomore. "I'm going to give you a countdown. We'll announce you. Any microphone you talk into, you are on the air."
Watching The Intrinsics play was Carlos Snaider, a junior concentrating in music and African-American studies. Snaider, who hosted a 7 a.m. Wednesday jazz show this spring, was drawn to the public speaking aspect of the on-air gig. But he was also struck by the student staff's intellectual bandwidth.
"I was really impressed by the collection they have here," he said. "I study a lot of the music I'm playing. The music I'm discovering here informs my research."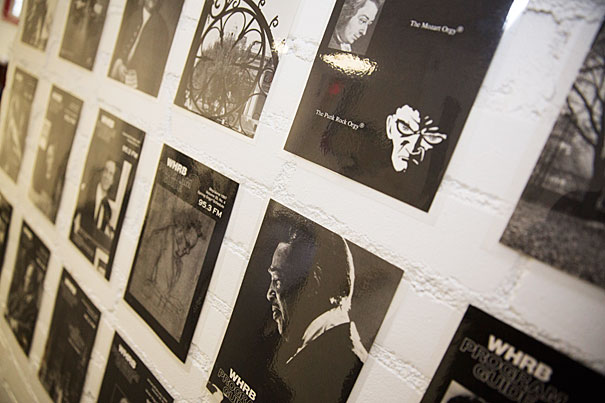 Tucked in the back of the basement, the Record Hospital is packed floor to ceiling with shelves of vinyl records and CDs, and an array of eclectic décor (a wooden nutcracker, a giant cardboard key, a broken lamp).
Lee said running the department has "given me a place to explore leadership in a way a lot of other organizations don't have."
Amanda Mozea, a junior concentrating in social studies, relishes her role as co-director of the blues department as much as a personal creative outlet as a way for her to spread "an appreciation of and love for the blues."
"It's kind of an alternative Harvard," she said. "People aren't doing this to make connections to make it in the industry after college. That's what makes it special and against the grain. There's something really genuine about doing something just because you love doing it."
Mozea, who lives at Pforzheimer House, loves getting "to control what goes out on air," and enjoys creating shows with obscure, even ridiculous themes. The week she played songs about farm animals (Howlin' Wolf's "Little Red Rooster," Kokomo Arnold's "Milk Cow Blues") was particularly memorable for the joy of dancing and singing in the control booth.
"I get the rare grumpy callers who didn't like the song I played," she said. "But half the calls are listeners saying, 'I love what you're playing.'"