For many educators, few things are more compelling than an enthusiastic student. Throughout Mike Gerhardt's engineering presentation to students from Cambridge Street Upper School (CSUS), Steven Noel's keenness was infectious. Gerhardt, a graduate student at the Harvard Materials Research Science and Engineering Center, matched the CSUS student's energy during his presentation with Harvard's Project Teach program.
Noel, a seventh-grade student at CSUS, said that before the visit, he had doubts about college. "I was thinking about not going to college because school was hard … I mean it is hard, but I can still achieve it if I actually wanted to," he said. "If I study as hard as anybody else, I can still get into college and maybe even go to Harvard."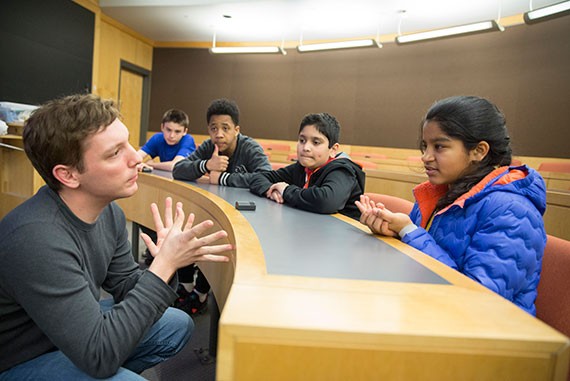 Every year, Project Teach welcomes every seventh-grader from Cambridge and Allston-Brighton public schools to Harvard's campus to receive tailored instruction from Harvard faculty. The partnership between the University and area public schools has proven to be inspirational to students — often in more ways than one.
"When I grow up I want to go into computer science," said CSUS student Sophia Price, who attended a presentation on soft robotics by Jeff Peisner and Chris Siviy, research fellows from the Harvard Biodesign Lab.
"I have been taking a course in school called Girls Who Code," Price explained. "It's actually a Harvard course run by Harvard students, and it sort of opened my ideas to coding and what it might be like to become a coder one day. So today, I am hoping to get some new techniques on how you can program different types of things to help the world around you and the people in it."
For the past two decades, Harvard has offered Project Teach to help middle-school students see themselves as college students. Recently redesigned and expanded to include seventh-graders from Allston/Brighton, the program uses research-based approaches developed by Mandy Savitz-Romer, a senior lecturer at the Harvard Graduate School of Education (HGSE), and HGSE colleague Suzanne Bouffard, co-authors of "Ready, Willing, and Able: A Developmental Approach to College Access and Success."
"Much has been learned over the past 20 years about how and when students develop a college-going identity," said Kevin Casey, associate vice president of Harvard Public Affairs and Communications. "Drawing upon faculty expertise and providing exposure to faculty, students, and classrooms, Project Teach aims to demystify college and ensure that all students can see themselves thrive in a college or university setting."
As expansive as it is holistic, Project Teach works with teachers, students, and families to demonstrate that college can be an affordable, accessible, and attainable goal. In the past three years alone, more than 1,900 students from Cambridge and Boston public schools have participated in Project Teach.
Before a Project Teach visit, the seventh-graders' teachers receive classroom resources, including a list of the academic presentations from which students can select. Among this year's was a discussion about the role young people played in the 1963 violence challenging segregation in Birmingham, Ala., as presented by Department of History lecturer Brett Flehinger, assistant dean of Harvard College.
To personalize the college experience even further, Harvard undergraduates shared their experiences of applying to and excelling in college. Throughout their presentation, the students emphasized the importance of college as a stepping stone toward future goals. The presentation highlighted the variety of colleges and universities across the country and encouraged students to think about schools that best match their long-term interests.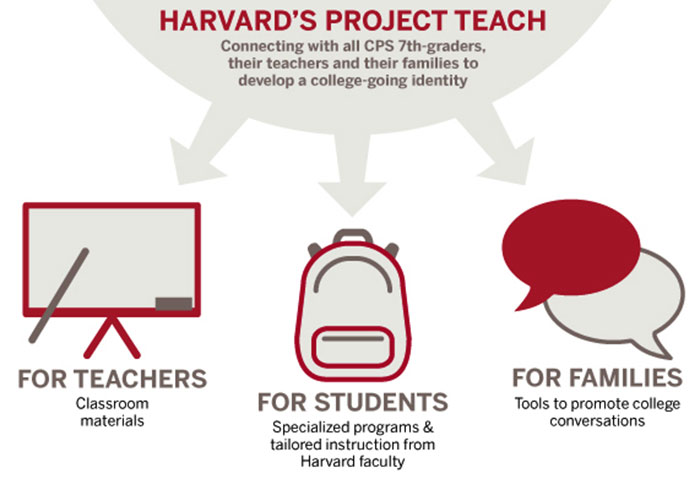 While giving a tour of Harvard Yard, Marcus Dennis '18 combined personal experiences with interesting historical facts to engage the younger students. "I love the energy that the kids bring. Seeing their interest in higher education is awesome for me because when I was in seventh grade, I wasn't necessarily thinking down that route," he said.
"To see kids already thinking about the library, classes, and the languages they can take … [It] is pretty awesome and it energizes me to keep working hard in what I do," Dennis added.
Following every campus visit, families receive resources that can help facilitate academic and career planning. Students also receive tickets to the Harvard Museum of Natural History to encourage them to return to campus with their families.
As the students and teacher chaperones boarded the bus to head back to school, one thing was clear: Many were leaving with a fresh experience promoting the exciting possibility — and promise — of college.