Yale University in the early 1960s was not a welcoming place to freshman Stephen Greenblatt. A third-generation Lithuanian Jew and the grandson of a rag-picker, Greenblatt faced discrimination that was at times overt.
Times have changed but prejudice and xenophobia are still alive and well, said Greenblatt, the John Cogan University Professor of the Humanities, Tuesday morning during the Phi Beta Kappa Literary Exercises at Sanders Theatre. Drawing on lessons from his own life and from the writings of Shakespeare, the Pulitzer Prize-winning author and scholar imagined for graduating seniors moments when their courage and compassion will be tested.
"In the world you're about to enter, you — who have so distinguished yourselves in your studies and have made us so proud of you — you will see these wretched strangers, thousands and thousands of them, their babies at their back, and their poor luggage, plodding to the ports and coasts for transportation," Greenblatt said. "You will have to decide for yourselves how you'll deal with them: to look away or become involved, to secure your safety or to open yourself to risk, to succor or punish.
"What I fervently hope is you begin and end with Shakespeare's gift, the gift of seeing the other as a human being."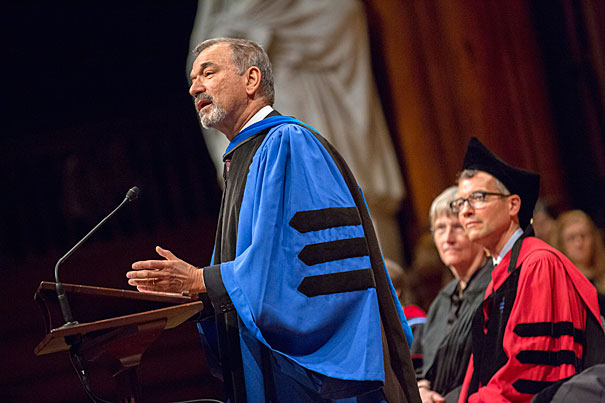 Greenblatt delivered the oration at the annual event, part of Commencement observances. Harvard's chapter of the undergraduate honor society Phi Beta Kappa dates back to 1779. Greenblatt's fellow speaker was poet Robyn Schiff, an associate professor at the University of Iowa and the author of three celebrated volumes of poetry, including "A Woman of Property," released earlier this year.
Schiff read four works, offering a penetrating, sometimes uncomfortable view of life and the world around us. The poems were "Gate," "Lion Felling a Bull," "Fourth of July, 2012," and "Eighty-blade Sportsman's Knife, by Joseph Rodgers & Sons." The poet pulled listeners into a stream of images — screaming rabbits, utilitarian knives with vampire blades and butterfly handles, a deer cut down by a hunter's bullet, lions killing a bull. From "Gate," she read:
. . . Melodramatic
onions grew wild
I cried and cried until someone said
it's okay to cry,
it means the onions
are fresh. Every dream begins
 with a threshold.
Meat in the driveway
where dogs tipped the garbage.
Where's your mouth? There is a whistle
you can buy that makes the sound
of a rabbit screaming
hunters use to call
whatever they want
out of the thicket
because everything they want
wants rabbit for dinner …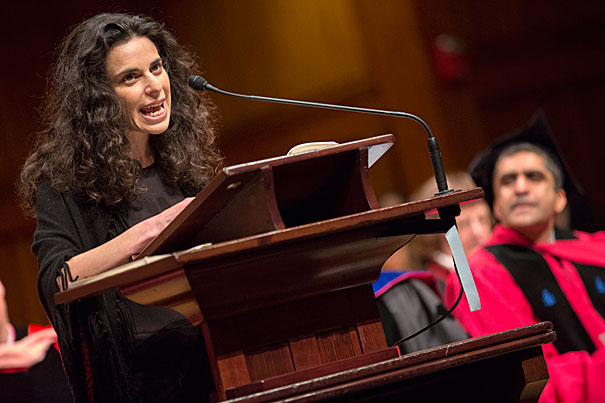 The audience at Sanders included family and friends of the seniors, 24 of whom were elected as juniors, with dozens more joining them this year. Membership is capped at no more than 10 percent of the graduating class.
Also announced at the event were the annual Alpha Iota Prizes for Excellence in Teaching, given to three members of the Faculty of Arts and Sciences. The honorees were Lecturer in Economics Kiran Gajwani; Yehan Numata Senior Lecturer on Buddhist Literatures Charles Hallisey; and Lecturer on the Classics Brigitte Libby. The chapter also inducted several honorary members, including Schiff; Higgins Professor of Biochemistry Jack Strominger; and members of the Class of 1966 Marsha Berzon, Jo Ann Moran Cruz, and Barbara Underwood.
The ceremony was presided over by the chapter's president, Robin Kelsey, chair of Harvard's History of Art and Architecture Department and Burden Professor of Photography. Kelsey said that induction represents entry into a society with "friendship as its basis" and "benevolence and literature as its pillars."
"You have been a source of inspiration to this academic community," Kelsey told the students.