Bringing together dance, music, and improvisation, Vijay Iyer led a group of experts in a critical examination of how arts can influence action at a panel discussion at the Harvard Art Museums' Menschel Hall on Saturday.
"Bending Toward Justice: Improvisation, Freedom, and the Arts" included opening remarks from poet Fred Moten, a professor at the University of California, Riverside, and addresses from Danielle Goldman, assistant professor of dance at The New School; Daphne Brooks, professor of African-American studies and theater studies at Yale; Wadada Leo Smith, a composer and trumpeter who will perform in Harvard's Fromm concerts as the Eileen Southern Distinguished Visitor in the Department of Music; and Matthew Leslie Santana, a Harvard graduate student in ethnomusicology.
"Music is one sphere where we find ourselves in contact with the moment, relating to and interacting with each other, receiving sensory information, making decisions, and taking action in real time," said Iyer, the Franklin D. and Florence Rosenblatt Professor of the Arts, in introducing the event.
Moten, a newly appointed Guggenheim Fellow, addressed "Entanglement and Virtuosity," drawing a distinction between the soloist and the solo — often misunderstood as a message from the singer rather than a beautiful, repressed individual momentarily breaking loose.
"I want to think of us constantly escaping that history or the historiography. The paradox is all about what it is to want to escape the history of freedom, or the history of the struggle of freedom," Moten said.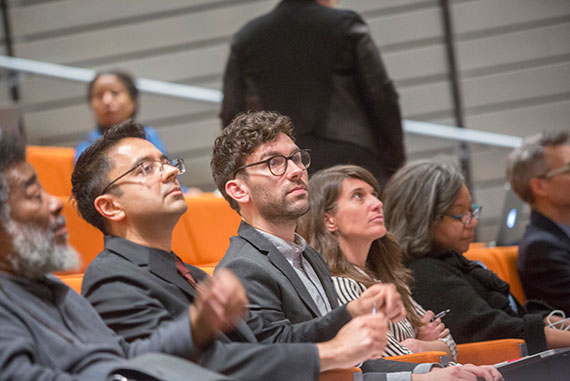 Goldman spoke about trying to work against the grain of re-critical celebrations of improvisation. She said the common belief that improvisation suggests escaping the choreographer's eye, moving beyond technique, acting on desire without impediment, and releasing a stable, autonomous lying beneath the surface is oversimplified and problematic.
"It seems to be that the idea of freedom as achievement mistakenly suggests that if one could overcome a particular set of oppressions, all would be well," she said.
But it was Santana who most directly addressed improvisation's relation to freedom, referencing a recent incident at Yale in which a faculty member and administrator of a student residence advised students to disregard a request from the Intercultural Affairs Committee not to wear culturally offensive Halloween costumes. The result was a confrontation between a house master and a young black woman in which the latter was called both a "crybaby" and "shrieking student." Santana said the event amounted to a front-row seat to strategies of racial containment.
"I'm inclined to point out that the shrieking black woman is a welcomed presence in pop music," such as the backing vocalists in The Rolling Stones' "Gimme Shelter" and Lynyrd Skynyrd's "Sweet Home Alabama," he said. But when that shrieking voice is used to make a demand of an authority figure, it's not a source of entertainment, it's a menace, he said.
Santana called the students involved in the conflict "improvisers, and agents responding creatively and in real time to the structures around them." He described the protests as a fractured call-and-response with students constantly asking for change, but systematically denied.
He added, "I argue the freedom to speak is conflated with a freedom from accountability for what is said."