Over the course of his career, Plácido Domingo's legendary performances have earned him thousands of standing ovations. On Thursday at Harvard's Sanders Theatre, the master opera singer basked in the audience's adoring applause just for walking onstage.
"It's wonderful to be with so many citizens of the world," he said in his opening remarks of "Giving Voice: A Conversation with Plácido Domingo," a lively 90-minute discussion with Tamar Herzog, Monroe Gutman Professor of Latin American Affairs and professor of history, and Anne C. Shreffler, James Edward Ditson Professor of Music. "Without the public, you are nothing."
Charming and gracious, the 75-year-old spoke humbly about his ability to connect on a highly emotional level with audiences night after night. Pausing to watch a film clip of his 1985 portrayal of Cavaradossi in "Tosca" at the Metropolitan Opera, he said: "I cannot disconnect the acting with the singing, the feeling. You have to believe in the character you are playing. Maybe the public doesn't understand too much, but they have the feeling."
Cosponsored by Harvard's Division of Arts and Humanities, the Office for the Arts, and Instituto Cervantes Observatory of the Spanish Language in the United States, "Giving Voice" allowed the crowd insight into many sides of Domingo's personality, from his early global view of the world born of a mid-1960s stint with the Israel National Opera in Tel Aviv to his ability to recall precise details from his earliest performances in Boston (singing "Messiah" with the Handel and Haydn Society in December 1965, and a year later with Beverly Sills as part of the Sarah Caldwell–staged "La Bohème" for Boston Opera Group).
"I'm so much of a fan of every place. I feel happy wherever I go," he said, adding that decades of experience have not rid him of performance jitters. "I can tell you I'm always nervous. Every day is more difficult."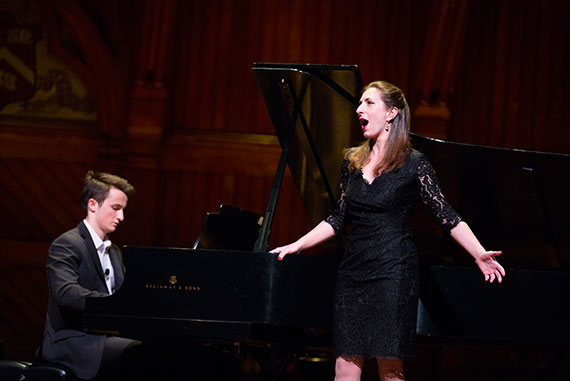 The audience was also reminded of Domingo's many humanitarian efforts. He sent relief to Mexico after the devastating 1986 earthquake and sang in a benefit concert in New Orleans five months after Hurricane Katrina. Still, he told the crowd, "I don't think music can do something to change the world. Music, it can relieve, [but] it's nothing that can solve [problems]."
There was humor, especially when Domingo described his varied audiences' cheering habits. A 15-minute standing ovation at the Metropolitan Opera in New York, he said, is equivalent to an hour's worth in Vienna. In Madrid, however, "they are very demanding."
"They haven't protested yet, but sometimes they start to," he said.
Domingo received several gifts while on stage. Mezzo-soprano Sofia Selowsky '12, a vocalist at the Houston Grand Opera, sang "La Petenera" from the zarzuela "La Marchenera," accompanied on piano by Alex Beyer '17.
Dean of Arts and Humanities Diana Sorensen, James F. Rothenberg Professor of Romance Languages and Literatures and of Comparative Literature, closed the evening with a gift to the illustrious performer, who is also an avid Real Madrid fútbol fan: a Harvard varsity letterman jacket with Latin stitched beneath the crest that she translated for the audience: "He came. He saw. He gave voice."