Ifeoma Fafunwa knows there was a time in living memory when Germans gassed gay people along with Jews, Gypsies, and others they considered inferior. So it struck her as ironic when, a few years ago, she had to enter a German embassy in order to attend a screening of a pro-gay-rights film in Nigeria. In a discussion afterward, a German official — whom Fafunwa knows and likes — earnestly told the local audience, "You can talk freely here!"
"How fabulous," Fafunwa recalled last week. "You have permission to speak in your own country. … You have to be on German soil to talk in Africa" about human rights.
That moment crystallized what had been bothering Fafunwa since she returned to her native country after years in the United States and Europe: "I became acutely aware of how conservative Nigeria was around women's issues," and how the legacy of colonialism, recent corruption, and a Western-inspired religious-right movement have impacted human rights in Africa generally.
With Nigeria generating world-infamous cases of cruelty to women, such as the kidnapping of schoolgirls by the terrorist group Boko Haram, Fafunwa said she began to think, "Wow, sometimes Africa just serves to make other places look good."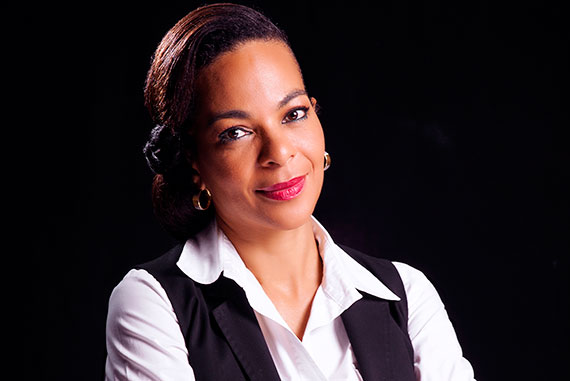 The challenges facing her countrywomen inspired "Hear Word!: Naija Woman Talk True," which Fafunwa co-wrote and is now directing. Harvard's American Repertory Theater will host the U.S. premiere of this touring work of performance art Friday through Sunday at the Harvard Dance Center. Ten of Nigeria's top actresses, ranging in age from their early 20s to mid-70s, perform monologues and some songs addressing the trials the country's women endure, from the dramatic — like the kidnapped Chibok schoolgirls and female genital mutilation — to the mundane, such as mother-applied pressure to marry or a meddlesome mother-in-law.
"The biggest issue in 'Hear Word!' is that a woman's highest aspiration should be to marry and have kids," Fafunwa told the Gazette. It's not that Fafunwa views marriage and motherhood as inherently bad; she is married and has four children. But today, she said, "Women's rights in Africa have gone backwards." Before European contact, "African women had always worked, always had their own money, always had a political right to vote, because there were positions of power that existed in traditional African culture — priestesses, mother of the market."
Colonization, she said, destroyed much of that traditional system and in Nigeria replaced it with the British model of male dominance. Since independence in 1960, the curtailment of women's rights has been compounded by police corruption and a born-again Christian movement sown since the 1980s by American evangelical campaigns to send Bibles to Africa.
"We do the Bible thing better now than anybody else," Fafunwa said wryly. "In the Bible, there's this sentence, 'Women, submit to thy husband.' We live in that place right now. … If a woman is being beaten, most pastors would just say, 'Start praying.' They don't believe in divorce. They believe in a subservient role for women."
As to police corruption, Fafunwa said, "What is the point of reporting a rape in Africa?" Unofficially, a Nigerian woman must pay 10,000 naira ($50) just to file a charge. Then she might be told more money is needed to put gas in the squad car.
More importantly, "The society frowns upon a woman who has experienced [rape]," Fafunwa added. "So your marriageability, your price is lowered."
Moving forward
But "Hear Word!" is not about helplessness, Fafunwa said. "You can't sit there for an hour and 20 minutes listening to depressing stories." There are light and comic moments, and the message for the production's initial audience, Nigerian women, is one of empowerment. Though some of the stories are based on real-life events, as found in interviews conducted by the Kudirat Initiative for Democracy, Fafunwa primarily wrote original stories for the production. Some of those, she said, were also based on true events but given "aspirational" endings.
"What we said was, 'What if?' What if the character overcame this? What if she walked away [from an abusive relationship]?"
That message of empowerment resonated with Nigerian audiences, Fafunwa said. "We've had people literally make fundamental changes in their lives after seeing it. And we have a repeat audience. When people say, 'This is my sixth time seeing the show,' then you know they are building courage. It's doing something for them in their own life. Or people have come back with their daughters, their mothers … Maybe the mother has been pressuring the daughter to get married, and so they can laugh about it after the show."
For an American audience, Fafunwa wants "Hear Word!" to convey both what's unique and what's universal about Nigerian women. "Everybody looks at Africa and thinks, 'Oh, my God, female genital mutilation!' And those things exist. But what I hope is that people will watch this play and then begin to look in their own communities and see where changes need to be made."
Fafunwa said she hopes Americans who see the play will have a better understanding the next time they come across a woman in a colorful ankara dress, laden with bags, and "see a different side of an African woman," she said. "And know that she's juggling a lot."
"Hear Word!" is presented by the Center for African Studies in association with the American Repertory Theater, the Division of Social Sciences, the Faculty of Arts and Sciences, the Harvard Dance Center, the Harvard University Committee on the Arts, The Hutchins Center for African & African American Research, Harvard Law School, the Mahindra Humanities Center, the Radcliffe Institute for Advanced Study, and the Theater, Dance & Media Concentration at Harvard University.
Fafunwa's visit kicks off tonight at 7:30 at Tsai Auditorium with a discussion with Timothy P. McCarthy, adjunct lecturer on public policy and program director of the Carr Center for Human Rights Policy.