To better understand how deeply religion is intertwined with our daily lives, Diane Moore, director of the Religious Literacy Project at the Harvard Divinity School, asked an audience in Allston-Brighton to consider one of the most recognizable buildings on Harvard's campus — the Memorial Church.
"What if this structure was not Memorial Church, but Memorial Mosque?" asked Moore, who is also a senior lecturer on religious studies and education and the senior fellow at the Center for the Study of World Religions. "What if it were the Memorial Temple?"
Moore's talk was part of her presentation at the Harvard Ed Portal's faculty series, which brings Harvard faculty members into the Allston-Brighton community and fosters discussion on a variety of topics.
World Religions for the World Wide Web
Diane Moore, Senior Lecturer and the Director of the Religious Literacy Project at Harvard University, examines both the mechanics and importance of teaching religion to a global community.
Moore said that although we take monuments and structures for granted, they actually signify historical values and reflect how deeply embedded religion is in culture and history.
She also spoke extensively about her HarvardX massive online open course (MOOC), "Religious Literacy: Traditions and Scriptures." Currently in session, the course attracted 30,000 students worldwide, leading to a global conversation about religious diversity, the changing nature of religion, and how it is embedded in our communities. A part of the XSeries "World Religions Through Their Scriptures," Moore's course will be followed by five other modules open to the public about understanding Christianity, Buddhism, Islam, Hinduism, and Judaism through their scriptures.
Moore guides her religious literacy class not by focusing on belief, but rather by taking a cultural studies approach. She sees this as "a way to understand religion," and says we can diminish religious illiteracy by promoting a more sophisticated and nuanced understanding of religions worldwide. Culture, media, and historical context all work together to influence our understanding of religions — both our own and those of others. As a result, Moore said, we operate on "a selective kind of memory" where religion is concerned.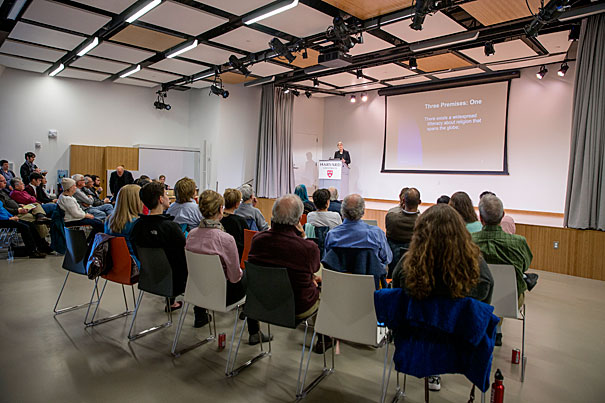 To bolster her argument, she showed the Ed Portal audience Reza Aslan's CNN interview in 2013, a video that quickly went viral. "The CNN anchors can't even hear what Aslan is trying to say," she noted. "It's important to pay attention to the voices we are hearing, and the voices we are not hearing."
Moore challenged the idea that religious illiteracy is a purely American phenomenon, arguing that it is consistent around the world. In her global travels and research, Moore said, she's witnessed a consistency in the ways people see religions — many of them problematic.
"I've had the opportunity to work with educators across the world — in India, Pakistan, Indonesia, Malaysia, South Africa, Egypt, Kenya — and I saw the consistency of some of the ways people think about religions, problematic ways," she said. While the particularities may differ because of cultural context, Moore said, religious illiteracy "spans the globe."
Moore's research focuses on how that illiteracy "impacts civic consequences: how this lack of understanding about religion fuels bigotry, prejudice, and hinders cooperative endeavors in a local, national, and global contexts."
Robert Lue, faculty director of HarvardX and the Ed Portal and a professor of the practice of molecular and cellular biology, said that Moore's work "reflected a heartfelt mission to expand our understanding of religions in the world, and to bring people together in that context much more effectively."
Rather than thinking about religion as isolated, Moore said, we need to understand how deeply it is in our daily lives.
"There are diversities of expressions within traditions," Moore said. "Religious literacy is developing the ability to discern and analyze the fundamental intersections of religion and social, political, and cultural life. It's about understanding the ways that religion is embedded in all dimensions of human experience."