Gap years. Pizza-only diets. Moments of panic.
When some Harvard faculty stepped out from behind their lecterns to dine with undergraduates earlier this month, they shared stories about how they navigated early career choices. The professors told tales of professional discovery that were filled with detours and indirect routes — and challenges that made these intellectual role models all the more relatable.
"I came close to going to Quantico and joining the FBI," said David Elmer, a professor in the Classics Department, recalling a period of uncertainty.
Elmer who teaches Greek literature, joined Alex Rehding, Fanny Peabody Professor of Music, and Stephen Osadetz from the English Department on a recent Wednesday evening to headline the latest student-faculty dinner. Hosted by the Division of Arts and Humanities and the Office of Career Services, the dinners are the part of an effort (along with the Arts Café in Barker) to build community in the division. They've become popular affairs, drawing more than 550 students to dine with nearly 80 professors since launching three years ago.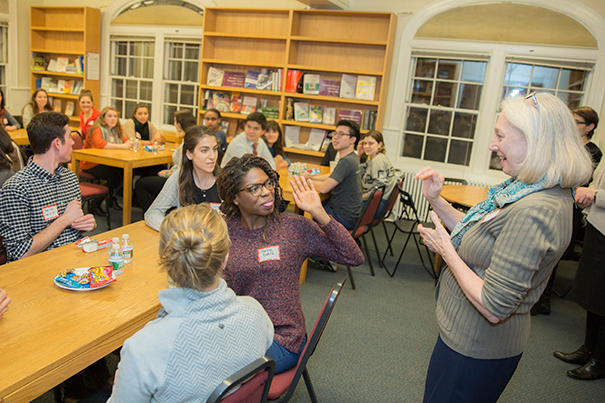 "You are a startup. You have to pivot and iterate," said Robin Mount, director of the Office of Career, Research, and International Opportunities, suggesting to students that they think of their skills through an entrepreneurial lens in order to forge their individual paths.
With the breaking of bread comes an informality that allows for honest recounts and lively storytelling. Over the course of many dinners, faculty shared tales of dead-end jobs, undistinguished undergraduate records, and life decisions made for love. At Wednesday's vegetarian dinner of spinach lasagna and salad, the faculty spoke of indirect paths to success and the struggle to balance personal happiness with financial pressures and external forces. Rehding, who grew up in Hamburg, Germany, had always played piano and trombone, but never aspired to be a professional musician.
"You sit in an orchestra pit and count rests," said Rehding, who teaches the "The Art of Listening," which is part of the Framework series of classes.
The son of a dentist, Rehding recalled that his family thought he might pursue a medical career, and as a conscientious objector to state-mandated military service he instead performed community service as a nurse's assistant working with seniors.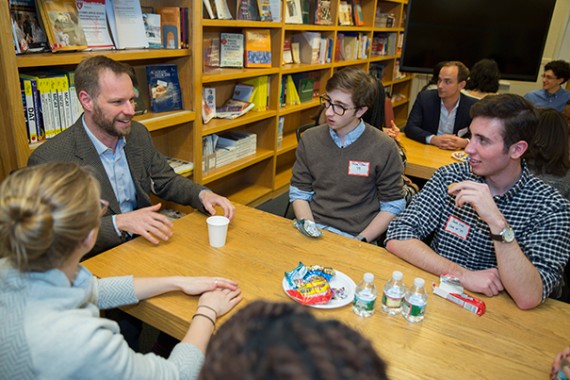 "I realized the medical profession was not for me because I couldn't shut off from the personal suffering," he said.
He ended up in England, where he thought he'd study Russian, but found his passion for music at the University of Cambridge. Post-Ph.D., he zigzagged between the United States and Europe, ultimately landing at Harvard in 2003.
Elmer began at Harvard as a student, but that didn't keep him free of self-doubt. As a young boy enthralled by the "Indiana Jones" films, he thought he would be an archaeologist. "I was fascinated by secrets of the past," he remembered.
At the Catholic high school he attended in Cleveland, Elmer took Greek and Latin.
"I found a love for decoding ancient texts. All the bad stuff — it's all been lost and forgotten. Every [classic] text we have is really worth reading," he said.
In his freshman year at Harvard, Elmer took his first Latin class, and it was a transformational experience.
"The kind of intellectual adventure was completely different. My sights had changed," he said.
He did find himself doubting his direction at times. Recalling taking the GRE, Elmer said he panicked and walked out halfway through the test. That led to a year in Croatia, where he explored the intersecting study of folk music and nationalism. He returned to Harvard's Graduate School of Arts and Sciences for his Ph.D., never joining the FBI.
"What I do as a scholar is detective work of a kind," he said.
Sophomore Sarah Angell said her own follow-your-passion-versus-build-your-resume experience made the professors' conversations very compelling. Angell spent last summer studying in Avignon, France, while friends worked more traditional business internships.
"Because you go to Harvard, you have the opportunity to follow different leads," she said. "There is huge pressure with what do with your summer."
Sophia Iosue, a sophomore concentrating in comparative literature and government, agreed, saying she was comforted by hearing their life stories.
"This was good to give me perspective," she said. "In light of applications for my summer plans, which is very stressful, it's good to know professors had such different paths and experienced failures that I feel are imminent."