"More than 1,350 Harvard men and women have died wearing a military uniform. Tens of thousands more served, or are serving, their country. This tour is an opportunity to remember them and their service and sacrifice in defense of our nation. Today, too, we thank and honor you for your service," began Army Specialist J. Holden Gibbons, during one of the inaugural Official Harvard Military History Tours late last month.
Gibbons, a prospective 2017 graduate from the Division of Continuing Education (DCE), together with U.S. Army Ranger Nick Starling, DCE '16, and Senior Airman Emerald Ralston, DCE '16, led nearly 50 fellow veterans across campus, stopping at points in and around Harvard Yard to identify landmarks significant to the University's distinguished military past.
"The Harvard community has a particularly long and proud history of military service and it was an extraordinary honor to welcome members who have dedicated themselves in service to our country. The 'long crimson line' of Harvard's military service stretches back over 340 years, nearly as old as the University itself. Members of the Harvard community have served in every armed conflict in this nation's history, and this commitment to public and military service has helped shape Harvard into the university it is today," said Paul Andrew, vice president of public affairs and communications at Harvard.
Related
The tours were the brainchild of Army Col. Everett Spain, who received a doctorate of business administration from Harvard Business School in 2014. Spain is currently deployed overseas.
"When he [Spain] first came to Harvard he really enjoyed taking walks around campus. As an active-duty Army officer with an interest in history, he often noticed street names, plaques on buildings, inscriptions on walls, and other symbols that connected with the military," said former Capt. Inga Brown, director of the Harvard Veterans Alumni Organization (HVAO). "To Everett, the very existence of these physical symbols was evidence that military service was not only supported at Harvard. It was celebrated. It was encouraged. It was valued."
Together, Spain, Starling, Brown, retired Army Capt. and HVAO President Thomas Reardon '68, and the Harvard Information Center developed the military history tour.
Stops included Wadsworth House, which housed Gen. George Washington when he first arrived in Cambridge to take command of the Continental Army; Massachusetts and Harvard halls, which were used as barracks from 1775 to 1776; and the Memorial Church, built to honor those killed in World War I.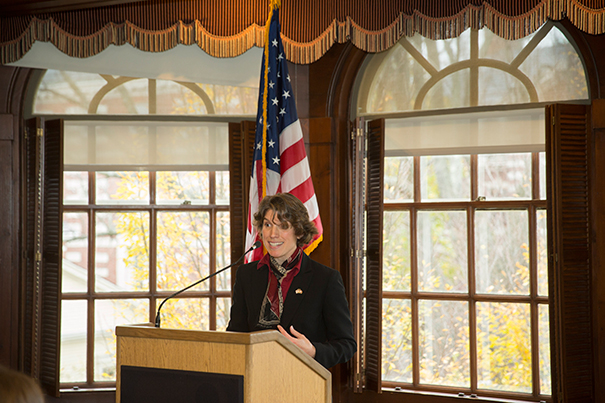 The hourlong tour covered numerous places across campus, and is full of stories such as how brass doorknobs, door hinges, and the metal roof of Harvard Hall were removed and melted down for ammunition during the Revolutionary War; how a Harvard audience was the first to hear the Marshall Plan after World War II; and how Harvard formed one of the nation's first ROTC battalions.
"I left the Marine Corps in August, after returning from active duty in Afghanistan. I'm at the Kennedy School and Business School now, and this was a great chance for me to see some of Harvard's military history — history that's all around us but not necessarily that well-known," said Kevin Mott. "I was surprised to learn that Harvard is third in total Medal of Honor winners, behind only the Naval Academy and West Point. There's a long military history here and it's fantastic to see it really being fleshed out."
"It's interesting that Harvard has not just one, but several monuments dedicated to veterans. The history — from the Revolutionary War to the Civil War to World War I and beyond … the full spectrum of service was just remarkable," said Andrew Lyons, an Air Force active-duty officer and National Security Fellow at the Kennedy School.
Veterans who went on the inaugural tour were also treated to an appreciation luncheon where they were able to meet other Harvard-affiliated veterans.
For those who missed the original tours or who want to learn more, the Harvard Information Center offers a self-guided Military History tour that covers even more ground and digs even deeper into Harvard's rich military history. Officials expect the guided tours to continue.