It was a galactic head fake from one of Harvard's eminent legal scholars.
Cass Sunstein wowed a crowd at Harvard Law School during a talk on his love for one of the 20th century's cultural touchstones: "Star Wars." Sunstein, the Robert Walmsley University Professor, said the film that spawned both prequels and sequels — including "Star Wars: The Force Awakens," out Dec. 18 — was a seminal source of inspiration in his life and career.
"I became a political science major only because of those 'Star Wars' movies. You saw those movies, and you had to focus on political science," said Sunstein, adding that his love of behavioral science grew out of his fascination with the film's storm troopers. He said that Supreme Court Associate Justice Thurgood Marshall, for whom he clerked after law school, was his substitute for the film's all-knowing mentor, Ben Obi-Wan Kenobi.
Then, Sunstein let his listeners in on his joke.
His schooling, personal life, and professional career had "zero" to do with the famous film franchise, he confessed. He was simply, like millions of others, a fan of the movies, until his young son saw the original "Star Wars" and was hooked.
"That's the source of this project," Sunstein told his listeners.
This project is his offbeat forthcoming book: "The World According to Star Wars." Scheduled for release next May, the work will use "Star Wars" to touch on culture, politics, history, and business, according to publisher Dey Street Books.
Sunstein is fluent in the "Star Wars" canon. During the lunchtime talk, the former administrator of the White House Office of Information and Regulatory Affairs quoted the scripts, recounted scenes from the films, and suggested reasons why the first film caught fire at the box office in 1977.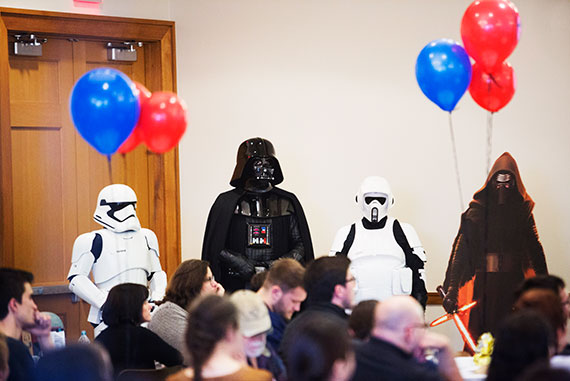 The movie might have ridden an early wave of interest that helped it go viral, he suggested, or it might have been just the lift people needed in the wake of the Vietnam War and the Watergate scandal. For his part, Sunstein said he likes to think, "Awesomeness is in the end the right theory, although I am not sure it's true."
He also playfully linked "Star Wars" plots twists and constitutional law.
"What the court is doing this term in the affirmative action and abortion controversies is it's continuing the narrative," he said. "It's doing what [director] J.J. Abrams has to do … which is perfecting the continuation of the tale. It has to fit with the tale and it has to make it good.
"Constitutional law on that view is like a chain," Sunstein added. "It has a bunch of links, and the new link has to be firmly tethered to the old, but also [has to] kind of make it look continuous. That's what constitutional law is like; it's what narrative construction is like."
Clad in an R2D2 outfit that she found online, first-year HLS student Sarah Racicot said she looking forward to the newest film in the series and to Sunstein's book.
Hearing one of the law school's top legal minds discuss "Star Wars" was "just really cool," said Racicot. "One of the professors where I go to school is writing a 'Star Wars' book. Not everyone at every law school can say that."