Tim Murphy has a recurring nightmare that it's game day, and he can't find the venue. He always jerks awake in a cold sweat.
But in real life, Murphy always shows up, and so does his Crimson football team. That was never truer than in the Oct. 30 game against Dartmouth, a potent opponent with a real shot at toppling the winning empire Murphy and his men have so painstakingly built.
In that game, the Crimson had fallen behind. It was a new feeling, and no one liked it. Last year's team went undefeated and, until that point, the Crimson had pulled off six high-scoring wins, crushing Brown 53-27 and Princeton 42-7, riding high under the command of quarterback Scott Hosch '16 and captain Matt Koran '16.
But with Dartmouth in possession and leading by six points, and less than four minutes to go, you could almost hear the record scratch. Then came the unthinkable: a fumble, on which Koran, a linebacker, landed. The Crimson had a last gasp. Could they pull it off?
In true cinematic fashion, it came down to the wire with Hosch firing a touchdown pass to Justice Shelton-Mosley with less than a minute to play. But 38 seconds remained, and Dartmouth rallied down to the 46-yard line, a scant second left. Defensive lineman Stone Hart blocked kicker Alex Gakenheimer's effort, and Harvard Stadium erupted. The Crimson won, 14-13.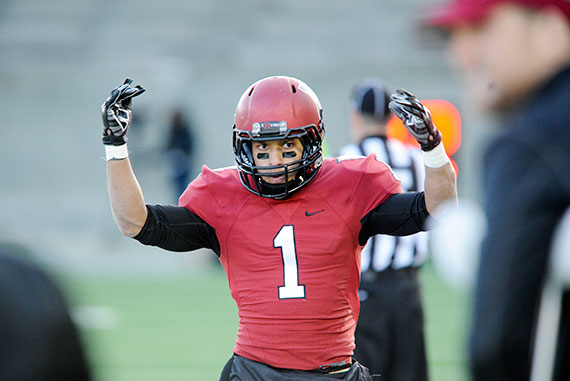 Murphy's law
It may sound funny, but the team was prepared for misfortune — potential loss included. It's been prepared to lose since its season opener against the University of Rhode Island. No one expects to win every game, but only to do his best, to live in the moment. That's Murphy's law.
"A lot of the great life lessons that we learn are in a more intimate environment like athletics," said Murphy, the Thomas Stephenson Family Head Coach for Harvard Football. "Things that seem at times trite, like developing a great work ethic, the ability to get along with other people in a team atmosphere, and the ability to fight through adversity. It's inevitable; we're all going to see it at some point."
If this sounds less like football and more like a life lesson, that's the point. Murphy is prepping his team not only for 10 games in the fall — closing with the hallowed match against archrival Yale this Saturday — but the aftermath. What happens when the cleats are hung up for good and 6 a.m. workouts and twilight scrimmages no longer govern everyday life? The real world happens. The stuff that doesn't win you glory every week happens. No one applauds you just for waking up and doing what you have to do.
It's very much become a reality for the Crimson's pack of graduating seniors, including Hosch.
"It's the No. 1 lesson I've learned in this program," he said. "When things aren't going your way, how do you respond?"
"I've become much tougher. I've become an adult, or at least much more prepared to enter the adult world," said offensive lineman Cole Toner '16.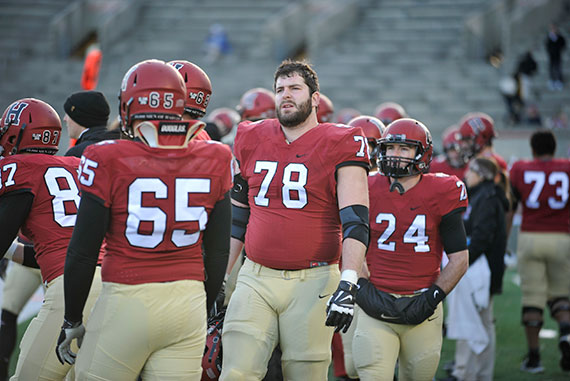 That adult world includes awkward moments, such as pulling off a victory against your best friend's squad — as was the case for Murphy and his lifelong friend Eugene "Buddy" Teevens, head coach of Dartmouth.
The two once played football together at Silver Lake Regional High in Kingston, Mass., and both rose to become as prominent Ivy League coaches. More than most people, they know the nature of the game. It's nothing personal.
"One of the teams was going to get crushed, either way," said Toner. "I think [Murphy] felt bad, he kind of thought we got outplayed for a little while. But we finished, so … he was almost speechless."
Life on, and off, the field
Koran remembers watching the Chicago Bears with his father, viewing old VHS cassettes of running back Walter Payton. Koran had football fever from a young age, starting the sport at age 5.
"My parents wanted to put me on the field for two reasons. I was a little bit aggressive in the classroom and in all areas of life, and they wanted me to learn how to release that aggression, flip the switch," he said. "They said it worked wonders. After I got on the field, I was tamer and more mild-mannered. Football was an outlet."
The second reason was sheer love of football, something that emanates from Koran, and the reason his peers voted him team captain, in "the biggest honor I've ever received in my life."
At last year's banquet ceremony, Koran — amped, unfailingly optimistic — delivered both a battle cry and a vow that the team would clinch the Ivy League title and duplicate last year's undefeated season.
Koran played alongside some talented seniors, including one of Harvard's most decorated players to date — defensive end Zack Hodges '15. Hodges was no stranger to adversity. His father had died of a brain tumor when Hodges was only 18 months old. He and his mother weaved in and out of homelessness. During Hodges' junior year of high school, he lost her to a stroke. (After signing with the Indianapolis Colts this year, he was cut at the end of the summer.)
More than ever for the Crimson's graduating seniors, building on last year's foundation was crucial — a way of honoring the hard work of the previous players while leaving their own legacy. It's been about going out after having given their all, and making room for others to step up.
"We recruit a lot of guys who are blue-collar, hard-working, who come from modest backgrounds like myself, and really have that hunger, that drive, to compete and dominate every single play when they're out there," said Koran.
Most days, the team members wake up at 5 a.m. Then "we walk across the Charles River. It's freezing cold, the wind's howling," said defensive back Chris Evans '16. It's a miserable recipe that breeds success, he said. "It's hard physically, yes, but it's even harder mentally."
Evans has a little saying he tells himself: "Be great." Murphy wouldn't stand for less. "You have to have a plan, and our plan obviously is to reach our full potential," he said. "But we don't talk a lot about the season, about winning championships. What we talk about is having a great day today."
Some players have been so great that they've attracted the attention of NFL scouts, like Hodges. Toner is another one. Going pro was never a "clichéd dream of mine," said the Greenwood, Ind., native and government concentrator. But once he got to Harvard, his talents set the coaches abuzz.
"Politics may be where I end up, but I need some more life experience," he said. "Right now, the NFL is my priority."
Not every graduating senior will keep playing football. But they'll have graduated from Murphy's program, "meant to create young men that have certain skills that I think we all have by the time we leave this program," said offensive lineman Adam Redmond.
They'll also have a Harvard degree.
"The goal of a liberal arts education is to challenge you in many different ways, and when you come out of here you know you're qualified and that you have the skills, and the people skills, to be successful," said Redmond. "That reinforces what we do in football, and football reinforces what we do on this side of the river."
Hosch, from Sugar Hill, Ga., will likely join the ministry. Aside from football, he found the most joy in his college years in his work with the student groups Harvard Christian Impact and Athletes in Action. "I feel like it's my calling in life," he said.
He wants to return to South Africa, where he has worked in underprivileged townships, tutoring students and readying them for matriculation exams.
"It's given me a new perspective on life and a joy for the little things," he said.
That doesn't mean he won't be sad. He's sad already. "It's flown by, especially this senior year," he said.
But will he cry? "Yes. I will."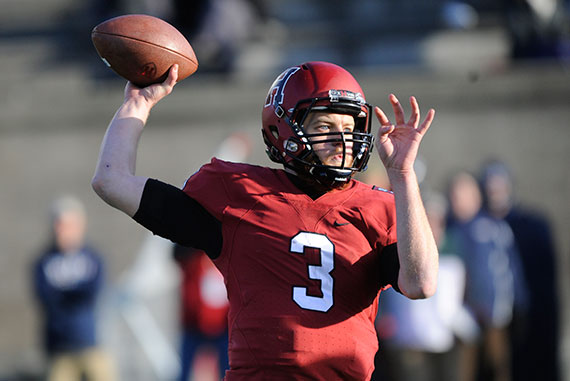 More than just a game
If Andrew Fischer '16 gets a little ahead of himself, he knocks on wood. It's a jinx remover, a silly superstition, but he wouldn't dare stop now. At the season's end, with just one game remaining — arguably the most pivotal game, against Yale — Fischer has to be ready. "You're essentially going into battle," said the wide receiver.
On Nov. 14, the Crimson's 22-game winning streak ended with a 35-25 loss to Penn. Harvard is now tied with Penn and Dartmouth for the Ivy League conference title. If Harvard wins against Yale, it will at least share the title. If it loses, that's unlikely unless both other teams also lose.
So, as is true many years, the focus is now on the Harvard-Yale match-up, reverently referred to as The Game. This year, the team will travel to Yale, traditionally successful turf for the Crimson. Since 2001, the Crimson has won every game against Yale — except one gutting loss in 2006.
The pressure is on to perform, not just to cap another milestone season with a victory, but to make the last game an unforgettable one for the graduating seniors.
"It's a really hard feeling to describe," Evans said of playing The Game. "Especially that Yale game last year where the stands are packed, and it all comes down to the last drive … being on the field for that was an unparalleled moment in my life. It was just so surreal, a feeling of pure joy and happiness that I wish everyone in this world could feel."
There's a chant that's been passed down through the years from captain to captain, Koran revealed. It's a simple rallying cry, with call and response from the team: "It's 'Crimson, our house, can't be beat, won't be beat. All for one, one for all. Crimson,'" he said. "And then we break."
When the team breaks for good, though, Murphy's lessons will continue to resonate.
"Coach said to me one time, 'You don't learn anything from the wins, it's the losses, the pitfalls you stumble into sometimes; that's where you learn from life,'" recalled Redmond. "Beyond football, if something happens — a death in the family — you realize, 'There's a way I can pull myself out of this.' Looking back now, I'm much prouder of the person I am now than the person who walked in the door."
"Every time you look at your senior class you think, 'Wow: what're we going to do without these guys?'" said Murphy. "Then you end up in spring practice and all these great players are gone, all your team leaders are gone, and you say, 'How the heck are we going to win a game?' But somehow you evolve. Guys step up and continue on in their footsteps. But this will be a very difficult class to replace."
Before Commencement in May, the team will gather one last time for a Murr Center ceremony overlooking the stadium.
"It's very emotional, and it's very bittersweet," said Murphy. "It's the evening before graduation; it's the last time we'll ever be together in that entire group, that entire family. The thing I tell my players is that as bittersweet as it is, we will never lose that very special bond forged through four years of hard work, joy, and heartache."