Walking through level one of the Carpenter Center for the Visual Arts, visitors these days are immersed in a visceral, dynamic experience. Created by Shahryar Nashat, an exhibit titled "Skins and Stand-Ins" uses video, sound, color, and sculpture to "intervene" in the space originally built by modernist architect Le Corbusier.
Two benches by the artist — "Beach" and "Muscle," created in 2015 — function both as sites of repose and sources of focus. Playing on a loop, a video features several performers, their faces just out of frame. In one clip, a man faces another with his back to the camera, arm extended. Only when he eventually turns can a visitor see an abrasion on his arm, blood welling at the crook of his elbow.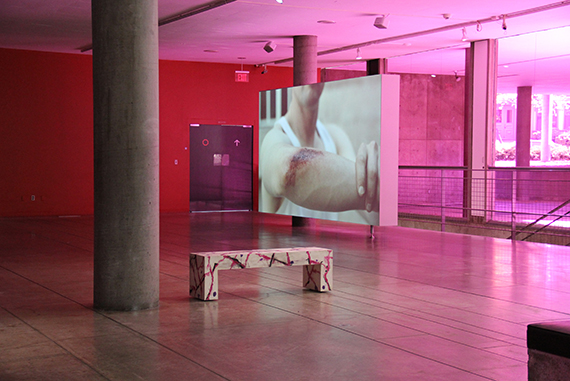 "Growing up in Europe, and being so connected to European art, I was always fascinated by the marginal way that artists throughout the centuries have developed a view of the body," Nashat said. "I don't mean a perfect, muscular body, but one that is sometimes wounded or infected with social function or political function. A wounded body is almost more impactful for me. It's refreshing to see skin that's bruised or scarred; it reminds us of the individual in that skin."
The space in level one presented challenges for Nashat. The windows let in immense amounts of light, and the open floor plan means there are no walls on which to display artwork. Most challenging of all, it's not a traditional gallery but a transitional space with high foot traffic. Nashat worked with it.
"For me, the exhibit broadens the idea of how you can experience art," said James Voorhies, the John R. and Barbara Robinson Family Director of the center. "A typical gallery positions one to have an experience with art in a predictable way. But here, when students enter for a class or someone simply visits the building, they can have an unexpected encounter with something that can stop them in their tracks. It's an experience with art that is different than if one were positioned or prepared for it."
The Carpenter Center is only one space that Nashat is interrupting on campus. His singular vision is also on display next door at the Harvard Art Museums. In a collaboration with the Carpenter Center, the museums invited the artist to "interrupt" the sculpture gallery facing the center, allowing the two gallery spaces to connect via his second installation, "Private Practice."
Nashat's irreverent and insightful touch is immediately evident in the museums' space: Sculptures face the outside gardens rather than the visitor, pedestals are scuffed and stacked atop one another, and art placards are inverted. On one wall where a bronze sculpture by Käthe Kollwitz used to hang, only the hook for the art piece and a Rorschach of a gash — both natural to the space, neither created by the artist — remain. The sculpture, titled "Rest in the Peace of His Hands," was moved for the duration of the exhibit but may be viewed in the museums' Art Study Center on request.
"Our expectations of the museum space are pretty well ingrained, in terms of where the labels are placed, the distance between pieces in relation with one another in the space, and so on," Voorhies said. "Part of [Nashat's intention] is to stop people, because we may have expectations that we bring to the museum space, and his work is an interruption of those expectations."
"It's exciting to see," said Lynette Roth, Daimler-Benz Curator of the Busch-Reisinger Museum, who curated the museums' space before Nashat's intervention. "Entering the space, you feel off-balance. As curators, we're often interested in creating a contemplative space for visitors to engage with the artwork. What Nashat has done throws that off. He has created a different conversation, and so we see these sculptures and our own relationship to them differently."
In the museums' gallery, Nashat removed some works of art and explored the museums' vast collections to bring other works out of storage and put them on display. In addition to sculptures by Ernst Barlach, Max Beckmann, George Minne, and Renée Sintenis already on display in the gallery, the artist added works other works by Sintenis, Georg Kolbe, Wilhelm Lehmbruck, and Gerhard Marcks. Nashat also included another of his own benches, "Repose on Display" (2015), commissioned by the center and the museums.
"I wanted to see what pieces in our collection but not currently on display would speak to him," Roth said. "And as much as he wants to intervene and turn museum tactics on their head, his intervention is still in the language of the museum, even as he's subverting it. That's something that we found very intriguing."
One constant through both exhibits is a vivid magenta lighting, chosen by the artist.
"The magenta is one of the colors associated with light in video," Nashat said. "I knew that simply putting my work in the space would not help counterbalance the huge presence of the architecture. For me, magenta is a color that signifies the urgency of today. It's also a great frame or envelope for the other works in the Harvard Art Museums exhibit."
Voorhies suggested that the exhibit offers visitors the opportunity of being lost or off-balance, something unusual in the age of technology and social media.
"It's difficult to have those kinds of encounters today," he said. "We're very focused on where we're going, and we're more connected with technology and place than ever before. The beauty of getting lost is less and less part of our reality. It's important that we're asked or encouraged to stop unexpectedly, and this exhibition has the potential to do that."
Roth added that one benefit of inviting Nashat is the initial jolt he gives visitors.
"The Harvard Art Museums have been open almost a year now, and my hope is that this intervention wakes the visitor up, but also cues him or her into the subtleties of museum display more broadly," she said. "Nashat's is not a subtle change, obviously. It pushes the way we see every other pedestal or gallery in the museum. Every gallery is an argument, and this gallery now makes a new argument in an upfront way."