They came into the tent at Harvard's Community Football Day wearing the "wrong" colors. At first they drew some looks — the Crimson were playing the Princeton Tigers, whose colors are black and orange, after all — but it wasn't long before they spotted some friends and made themselves at home. The Brighton High Bengals Football Team, whose colors are also black and orange, were old hands at Community Football Day.
"I've been coming to Community Football Day for years," said Coach Renel Jean. "We bring the team every year, and they really love it. I played for Brighton, and my head coach took me every year, so I feel like I should do the same for these boys. It's become sort of a tradition."
The team joined nearly 1,400 other residents from Allston-Brighton and Cambridge for the annual event, as they cheered undefeated Harvard. It was perfect football weather, partly sunny with a slight nip in the air — great for some hot chocolate and connecting with others.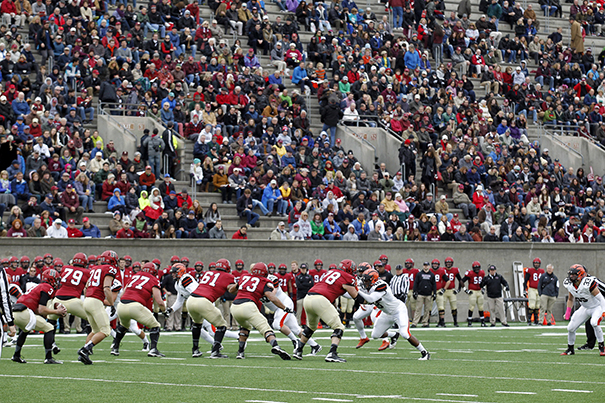 For many visitors, it was their first time at a Harvard game, and the Crimson didn't disappoint. They trounced Princeton, 42-7, winning their 20th straight game, 14th straight Ivy League game, and 10th straight home game. Since the start of the 2013 season, Harvard Football has the best winning percentage in Division I: 25-1.
Lena Litvak, an eighth-grade teacher at the Putnam Avenue Upper School in Cambridge, brought 40 students to the game. "[They] felt very special to be able to witness the Harvard football team's 20th straight win," she said. "It served as a great incentive in the classroom. And more importantly, it served as a great bonding and learning experience for the students, many of whom had never seen a football game live, and where better than at the historic Harvard football stadium?"