Elina Pradhan was asleep in her Cambridge home in the early morning of April 25 when a friend phoned to tell her that a catastrophic earthquake had struck her native country of Nepal.
After an anxious half-hour, Pradhan, a doctoral student at the Harvard T.H. Chan School of Public Health, managed to reach by phone her parents and sister in Kathmandu, and was grateful to find that they were safe in the still-standing family home.
But shaken by the disaster that killed more than 8,000 people, injured more than 18,000, and left millions displaced, Pradhan has joined with Harvard's approximately two dozen other Nepali students in leading a campus-wide effort to draw attention to the unfolding tragedy and bring help to the victims.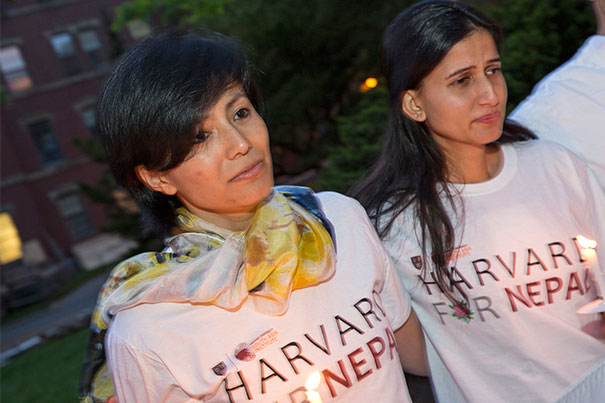 Pradhan said that the students — part of a multicampus Students for Nepal group that sprung to life after the earthquake — are motivated by shock and grief at the scale of destruction wrought by the original earthquake, and a second one that struck on Tuesday.
"It's a feeling that you've lost more than 8,000 of your own," she said. "It's hard to communicate that loss and sense of urgency."
The shared impulse to turn anguish into action is helping strengthen bonds among Nepalis both at Harvard and in the community beyond, said Adarsha Bajracharya, a Nepali-born physician at Harvard-affiliated Cambridge Health Alliance and a postdoctoral fellow at Harvard Medical School.
"Everyone is thinking, how can we help in any way and give back to the country," he said.
"That's been a common theme that has resonated with all the Nepalis I've met in Harvard and in the Greater Boston community."
Bajracharya said his family is safe but witnessed significant damage to homes in an older neighborhood near their Kathmandu home. The 17-year-old daughter of their driver was killed trying to protect her younger sister when their family's home collapsed.
Students for Nepal was launched the day after the first quake in an informal meeting at the Kennedy School, with Harvard, MIT, Tufts University, and New York University represented. It has since grown to include participants from seven other colleges and universities.
Several Harvard Schools have their own chapters, all led by Nepali students. The groups focus on different tasks.
The Chan School contingent has organized a panel discussion, submitted newspaper opinion pieces, raised funds, and created a short film. At the Harvard Graduate School of Design, students have contributed their computer mapping skills and held a "Nepal Earthquake Mapathon" to demonstrate them.
Kennedy School students have played a convening role for the overall group, and worked to raise funds and public awareness.
Harvard Medical School students have drawn on contacts in Nepal to help direct disaster aid to the areas that need it most. On the ground in Nepal as part of a Massachusetts General Hospital team, physician Bijay Acharya has been posting blog reports giving a firsthand view of the devastation that relief workers are encountering, as well as the resilience of the locals. One post described the scene in the hamlet of Singla:
"The first quake wiped out nearly all the houses in the villages and the aftershocks crushed every old structures that remained standing. … All we saw was rubble: what remained of the houses was piled over one another. What used to be streets was now filled with debris and what filled people's homes: torn clothes, shoes and books. Granaries lost, utensils crushed, latrines destroyed. A stench of decaying animals and human waste hung in the air."
At Harvard College, sophomore Saroj Kandel conducted an online fundraiser to support relief efforts.
"Any citizen of Nepal should do it. The entire country is in pain," he said.
Harvard's South Asia Institute has separately formed a Harvard for Nepal group. With the Chan School and the Kennedy School, the institute on Thursday hosted a forum on the earthquake, followed by a candlelight vigil.
For some Nepali students, the efforts have helped ease a time of ordeal.
Kumar Anuraj Jha, a student in the midcareer master's in public administration program at the Kennedy School, said that members of his family, including his parents and two sisters, were in Kathmandu at the time of the earthquake, staying at the house of another sister who happened to be visiting him at Harvard. While they were unharmed, "everyone was just in a panic."
Jha said hearing of the trauma unfolding more than 7,000 miles away left him with feelings of "sadness and helplessness." But he said he has been buoyed by the "huge energy" of the local Nepali community.