June 2014
Harvard mathematics Professor Jacob Lurie is named one of five inaugural recipients of the Breakthrough Prize in Mathematics for outstanding achievement in his field. Lurie receives a $3 million prize.
Professors Mahzarin R. Banaji, David Cutler, Hopi Hoekstra, Melissa McCormick, and Greg Morrisett are named Harvard College Professors. The prestigious professorships are one of several efforts dedicated to highlighting exceptional teaching at Harvard.
July 2014
Professor and Cabot House Master Rakesh Khurana officially begins his new post as dean of Harvard College.
Harvard unveils a University-wide policy and set of procedures to prevent sexual harassment, including sexual violence related to gender, sexual orientation, or gender identity.
The Harvard Museum of Natural History opens a permanent exhibition of the glass sea creatures created by famed artists Leopold and Rudolf Blaschka more than a century ago.
Harvard chemist Cynthia Friend is awarded a major center grant from the U.S. Department of Energy's Basic Energy Sciences' Energy Frontier Research Centers program, which is designed "to accelerate the scientific breakthroughs needed to build the 21st-century energy economy."
Adam Cohen, professor of chemistry and chemical biology and of physics, is named a winner of the 2014 Blavatnik National Awards, which honor young scientists and engineers who have made important insights in their fields and show exceptional promise going forward.
August 2014
The revitalized Stone Hall at Quincy House wins platinum-level LEED certification. The project is also honored by the Cambridge Historical Commission as part of its annual Preservation Awards program for the extraordinary efforts undertaken to conserve and protect Cambridge's historic architecture.
School of Engineering and Applied Sciences (SEAS) Professor Robert Wood and a team of engineers create the first robot that builds itself and performs a function without human intervention. The robot can assemble itself into a complex shape in four minutes and then crawl away.
September 2014
Faculty of Arts and Sciences (FAS) Dean Michael D. Smith is named the Edgerley Family Dean of FAS.
President Drew Faust and Radcliffe Institute Dean Lizabeth Cohen mark a new $12.5 million fund for the arts. The Johnson-Kulukundis Family Gift will shape the future of the arts at Harvard.
Professor of Mathematics Jacob Lurie, whose work made derived algebraic geometry applicable to related fields in new ways, is named a MacArthur Fellow.
The Harvard School of Public Health announces its — and Harvard's — largest-ever gift, $350 million from The Morningside Foundation, which will rename the School and foster programs to improve health in several key areas.
Leverett House's McKinlock Hall reopens to students after 15 months of reconstruction. McKinlock is the second completed project in the House renewal initiative, which is one of the largest and most ambitious capital improvement campaigns in Harvard College history and a major campaign priority.
SEAS' Kit Parker develops a human airway muscle-on-a-chip that accurately mimics smooth muscle contraction under normal circumstances and when exposed to asthma triggers. The work, which offers a window into the cellular and even subcellular responses within the tissue during an asthmatic event, could be used to test new drugs.
October 2014
David T. Ellwood, the eighth dean of Harvard Kennedy School (HKS), announces that he will step down on June 30. Ellwood '75, Ph.D. '81, was appointed dean in 2004 by President Lawrence H. Summers, succeeding political scientist Joseph S. Nye Jr.
President Drew Faust travels to Mexico to celebrate Harvard's longstanding ties with the country. Faust participates in a "Your Harvard" alumni event in Mexico City, along with other University officials. She then heads to Booker T. Washington High School in Dallas where she gives a speech titled "The Case for College," taking on some of the frequent criticisms of higher education, particularly the issue of whether the results justify the investment.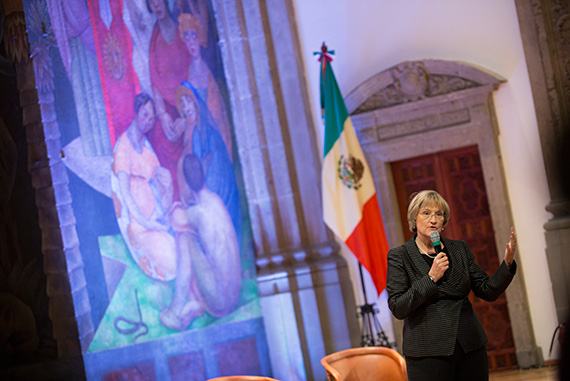 In recognition of his historic gift to Harvard College, the School officially renames its Financial Aid Office in honor of Ken Griffin '89. In February 2014, Griffin gave $150 million to the University, principally supporting need-based financial aid for undergraduates.
The University unveils the Harvard Sustainability Plan, a five-year map of how to reduce energy, water, and waste while also focusing on sustainable operations, culture change, and human health.
The White House announces that SEAS Dean Cherry Murray will receive the National Medal of Technology and Innovation, the highest honor for achievement and leadership in the advancement of science and technology. Later in the month Murray announces that she will step down at the end of 2014 as dean of SEAS, a post she held for five years.
The noted author Jill Lepore RI '00, the David Woods Kemper '41 Professor of American History at Harvard and a staff writer at The New Yorker, gives a spirited lecture called "How Wonder Woman Got Into Harvard" at the Radcliffe Institute. Lepore explains that the superheroine's backstory is not only firmly rooted in feminist ideals, it's also firmly rooted at Harvard.
Recordings by poet Wallace Stevens, made for the Woodberry Poetry Room in 1954 but misplaced somewhere along the way, are rediscovered and unveiled for the public in a talk featuring A. Kingsley Porter University Professor and Stevens expert Helen Vendler.
The National Institutes of Health awards four Harvard scientists nearly $8 million in grant funding through its High Risk-High Reward program to support research ranging from how the bacterial cell wall is constructed to how the blood-brain barrier works. The recipients are Ethan Garner, Alison Hill, Chenghua Gu, and Donna Spiegelman.
The Ethelbert Cooper Gallery of African & African American Art opens. The inaugural exhibit is "Luminós/C/ity.Ordinary Joy: From the Pigozzi Contemporary African Art Collection."
Architect David Adjaye, the late poet Maya Angelou, singer Harry Belafonte, Congressman John Lewis, "12 Years a Slave" director Steve McQueen, screenwriter Shonda Rhimes, film producer Harvey Weinstein, and talk show host Oprah Winfrey receive W.E.B. Du Bois Medals, which recognize outstanding contributions to African-American culture.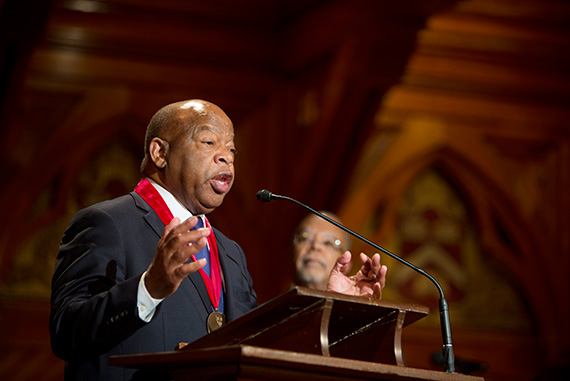 Briana Burton, an associate professor of molecular and cellular biology, and Kiran Musunuru, an assistant professor of stem cell and regenerative biology, are named the winners of this year's Fannie Cox Prize for Excellence in Science Teaching.
Radcliffe's Schlesinger Library exhibition "What They Wrote, What They Saved: The Personal Civil War" opens with remarks from President Faust, the Lincoln Professor of History and a Civil War scholar.
November 2014
Ruth Fong '15 and Benjamin Sprung-Keyser '15 are among 32 Americans named Rhodes Scholars. The scholarship, one of the most prestigious academic awards in the world, covers the full cost of two or three years' study at the University of Oxford.
The Harvard Art Museums — comprised of the Fogg Museum, the Busch-Reisinger Museum, and the Arthur M. Sackler Museum — open the new, Renzo Piano-designed facility to the public on Nov. 16.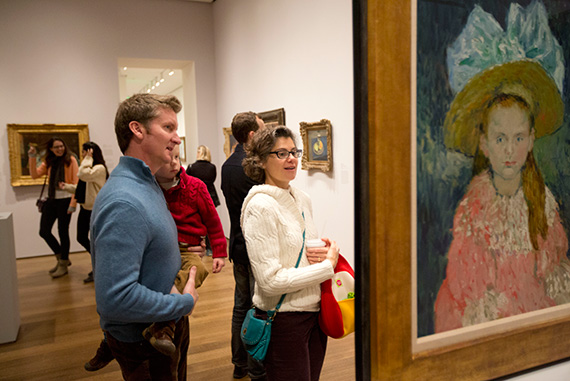 Stating that the computer science faculty at Harvard today is "small, but excellent" and "already punches above its weight," former Microsoft CEO Steve Ballmer '77 announces a gift to expand the size of the computer science faculty by 50 percent.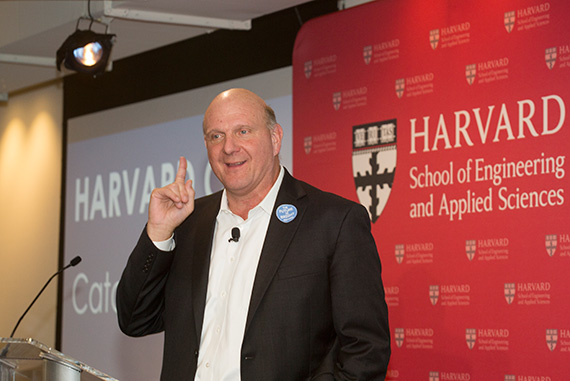 The Crimson football team relishes an undefeated season after defeating Yale 31-24 in the 131st playing of The Game.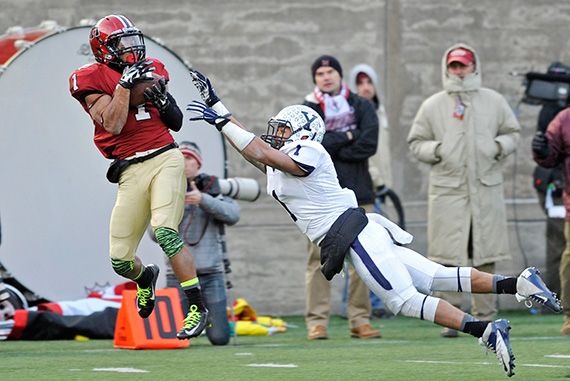 Former President Jimmy Carter visits Harvard Divinity School to discuss his new book calling for a worldwide end to discrimination against and abuse of women, which Carter calls the "No. 1 unaddressed issue involving human rights."
Stage, screen, and television icon Angela Lansbury, at 89, makes her second visit to Harvard for a screening of a film at the Harvard Film Archive.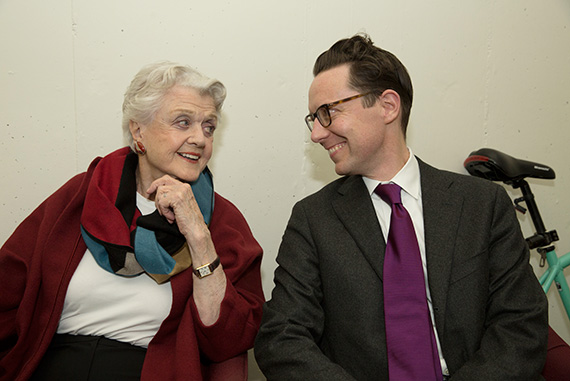 Acclaimed writer Russell Banks, the author of 20 works of fiction, delivers Harvard Divinity School's annual Ingersoll Lecture on Immortality. He argues that if immortality exists, it lies with people's descendants.
December 2014
The Senate confirms Harvard Medical School physician Vivek Murthy as the new U.S. surgeon general.
In the wake of decisions by grand juries in Missouri and New York not to indict police officers in the deaths of two unarmed black men, hundreds of Harvard community members express their anger, frustration, and desire for changes in the criminal justice system with a range of campus activities.
Harvard, MIT, The Boston Globe, and Harvard-affiliated Massachusetts General Hospital pledge use their convening powers to bring together thought leaders, innovators, and creative disrupters next fall for HUBweek, a series of seminars, hackathons, and other public events to tackle some of today's biggest global challenges.
Harvard College sends admission notifications to 977 prospective students from a broad range of economic, ethnic, and geographical backgrounds through its Early Action program.
SEAS honors computer pioneer Grace Murray Hopper on her birthday with a program featuring journalist Walter Isaacson '74, and a panel of women computer scientists.
Michael George '15 and Anna Hagen '15 win Marshall Scholarships, which support young Americans in graduate studies in the United Kingdom.
January 2015
Stephen Blyth takes over for Jane Mendillo as president and CEO of Harvard Management Company.
After an extraordinary $350 million gift from The Morningside Foundation, established by the family of the late T.H. Chan, the Harvard School of Public Health is renamed the Harvard T.H. Chan School of Public Health.
Two "Parks and Recreation" stars come to Harvard: Golden Globe Award-winning actress and comedian Amy Poehler and leading man Chris Pratt are honored by the Hasty Pudding Theatricals as Woman and Man of the Year.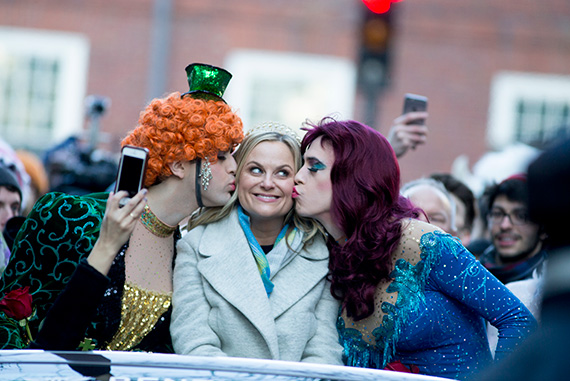 Harvard reveals its initial design concepts for the Richard A. and Susan F. Smith Campus Center during two open houses. Formerly known as Holyoke Center, the building was renamed in 2014 in honor of the Smiths, who donated the funds for its renovation.
Harvard's Clowes Professor of Science Robert P. Kirshner '70 shares the 2015 Wolf Prize in Physics with Professor James Bjorken of Stanford University. The pair split the $100,000 reward.
After reimagining and successfully rebuilding the Harvard Art Museums, and more than a decade at the helm, Thomas W. Lentz, the Elizabeth and John Moors Cabot Director, announces he will step down on July 1.
The revitalized Harvard Art Museums earn LEED gold status for their energy efficiency.
February 2015
Unprecedented snowfall shuts down the University as well as the MBTA. Executive Vice President Katie Lapp calls the dining, operations, and other personnel who keep Harvard running through the storms "heroes," and praises their dedication.
Seven research projects aimed at confronting the challenge of climate change using the levers of law, policy, and economics, as well as public health and science, are awarded grants in the inaugural year of President Drew Faust's Climate Change Solutions Fund.
The reimagined Harvard Ed Portal, a 12,000-square-foot space devoted to teaching, research, exploration, and recreation, opens its doors at the intersection of Western Avenue and North Harvard Street in Allston.
The renewal process begins for Winthrop, one of Harvard's oldest undergraduate Houses.
Acclaimed actress Eva Longoria is presented with the 2015 Harvard Foundation Artist of the Year award at the 30th annual Cultural Rhythms festival.
A record 37,305 students apply for admission to Harvard College's Class of 2019. Last year 34,295 applied, while the previous high was 35,023 for the Class of 2017.
March 2015
President Drew Faust delivers Morning Prayers in Appleton Chapel, offering personal and pointed reflections on her experience with the Civil Rights Movement 50 years ago. Afterward, Faust travels to Selma, Ala., for the 50th anniversary of the first march to Montgomery on March 7, 1965.
For the second year in a row, Harvard leads its peers in Fulbright Scholarships, with 34 students ― 22 from Harvard College, nine from the Graduate School of Arts and Sciences, one each from the Law School, Graduate School of Education, and the Graduate School of Design — receiving the prestigious grants to conduct research or teach abroad.
President Faust travels to China, meeting with Chinese President Xi Jinping and delivering a speech to faculty and students at Tsinghua University, where she argues forcefully that universities have a unique and critical role to play in combating climate change.
Harvard Stem Cell Institute researchers at University-affiliated McLean Hospital find that dopamine-producing neurons derived from the skin cells of primates survived for more than two years after implantation into one of the animals, and markedly reduced its Parkinson's symptoms.
After beating Yale in the playoffs, securing the Ivy title and a spot in the NCAA tournament, the 13th-seeded Harvard men's basketball team seem destined to knock off fourth-seeded North Carolina in the NCAA, but Wesley Saunders' 3-pointer at the buzzer is off the mark as the Tar Heels hold off for a 67-65 victory.
A new suite at Adams House captures the spirit of the late poet Seamus Heaney, the former Boylston Professor of Rhetoric and Oratory and Ralph Waldo Emerson Poet in Residence, and offers students a quiet space in which to write and reflect.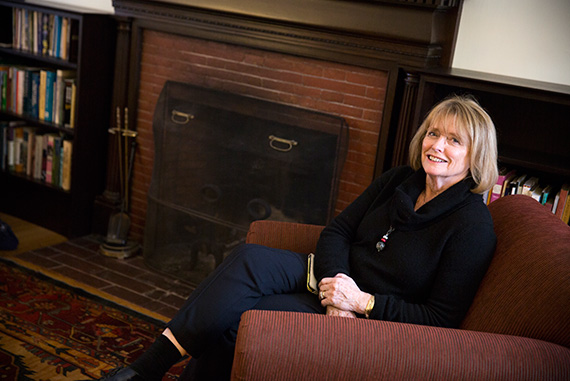 Harvard student Evan O'Dorney '15 is named a Churchill Scholar and will explore his love of mathematics at the University of Cambridge.
Karen Nelson Moore '70, J.D. '73, is named president of Harvard's Board of Overseers for 2015-16. Diana Nelson '84 will serve as vice chair of the board's executive committee.
April 2015
About 200 middle school students from Mott Hall Bridges Academy in Brooklyn, N.Y., visit Harvard as a result of a fundraising mission jumpstarted by a "Humans of New York" blog post that went viral.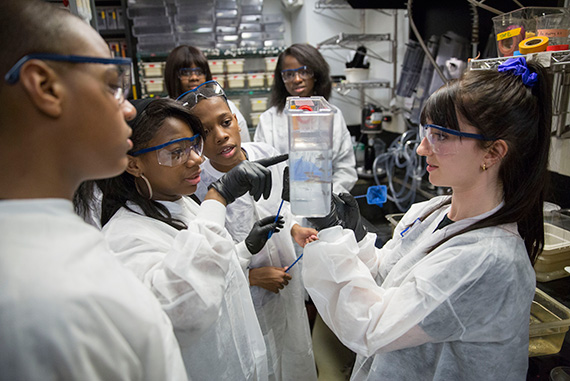 Members of the Faculty of Arts and Sciences approve a new concentration for College undergraduates in Theater, Dance, and Media that blends historical and theoretical study with arts practice.
Claudine Gay, a professor of government and African and African American Studies, is named the next Dean of Social Science for FAS.
Japan's Prime Minister Shinzo Abe speaks at the Harvard Kennedy School, explaining his efforts to resolve the country's numerous economic and political challenges.
Roland Fryer, the Henry Lee Professor of Economics, is awarded the American Economic Association's John Bates Clark Medal for his pioneering research on the economics of race and education. Among the most prestigious awards in economics, the medal is presented annually to an American under 40 who the association believes has made "the most significant contribution to economic thought and knowledge." Fryer, 37, is the first African-American to receive the honor.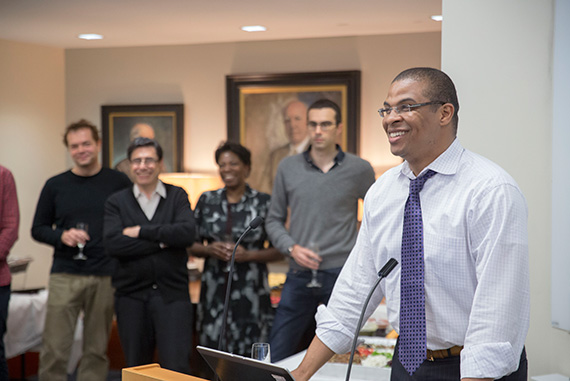 Harvard Chan School Dean Julio Frenk is named the next president of the University of Miami. Frenk will step down at the end of August and assume his new role on Sept. 1.
Harvard professors Catherine Dulac, Hopi Hoekstra, and Xiaowei Zhuang are recognized by the National Academy of Sciences for their extraordinary achievements. Zhuang receives $25,000, and Dulac and Hoekstra each receive $50,000.
Harvard's Task Force on the Prevention of Sexual Assault launches its most far-reaching effort yet, sending out a Web-based survey to 20,000 members of the student body to understand the extent and nature of the problem, both on campus and across the country.
The Harvard University Center for the Environment sponsors Climate Week from April 6 through April 10, featuring breakfasts with scientists working on the problems along with a variety of climate-centered activities, from talks by prominent scientists to poetry readings to informal gatherings.
The emergency communications startup RapidSOS is awarded $70,000 as the winner of the fourth President's Challenge. Twenty-four hours later, the team captures the $50,000 grand prize in Harvard Business School's New Venture Competition. The flagship competition at the i-lab, the President's Challenge invites participants to create entrepreneurial solutions to some of the world's most pressing problems.
President Faust bestows Damian Woetzel with the Harvard Arts Medal in a ceremony hosted by actor John Lithgow '67, Art.D. '05. The event launches Arts First, four days of performances, installations, and exhibits across campus.
May 2015
Francis J. Doyle III, a distinguished scholar in chemical engineering at the University of California, Santa Barbara, is appointed the next dean of SEAS and will take the reins on Aug. 1.
The National Academy of Sciences announces the election of seven Harvard faculty members among its 84 new members and 21 foreign associates: Robert H. Bates, Catherine Dulac, Scott V. Edwards, Alfred L. Goldberg, Jeannie T. Lee, Bruce Western, and Hao Wu.
Nearly 81 percent of the students admitted to the Class of 2019 plan to enroll in August. Last year, 80.9 percent matriculated; 81 percent did so the year before. The last time Harvard's yield on admitted students reached these levels was 1969 for the Class of 1973.
Ruth Bielfeldt, Harris K. Weston Associate Professor of the Humanities, and Sarah Richardson, John L. Loeb Associate Professor of the Social Sciences, win the Roslyn Abramson Award, given annually to assistant or associate professors for excellence in undergraduate teaching.
The third annual Harvard Horizons initiative, created under the leader of Graduate School of Arts and Sciences Dean Xio-Li Meng, recognizes the ideas and innovations of eight of Harvard's accomplished Ph.D. students.
Dean Rakesh Khurana is named the Danoff Dean of Harvard College.