It's been 150 years since a young girl tumbled down a rabbit hole to a magical world of madcap make-believe and curious creatures eager for conversation. Published in 1865, Lewis Carroll's "Alice's Adventures in Wonderland" resonated with children and adults. Older readers loved its logic, younger readers its foolishness. The book's popularity has never dimmed.
Now comes a chance to connect with the story behind the story. "Such A Curious Dream! Alice's Adventures in Wonderland," on view from May 20 through Sept. 5 at Houghton Library, explores the genesis and legacy of the work that inspired generations of writers and captured the cultural imagination. Along with the Bible and the works of Shakespeare, "Alice" remains among the most frequently quoted books in English.
And it still resonates.
In the 19th century, it resonated instantly for Harcourt Amory, a textiles magnate and an 1876 graduate of Harvard College whose interest in Carroll ephemera began when he bought a first edition of "Alice" as inspiration for the toy theater he was building for his children. Amory continued collecting Carroll memorabilia while the author was alive and purchased numerous items directly from Carroll's estate when he died in 1898.
Much of the material in the show is from Amory's archive, which includes hundreds of items "related closely to Carroll," said curator Heather Cole.
"Amory collected the books that Carroll wrote in first editions," said Cole, "but also subsequent editions, translations, parodies, reinterpretations, anything that had any connection to the stories, as well as ephemera, popular items, games and toys."
Carroll, born Charles Lutwidge Dodgson in January 1832 in Cheshire County, England, was a shy, brilliant man whose gift for mathematics matched his vivid imagination. A lecturer in math at Christ Church, Oxford, and an Anglican deacon, Carroll's artistry was ever present. He wrote poetry and short stories from an early age. Later he became an accomplished photographer. But it was befriending the new dean of the college, Henry Liddell, who arrived at Christ Church in 1856, that changed his life. Carroll grew close to Liddell's wife and young children, among them a girl named Alice. (Some scholars are convinced that Carroll had an unhealthy relationship with Alice Liddell.) One afternoon, during a row on the Thames with the three Liddell daughters, Carroll told them his tale of a young girl and her adventures in a mysterious land.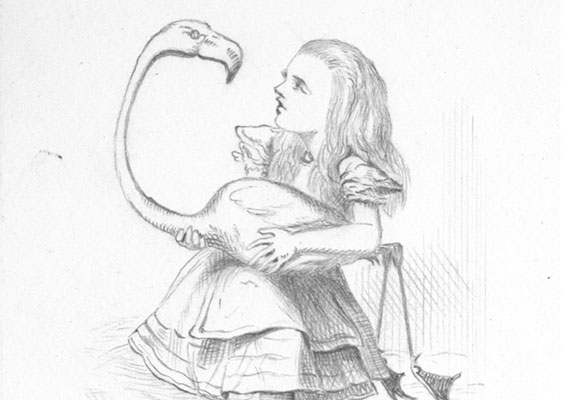 The real-life Alice begged him to write the story down, and he obliged. A facsimile of that original manuscript, illustrated by Carroll, which he presented to Alice as a Christmas gift in 1864, is displayed in the first of the show's nine glass cases.
Nearby, an undated letter from his friend Charles Kingsley, who urged Carroll to publish "Alice," points to the story's universal appeal.
"Many thanks for your charming book," the letter reads. "My real opinion of it may be gathered from this fact, that I received it in bed in the morning, and … in bed I staid [sic] until I had read every word of it."
Other items in the show reveal Carroll's drive for perfection, such as a suppressed original edition from 1865 whose poor quality failed to meet the high standards of both the author and his illustrator, John Tenniel. (The recalled edition in Houghton's collection is exceedingly rare. Only 23 of the 2,000 originals survive, and of those, only one, the copy now under glass in the show, was bound in white vellum and presented to Alice Liddell — who, when asked, dutifully gave it back.)
Carroll's story is as indelible as the original images that illustrated his prose. The Houghton exhibit includes rich studies of several Wonderland characters: the Mad Hatter, the Cheshire Cat, and, of course, Alice — the waves of her long hair, the ruffles of her pinafore — sketched in vivid detail by Tenniel.
The book crossed oceans and media. In America, the Perkins Institute and Massachusetts School for the Blind published a version for the visually impaired in 1927, also in the Houghton show. Companies with something to sell, such as the beer-maker Guinness, seized on the story's popularity, creating ad campaigns around it.
Imitation is the highest form of flattery, goes the saying. Artists have interpreted "Alice" for decades. The exhibit includes woodcut prints by Barry Moser that offer a darker, haunting take on Carroll's vision (look closely at the background), while Robert Sabuda's 2003 pop-up book brims with creative whimsy.
Other highlights include an "Alice"-themed board game from 1940, a 1923 Russian translation by Vladimir Nabokov, and a 1913 Harvard Lampoon retelling that transplants Alice to Cambridge.
The quirkiest item in the show: bars of soap embossed with the images of "Alice" characters.
"It's an odd thing for the library to collect," admitted Cole. "It's unique for our collections and a good challenge for our conservators." How have they treated them thus far? "Just by leaving them alone."
Fans who can't make it to Houghton can browse the collection via an accompanying website filled with animations and interactive features. Virtual visitors can zoom in on photos and texts and flip through Alice Liddell's copy of the book.
The library's digital team wanted to create something "whimsical and different that would catch the eye but maintain the integrity of the material," said designer and multimedia specialist Enrique A. Diaz. "We wanted to make the inaccessible accessible with these informed glimpses into the collection."