Around 1980, two young architects finished their training in Bordeaux, France, and moved to Nigeria. In that African nation's remote regions, they were inspired by the simple structures they saw amid the stark, stunning desert landscapes. The houses were open to the air, had utilitarian thatched roofs, and were made with bits of local wood. Modesty prevailed in structures that also invited beauty.
The lessons of building in Africa stayed with Anne Lacaton and Jean-Philippe Vassal in their Paris-based practice, Lacaton & Vassal: use what is there, stay simple, embrace open air, and honor light, freedom, and grace. They practice social architecture based on economy, modesty, and the found beauty of environments.
"Africa was probably our second school" after Bordeaux, said Vassal. While in Nigeria, they worked on town planning and traveled to marvel at indigenous building practices. "It [was] a fantastic liberty to live there."
Their belief in social architecture, shaded by a sense of African resourcefulness and economy, now embraces the overlooked utility and unseen loveliness of abandoned buildings, neglected public housing, rundown outdoor plazas, and overgrown urban forests that are at risk from a lack of imagination and coarse development.
The architects brought their message to the Harvard Graduate School of Design (GSD) in a picture-filled, poemlike evening lecture on March 24 in Gund Hall's Piper Auditorium.
Lacaton is a visiting design critic in architecture at the GSD. She is co-teaching a studio course this spring called "Re-Defining Urban Living." (Her classroom partner is GSD instructor in architecture Marcos Rojo, a Spanish architect with an interest in the built environment of West Africa.)
The course applies the Lacaton & Vassal architectural ethic even to battered urban settings growing denser and older. That ethic holds that design (and redesign) must emphasize the humanizing values of comfort, pleasure, well-being, economy, and modesty.
Lacaton & Vassal's designs champion "accuracy, sensitivity, kindness, and attention," said Lacaton in opening remarks. Housing requires of an architect "the continuous attention to its inhabitant."
In a project called 23 Semi-Collective Housing Units in Trignac, France, Lacaton & Vassal constructed a series of light-filled loft duplexes topped by horticultural greenhouses. The same idea — a solid, simple grid of concrete and steel versatile and large enough to contain playful interiors — is at work in the firm's Nantes School of Architecture. Its three-deck, lightweight, steel structure emphasizes flexible, generously sized interiors, transparent enough to show off views of the cityscape.
Vassal called for buildings, like the one in Nantes, that have "porosity," a striving to blend "what is inside and what is outside."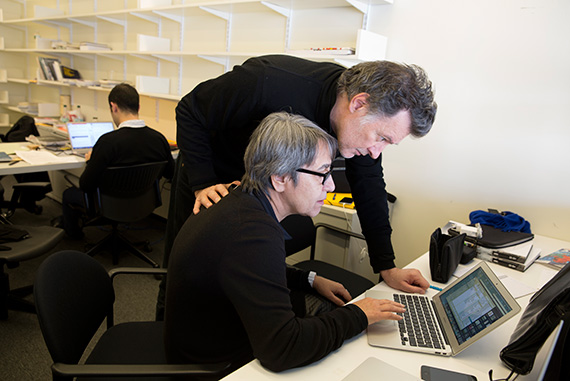 At play in these projects is another of the firm's principles: build generous spaces at the lowest cost possible, with a sense of economy that does not surrender comfort and beauty. Spend the minimum, said Vassal, "to get the maximum."
Economy can also mean refurbishing what is already there. One of the more famous examples of this Lacaton & Vassal sustainability ethic is the firm's 2002 reimagining of the Palais de Tokyo, a 1937 structure abandoned for decades, with 20,000 square meters of underused urban space, in Paris.
The design called for doing "nearly nothing," said Vassal. "Just the minimum for heating, for lighting." (It's a contemporary art space now, attracts 800,000 visitors a year, and was expanded in 2012.) The result illustrates the beauty of doing little, but cleverly, "to make sustainable," he said, "what already exists."
In another project, FRAC Dunkerque, Lacaton & Vassal combined building the new with saving the old. Instead of tearing down an old boat warehouse in the port city of Dunkirk, France, they elected to build another just like it — of the same dimensions at least — right next to it.
"Here inside was the energy," said Vassal of the original structure's grand old interior space, nostalgic yet useful. "Here inside was the work of the people." (The double structure is now a gallery for contemporary art.)
The same idea applies to another Lacaton & Vassal project. A cluster of urban social housing, 10-story buildings of 40 flats each was revived by adding balconies. They can be enclosed as heat-saving "winter gardens." They are full of light, and are sensitive to local views. All this came, said Vassal, with a "budget much lower than demolition and reconstruction."
Similarly, in Bordeaux, Lacaton & Vassal is transforming a housing complex of 530 flats by adding prefabricated balconies, enlarging windows, and creating enclosed winter gardens. These are modest steps with dramatic results, and a renewed pleasure in personal space. Meanwhile, said Vassal, the eccentric character of each apartment is left alone. "All this is extremely charming," he said of the interiors. "Why should we take this away?"
Not taking things away includes preserving natural settings. "Innovate," said Vassal, "but keep the site as it is." The lecture's many screened images included a house built on a dune within a seaside grove of trees. The construction — a light, high steel framework and windows for walls — did not disturb a single tree. There were "50 at the beginning of construction, 50 at the end," he said. The idea was to be "extraordinarily precise" by inserting a house into a setting that already had "80 percent of what was needed," said Vassal, including sand, trees, and a view.
In the same way, Lacaton & Vassal designed an "ecological cluster neighborhood" on a tract of urban forest. To save each and every tree — and to allow more to grow — they proposed building housing units above the vegetation, on two levels. Interconnecting it all would be trail-like walkways, some of them elevated.
Adding nature where there is none is sometimes the answer. In Bordeaux, the firm dramatically altered the look and feel of a pedestrian office building with one light clever touch: a vertical garden of 650 rose trees planted all around the façade.
At other times, said Vassal, the solution to a design challenge is even more minimal, as with a small, tree-shaded urban plaza the firm had studied for months. The decision was "to do nothing," he said. "Nothing."
Their simple ethic of building, said Vassal, "always starts from this little hut in Africa."