Floating water pumps for too-low reservoirs, gigantic molds for windmill blades, bustling control centers for subway trains — and for the traffic snarling the roads above — were among the sustainable sights viewed by Harvard and Brazilian students in São Paulo over winter break.
The group, made up of 15 students from Harvard and 15 from the University of São Paulo, was participating in the sixth annual collaborative field course between the institutions. The 10-day program was heavy on hands-on, keeping students busy with field work, which in addition to the pumps, blades, and control center included visits to the headquarters for Santander Bank and the Tower Bridge building, both of which incorporate green design principles, as well as a facility where waste water is recycled for industrial purposes.
"The students get so much more by actually experiencing it," said Patrick Ulrich, assistant director for undergraduate studies in environmental science and engineering at the School of Engineering and Applied Sciences (SEAS) and one of the course's organizers. "I thought it was really fantastic this year; the students we had were really great."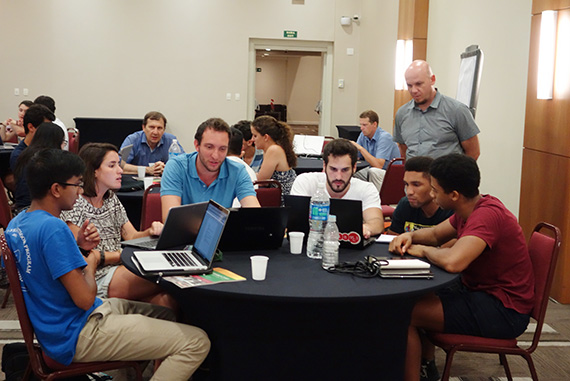 The course included talks by experts at each site, but it wasn't all work and no play. An important part of the mission, said Associate Professor of Environmental Engineering Chad Vecitis, is the interaction between Harvard students and faculty and their Brazilian counterparts.
This year's program was centered on sustainable cities. Beyond exposing students to sustainability issues in an urban environment, the goal was to allow them to compare how solutions are sought in different cultures.
"The idea is to get them thinking about the emerging megacity, one that is growing too fast for its infrastructure," Vecitis said, citing in addition to São Paulo's crowded streets its reservoirs, so drained by a two-year drought that the water is 20 meters below the intakes, necessitating floating pumps to keep water flowing.
Harvard students involved in the trip — which was sponsored by SEAS, the David Rockefeller Center for Latin American Studies, and the University of São Paulo — gave it high marks for both the work and the cultural exchange that the format fostered.
Students were broken into five groups of six, split between Harvard and Brazilian students. They collaborated on a final project, and along the way — during down time, dinners, and nights on the town — got to know each other and each other's cultures.
"They got to see what other students think is interesting, rather than what faculty members think is interesting," Ulrich said.
For Johnathan Budd, a senior electrical engineering concentrator, the highlight was the visit to a factory where windmills are made. He and his fellow students got to see the blades being fashioned, the raw fiberglass fibers and bonding material being poured into the mold before being baked into the final product.
"That was really cool to me," Budd said. "The whole process was really interesting."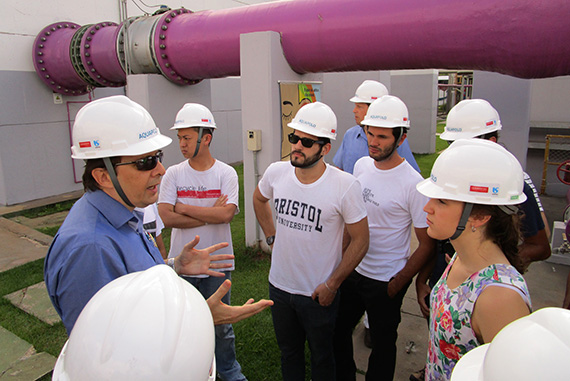 Budd said he'd like to be involved in the energy industry after graduation, possibly in planning and design of such devices.
"I'm interested in energy and power generation in the world. I thought it was a great program."
Kristen Faulkner, a junior computer science concentrator, decided to join the trip to further her interest in innovation in general and to see how Brazilians innovated on sustainability.
"I'm interested in entrepreneurship and innovation. The trip demonstrated innovative ways to apply technology."
Faulkner joined the group focusing on urban mobility for a final project because she thought the topic was important not just to Brazil, but to cities around the world. She and the other five students developed an app to help gather data on the issue.
Brazil, Faulkner said, would be a good place to be an entrepreneur, because it is advancing rapidly and there are many opportunities, unlike in the United States, whose startup scene she described as saturated.
"I'd love to go back to Brazil. It was a great trip."
Harvard student Jahred Liddie '16 recounts "Collaborating in São Paulo" in an article for the Office for Sustainability.