Harvard University unveiled its initial design concepts for the Richard A. and Susan F. Smith Campus Center during two open houses on Thursday and Friday.
More than 80 members of the Harvard and Cambridge communities attended the viewings, curious to get a glimpse of renderings and initial plans for the 1960s building across from Harvard Yard. Representatives from the project team were on hand to answer questions, solicit feedback, and talk through ideas.
Two more sessions are scheduled for the Harvard community on Feb. 2 and 4.  An additional session will be scheduled for the Greater Cambridge community, also in February.
"I am incredibly pleased at the turnout we had for our first open house. The ideas and feedback we've received have been — and will continue to be — invaluable as we develop the programmatic and design aspects of the building," said Executive Vice President Katie Lapp. "Feedback from all members of the Harvard community is absolutely essential to ensuring that the Smith Campus Center fosters intellectual, cultural, and social experiences for all members of our community. I hope to see even more folks at the open houses scheduled for the next week."
Formerly known as Holyoke Center, the building was renamed in 2014 in honor of Richard A. and Susan F. Smith, who donated the funds for its renovation.  The redesigned center is expected to provide a major boost to the University's multiyear effort — through the Common Spaces Program — to create and improve locations that foster campus's intellectual, cultural, and social campus experience for the Harvard community.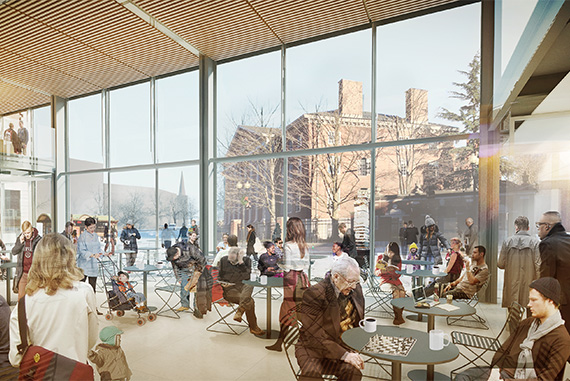 A comprehensive set of renderings, depicting both interior and exterior images, were on display. One showed a new, transparent pavilion facing Massachusetts Avenue, which will provide a welcoming and vibrant entrance alongside a redesigned exterior plaza. Other renderings showed how the lower levels of the building are being reconceived as multi-level spaces for formal and informal gatherings, with food venues, flexible meeting spaces, landscaped courts, and roof terraces.  The 10th floor will offer additional common spaces with magnificent views of the Charles River, Harvard Yard, and sections of campus beyond the river.
Students, faculty, and staff have been engaged throughout the planning process. Community input has been garnered through public meetings in Harvard Square and at a community open house. Harvard planners conducted more than 25 focus groups and received nearly 6,000 responses to a campus-wide survey. The first two open houses, combined with the upcoming ones, are key steps in that extensive outreach process.
"We're really excited about the available collaborative space. We're working on making an entrepreneurship hub on this side of the river. And for us, the ability to be able to reserve a space to work, meet, or do projects is really key," said Eric Ouyang '17. "It will be so nice to have something like this campus center that's so inclusive and so centrally located."
Harvard has also prioritized sustainability in the project and is using an integrated approach for design and construction, with a goal of creating a space that visually and symbolically represents Harvard's commitment to sustainability. The design process is driven in accordance with the Harvard Green Building Standards, as well as the University's five-year sustainability plan, which lays out goals and priorities for building and operating a healthier, more sustainable community.
The design is still preliminary but is expected to include green roofs and walls, plentiful natural light, rainwater collection and reuse, a high-performance glass facade that maximizes energy efficiency, an interior garden for the arcade, and healthy-building materials.
"We're really excited to see these plans, especially since they've incorporated so much green space," said Lacey Klingensmith, a student in the sustainability and environmental master's program at the Extension School. "Right now, there is such a scarcity of open space with natural light, and we think this will be great for students."
The project will roll out concurrently with a project focused on cleaning and restoring the facade. The greater Cambridge community and the public will continue to be welcome in the building.
Additional open houses for the Harvard community are scheduled for Monday from 4 to 6 p.m., and Wednesday from 11:30 a.m. to 2 p.m., on the second floor of the campus center. (Attendees should use the 1344 Massachusetts Ave. entrance, which is to the left of the main entrance.)
As with the first events, attendees are welcome to have their questions answered or engage with project planners.
After gaining input on the project, the Cambridge Historical Commission, the Cambridge Board of Zoning Appeals, and the Harvard Square Advisory Committee will have to give their approvals. That permitting process will begin later this year.