Businesses, government, and social-sector institutions — including higher education — must incorporate a deeper consideration of human well-being into the evolving approach to sustainable development at all levels, noted Harvard professors William Clark and Jack Spengler in the introduction to the Harvard Sustainability Plan.
The plan, released today, builds on this premise by setting a holistic vision and clear priorities for how the University will move toward an even healthier, more sustainable campus community. The five-year operational plan, created with input from hundreds of students, faculty, and staff, targets reductions in energy, water, and waste while also focusing on sustainable operations, culture change, and human health.
"This plan recognizes that creating a sustainable campus strengthens our core research and teaching mission, and it acknowledges that the challenges before us are complex and interconnected, demanding an ever-developing approach to sustainability," Harvard President Drew Faust wrote in the foreword. "It considers the University's role in the world and recognizes our shared responsibility to build and operate a campus that contributes to the well-being of every member of our community — and ultimately to the health of the planet."
The plan centers around five core topics: emissions and energy, campus operations, nature and ecosystems, health and well-being, and culture and learning. From there it builds on the substantial progress that has already been achieved in reducing energy and emissions, building and running greener, more efficient buildings, and implementing sustainable operations throughout campus. It also encourages students, faculty, and staff to continue piloting sustainability solutions throughout the University by using Harvard's cutting-edge research and teaching to tackle real-world challenges on campus
"What's exciting about this plan is that it's spearheading the next steps of the sustainability movement by pushing into new contexts beyond greenhouse-gas emissions and challenging us to think more holistically," said Michael Popejoy, a fellow in the Department of Philosophy, and member of the University's Council of Student Sustainability Leaders. "It was a valuable opportunity as a student to be part of something that could have such far-reaching effects, and my hope is that students can be instrumental in carrying the plan forward by implementing it in their lives both on and off campus."
A science-based goal established in 2008 to reduce greenhouse-gas emissions 30 percent by 2016, is the University's most ambitious sustainability commitment to date. Comprehensive Green Building Standards in place since 2009 have made the University a leader in green building, with more LEED-certified projects than any other higher education institution in the world, according to the U.S. Green Building Council.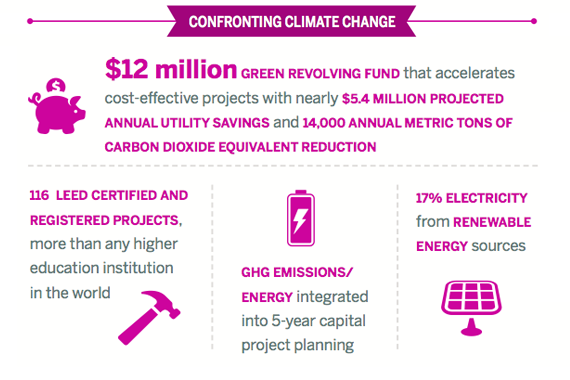 In addition to the existing climate goal, which takes growth into account, three additional sustainability goals are laid out in the plan and set specific targets within a set timeframe:
Waste: Reduce waste per capita 50 percent by 2020 from a 2006 baseline, with the goal of becoming a zero-waste campus.
Water: Reduce University-wide water use 30 percent by 2020 from a 2006 baseline, including process, irrigation, and potable water use.
Landscaping: Maintain at least 75 percent of the University's landscaped areas organically by 2020.
Additionally, Harvard plans to establish and require compliance with operational standards in the areas of green building, green cleaning, green IT, climate preparedness, procurement, and healthful food. The standards were developed to ensure that a consistent approach is being implemented. But because Harvard is a decentralized organization, they were also designed with input from Schools and departments to allow for maximum flexibility in how they are implemented.
"Our approach to sustainability is to tap into the creative ideas and innovations that our students, faculty, and staff are generating on the local level and then work to replicate them across the University for greater impact," said Executive Vice President Katie Lapp. "This plan will align the University's Schools and departments around common goals, standards, and commitments for moving forward."
The plan also outlines a stronger focus on health and well-being as a core priority in future years. The University pledges to increase participation and access to the Healthy Harvard wellness initiative, and to reduce the Harvard community's exposure to toxic chemicals, with a special focus on the natural and built environment, indoor air quality, furnishing, and cleaning products. As part of this commitment, Harvard will identify and target at least two significant chemicals of concern for which viable alternatives exist, and develop a plan for eliminating exposure to those chemicals on campus.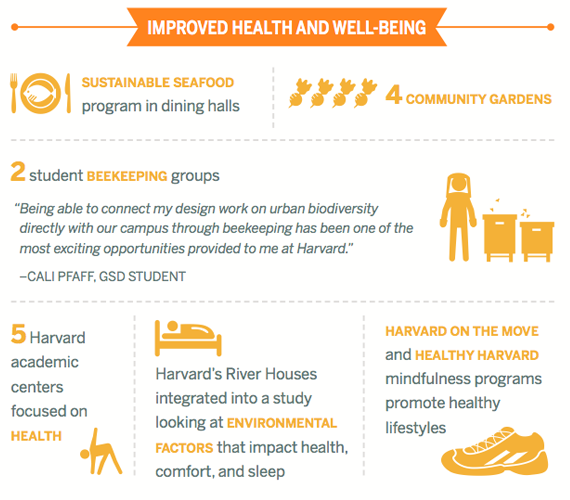 Finally, Harvard set out 32 commitments and recommendations for future research and action in areas ranging from sustainable procurement requirements for vendors, to governance and engagement programs designed to build a culture of sustainability across the University.
The Harvard Office for Sustainability (OFS) led the development of the Sustainability Plan after a multiyear stakeholder engagement process, and has already begun to implement it as part of a University-wide engagement strategy. To ensure transparency and continual improvement, OFS will release an annual University-wide report in meeting the plan's goals via the online Sustainability Impact Report.
Ultimately, those involved with its development say the plan should be viewed as a vehicle for empowering individual action and entrepreneurialism in sustainability at every level of the University. "The creation of Harvard's first University-wide Sustainability Plan is much more than an exercise in strategic planning," wrote Clark and Spengler in its introduction. "It is an opportunity for every member of our community to reflect on what role they can play in enhancing our collective well-being for a more sustainable future."