In the 1970s, the Italian architect Renzo Piano was a young upstart with immense talent and brazen daring. It was then, still fairly early in his career, that Piano and his partner, the architect Richard Rogers, redefined the architectural landscape with their groundbreaking Pompidou Center in Paris.
The home of the largest modern art museum in Europe, the building's exposed ventilation ducts, brightly colored pipes, and covered escalators crisscrossing its façade angered much of the public long before it opened its doors in 1977. During its construction, a group of French intellectuals wrote a letter condemning the building they feared would disgrace Paris.
But rants soon turned to raves, and the Pompidou was hailed as a masterpiece.
The work marked a fundamental shift for the future of architecture. Now, many observers expect that Piano's newly renovated and expanded Harvard Art Museums will help mark another fundamental shift, this time in the way people engage and connect with great works of art. The museums open to the public on Nov. 16.
Piano's Harvard arts project is being heralded as much for the exterior and its stunning glass roof as for its innovative new interior layout, programmed by museum officials to encourage visitors to slow down, look closely, and connect with art in new ways.
With the imminent reopening of the Harvard Art Museums after six years, the question of how to engage visitors, both from the academic community and the public, into greater conversation and connection with today's university museums was the subject of a panel discussion Thursday at the Northwest Science Building, a session introduced by Harvard President Drew Faust.
"Today we hope to generate a conversation about what that means for this University, this city, and the world, and about what the museum might mean for all of us," said Faust, who had convened an arts task force in 2008 to explore ways to integrate those areas more fully into campus life. "This is not just the old museum opening up again. This is something quite new. … Renzo's breathtaking spaces, the Calderwood Courtyard turned into a public square, the marvelous classrooms and auditorium, and the museum as teaching machine. How do we integrate that into our curriculum and into our lives?"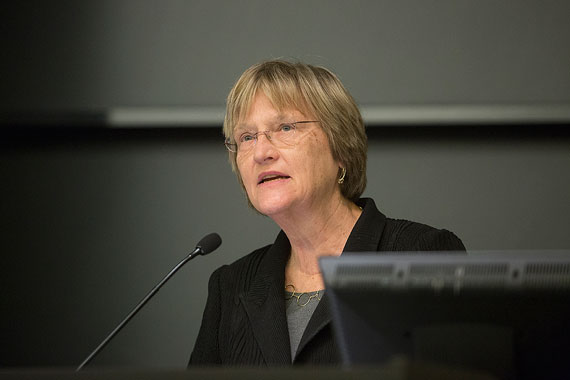 Integrating the museums into the curriculum was a concept familiar to panelist Jennifer Roberts, Harvard's Elizabeth Cary Agassiz Professor of the Humanities. In 2010, Roberts taught a course that resulted in a full-fledged exhibition, co-curated by her Harvard students at the Arthur M. Sackler Museum. The experience helped the undergraduates to think in a differently, she recalled, and challenged them to make spatial instead of linear arguments.
"New perspectives," she said, "are opened up in the space." Roberts leads one of Harvard's new humanities framework courses, "The Art of Looking," which draws heavily on the Art Museums' collections. One of her goals is to use the class to reach out to students studying the sciences to show them why "a critical and historical understanding of images and art objects" has relevance to their future careers.
Scientists, she said, control "chaotic data by placing it into the visual format."
"Being able to be critical and intelligent and creative with images is something that's very central to what scientists need to be able to do," said Roberts, adding that medical schools often use a close investigation of items in a museum's collections to help their medical students and staff improve their diagnoses and their ability to empathize with patients.
"The museum needs to be a place where we have a meeting between the usual and the unusual subjects," Roberts said, a place where scientists, historians, doctors, art historians, and archaeologists can have important, two-way conversations that build "new rigorous knowledge about these collections across the University."
The panelists agreed that one important way to engage the public is to let people see the works up close. At the List Visual Art Center at the Massachusetts Institute of Technology, students can hang a work on their wall for a year as part of a student loan art program, explained its director, panelist Paul Ha. At Harvard, students and visitors will be able to spend quality time with great works in the expanded Art Study Center, an area on the museums' fourth floor where visitors can request an object from any of the three museums for personal inspection.
"This is an institution that has always placed a value on close, sustained observation and the thinking that goes along with it," said moderator and Art Museums' director Thomas W. Lentz. "We actually think these will be great engines for collaboration, for working across different fields and disciplines."
The director of the Museum of Modern Art (MoMA) in New York, Glenn D. Lowry, encouraged the crowd to think about university museums and museums in general as incubators of lively debate and discussion. Lowry, who invited several nearby universities to use MoMA as their unofficial teaching lab two years ago, urged administrators to consider turning their museums over to students. To accomplish that, he said, the old museum paradigm of hushed tones and quiet reflection has to go.
Museums that create "an environment that encourages students to talk to each other, galleries that are alive with conversations that encourage and invite a different kind of student discourse," can create a much more dynamic social experience, said Lowry. And when students are there, he added, "the more faculty are going to think of [museums] as a place to intersect."
A museum's physical dimensions also play an important role in how the public experiences and engages with the art inside, the panelists agreed. The scale and proportions of the space and even the air quality inside are important, as are the building materials used, and the lighting.
Fresh from a tour of the newly completed Harvard Art Museums, Lowry praised Lentz for preserving the "scale of a museum that made it a place that was physically comfortable, but you've crated a luminosity that I think will be paralleled by an openness of thinking and ideas that those spaces will encourage."
Of course, in today's hyper-connected world, where "my son texts me from the dinner table," Ha joked, learning how the digital domain can help viewers connect to art is critical.
"Digital surrogates," or photographs of art objects available online, are never a replacement for the real thing, but they can be an important way to draw people in to connect with the actual works in the museum, agreed Ha and Roberts.
"Technology is a great communicating tool, it's a great tool for driving content, but in the end it's not the same. … In the end our job is to present a real object to a real person," said Ha.
Lowry said that digital technology can "help stimulate and reinforce the kinds of conversations that we hope will occur in the museum and to turn the institution into an essentially 24/7 environment."
Anyone with a Facebook page or an Instagram account knows those conversations are often happening online or with the help of a smartphone, and in the selfie-crazed era there's usually a photo involved. One way to generate those discussions in the museum, said Lowry, is to encourage people to take photos of the art and share them with each other.
"If you try to discourage it," he said, "it's mission impossible."
Instead Lowry chose to use it as an opportunity for visitors to share images with their friends in and outside the museum, "so they can begin a conversation."
"Every one of these opportunities is a way of connecting someone to someone else through the museum about art."