With so many deserving students graduating each year, the Commencement Office has the unenviable task of selecting just three speakers to address the nearly 32,000 students, faculty, alumni, parents, and guests who assemble for Morning Exercises in Tercentenary Theatre.
Each spring, a competition is held to find one undergraduate and one graduate orator to deliver five-minute speeches from memory, in English, and — in a nod to one of Harvard's oldest traditions — one student to give a speech in Latin.
For many years, the oratories were thesis defenses given in Latin, Greek, and Hebrew. The Latin remains, but now the speakers representing the Class of 2014 will proffer addresses that encompass the personal and the global, presented with wit and wisdom.
Timothy Barry-Heffernan, Latin speaker
Timothy Barry-Heffernan has spent most of his years at Harvard College immersed in his concentration, mathematics, and his secondary concentration, computer science. So it might seem surprising that the siren call of Latin would prove irresistible to him.
"My thought process was, I've been taking Latin since middle school and I figure I'm going to get nothing out of it unless I did something like this," said Barry-Heffernan, 22, who completed four upper-level language classes to earn a citation in Latin. "I figured it would be nice to have one concrete accomplishment so I could not have wasted 10 years studying a language."
A percussionist in the Harvard University Band, Barry-Heffernan has spent every Commencement since freshman year performing at graduation events. After seeing some talented Latin orators who seemed to be having loads of fun, Barry-Heffernan said he was inspired to give it a go.
Barry-Heffernan said his Latin was probably not what earned him distinction from the judges, since he hadn't studied it in a year. He credits James Engell, Gurney Professor of English Literature and professor of comparative literature at the Faculty of Arts and Sciences, with whom Barry-Heffernan took "Elements of Rhetoric" this semester. "He really, really coached me a lot with delivery and emotion and pauses and tone and pitch and all sorts of stuff."
After winning the honor, he knew that at least one person was owed a phone call. "One of the first people I contacted was my high school Latin teacher, Mr. [Wells] Hansen," said Barry-Heffernan, who attended Milton Academy, a private school in Milton, Mass., that counts T.S. Eliot, Robert F. Kennedy, and Edward M. Kennedy as graduates. "He was psyched; he was sort of like, 'Oh, good, I taught you those subjunctives well!'"
Almost immediately after Commencement, the Winthrop House resident will pack up his belongings and move with a friend to Kendall Square to start a job writing computer code for Hewlett-Packard.
Barry-Heffernan's speech, which cheekily compares Harvard to Julius Caesar's beloved Legio X Equestris, or 10th Legion, made famous during the Gallic Wars, is titled, "De Septuagensima Secunda et Trecentensima Legione," which translates to "On the 372nd Legion." It opens with "Mihi gaudium magnum est vos compellare lingua hac utilissima et quam plurimis grata," or "It is my honor to address you in this profoundly useful and applicable language, beloved by so, so many."
"It's really quite goofy," he admitted. "The Latin oration would be really hard to bear if it weren't comedic or fun or upbeat."
Sarah Abushaar, Undergraduate speaker
Born in the United States but raised in Kuwait, Sarah Abushaar has always had one foot planted in the East and one in the West. The daughter of a Syrian father and a Palestinian mother, Abushaar spent her childhood roaming the hallways of a Sheraton hotel in Kuwait City, where her father worked, surrounded by visiting political dignitaries from the West. It was there that at age 7, upon meeting George H.W. Bush, she dutifully informed the former president that she planned to take his job someday.
An economics concentrator with a strong interest in politics, Abushaar, 21, said that Harvard initially seemed like a nation unto itself, with its own government and museums and even a bus system. But soon, it wasn't just the historic institutions that moved her, but the creative and social vitality, driven by the formal and informal groups and connections on campus that seemed to embody the University's soul.
Her speech, titled "The Harvard Spring," is an homage to the 2010 political uprisings known as the Arab Spring. The address draws on the everyday freedoms that students take for granted, such as public debates in the pages of The Crimson, along with cultural events and artistic performances. She calls upon graduates to bring such esprit de corps back home with them and initiate change.
"I think each of us comes here, and we encounter something that strikes us or something that's so different from the status quo back home," said the Leverett House resident. "The little revolutions that happen behind Chipotle burritos or Starbucks coffee cups in Harvard Square. I saw revolutions happen at tables where I saw some of my Palestinian and Israeli friends eating and working together on projects, and then you sit down and think: Why can't our governments act this way?
"My whole idea about Harvard as an agent for change comes from the fact that it changed my family a lot. It pushes whatever frontier that was initially set a bit further out. After one person comes here, it changes the way their family thinks, and it changes the way their school thinks."
Having taken a semester off in 2012 to work at the White House, Abushaar will graduate in December. After that, she plans to pursue her interest in international business and attend business school down the line. Eventually, she'd like to create bilingual, coed schools like the one she and her younger brother attended back in Kuwait City and use that movement as a platform for long-term political change.
"I think there's a tendency to say, 'We want to build schools in places like Afghanistan,' and they build schools, but they don't build curriculums, they don't build something that's far more important than the actual hard structure."
Philip Harding, Graduate speaker
Given his plan to be just another long-distance student studying part-time toward a degree at Harvard Extension School, you might say Philip Harding has been an epic failure.
Married and running a marketing and design firm in his native California, Harding was five years removed from college when he first considered going back to school. "Life was comfortable, I was really engaged in the community, and really loved what I was doing," said Harding, 30.
But his interest in politics and government called, so in 2010, Harding signed up for a January session at the Extension School and met with student government members who urged him to move to Cambridge. Before long, Harding found himself running for student body president strictly by Web, video, and social media — and winning.
Harding has held eight elective offices since coming to Harvard, and launched the Masquerade Ball, a pan-Harvard fall gala that's grown to attract nearly 2,000 people this year. "I really just dove in head first and just absorbed the community," he said.
Now president of the Harvard Graduate Student Government, Harding graduates with a master's in public policy from Harvard Kennedy School. "I enjoy bringing people together and helping them redefine themselves and what they're capable of doing," he said.
Last summer, Harding worked as a legislative fellow in Washington, D.C., and organized "Connected Congress," a tech-in-government conference. It's an intersection he plans to pursue after Commencement. Harding has been awarded a Presidential Management Fellowship, a two-year placement to work on technology in the federal government. In July, he and his wife, Rachelle, are expecting their second child. They have a 2-year-old daughter, Chantel.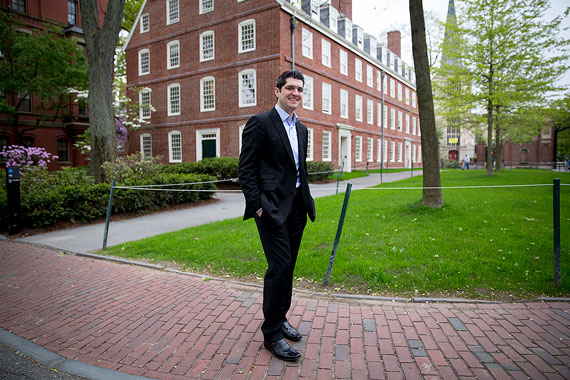 In his address, titled "A Kind of Destiny," Harding looks to American history and a personal hero, George Washington. He draws from a letter that Washington wrote to his wife, Martha, when he first came to Harvard Yard in July 1775. It was an inauspicious moment for Washington. He wasn't feeling well, it was raining, his welcome reception was canceled, and the ragtag militia he had come to lead against the British army was in makeshift tents in the Yard.
"So [it's] this idea of some great, world-changing event can come from a really humble beginning," an analogy for how students may come to Harvard feeling unworthy or unprepared for the daunting road ahead, Harding said, but leave with a feeling of accomplishment and unity, ready to take on the world's challenges.
"It's not just what you take with you, but who you take with you," he said, "and this sense of the community that you've built here that you're going to take with you for the rest of your life and change the world."