In 1907, photographer Marcello Fabritti arrived at the docks in Genoa to board the steamship Staffetta, bound for Africa. The ship traveled to Port Said, Egypt, and then across the Red Sea, and along the coast of what is now Somalia to Zanzibar. Along the way, as Fabritti continued overland to Kampala in present-day Uganda, he collected images of his journey. Upon his return two years later, he assembled the photos into albums, scribbling beneath one, "Dal vero!!"
In Italian, "dal vero" describes something reflective of real life. Fabritti's pictures tell a story of his real-life adventure on an Italian exploratory mission into the horn of Africa, but it is clear now that his phantasmal images — some of women posed in mud pits, another of a jungle cat arranged to ride the back of a zebra — are not entirely dal vero.
The original photos, along with postcards, illustrations, and oral accounts, are part of Harvard Fine Arts Library's extensive collection of military, ethnographic, and propagandistic materials related to Italian colonizing campaigns from the early 20th century into the late 1930s. The materials inspired Graduate School of Arts and Sciences doctoral students in Professor Giuliana Minghelli's seminar course on Italo-African cultural migrations to create what is believed to be the first English-language exhibit on the little-known subject.
"The crucial aspect of the exhibit is to have the history that is very real and very bloody but at the same time to look at the imaginary color that is involved with the representation of that very untold story that is the Italian invasion of Africa," said Minghelli.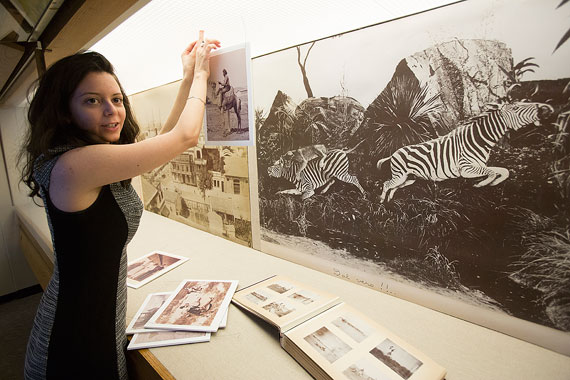 The unification of Italy in 1861 brought with it a sense that the country deserved its own colonial empire like those of Great Britain, France, and Germany. Thus, by 1911, when Italy embarked on its first military campaign into Libya, many Italians favored the incursion. The Italian empire in Africa eventually included Libya, Eritrea, Somalia, and Ethiopia.
"The campaign was promoted as a kind of adventure, a kind of mission of civilization," said one student, Dalila Colucci. "The way it was publicized was very different from what happened."
The exhibit, "In Africa It Is Another Story: Looking Back at Italian Colonialism," contains four sections, each focusing on a point of intersection between the reality and fantasy of Italy's imperial efforts. It opens Friday in the Pusey Library exhibition space.
Colucci organized a section pairing a series of illustrated collection cards produced by a Spanish chocolate factory with photo albums and postcards sent home by soldiers. Each narrates the story of the Italo-Turkish war in Libya, but there are inconsistencies in the accounts, such as when colonizers recounted their defeats as victories.
Another student, Matt Collins, discovered a similar disconnect while preparing his section on fascist architecture and city planning in Tripoli. Collins found that postcards, journals, and films produced in Libya were highly selective when it came to which parts of the city were presented. Italians emphasized their own buildings but ignored the historic architecture they encountered.
"In Africa, it's another story — meaning the colonialists' dream ran against the wall of the African reality," said Minghelli.
"An entire continent was reduced to a few stereotypical traits: Africa was considered as a primitive and exotic land, a 'virgin land of virgins,' that was open to Italian conquest in the Italians' collective imagination," said student Chiara Trebaiocchi. "But it's something that the Italian photographers and colonizers and writers imposed on the African people."
Trebaiocchi focused on the connection between representations of land and women on colonial postcards. She juxtaposed these images with videotaped readings by the writer Gabriella Ghermandi, whose Italian father married her Ethiopian mother during a military campaign there.
"The idea is that through her voice we can try to give a voice to the women who were silenced," said Trebaiocchi.
Two voices that reflect the Italian colonial period are those of comic-book creator Hugo Pratt and action-adventure writer Emilio Salgari. Pratt was born in Venice but grew up in Ethiopia. He created the character Corto Maltese, a sailor-adventurer who traveled the world. Salgari's novels are old-time favorites of popular adventure and children's literature. Both authors wrote about Africa, among other destinations, and their work featured graphic depictions of those places.
"The fact is that the African novels are not so known in a sense, and that is impressive because both Salgari and Hugo Pratt wrote these African adventures but didn't publicize their novels or cartoons as much as they did the others," said student Eloisa Morra, whose display traces the formation of the colonial literary imagination. She shows the close similarity between Fabritti's photos and the images, covers, and illustrations in Corto Maltese's expeditions and Salgari's novels. "To me, this is a signal that the Italian presence in Africa has always been ambiguous, and it is a delicate subject."
Three of the four graduate students grew up in Italy reading Salgari. For them, creating the exhibit was dal vero.
"The new generation wants to know more," said Colucci. "Now it's our generation inheriting all these materials from families, libraries, collections. Now we're actually more interested in reconstructing the story because we are also learning how this story was built in imagination and in history. It's a matter of wanting to discover."
The exhibit, which is free and open to the public, runs April 4 to May 2 in the Pusey Library exhibition space, outside the Harvard Theatre Collection and University Archives. The Pusey Library doors, across from the northeast corner of Widener Library, will be open for the duration of the exhibit. "Pays Barbare," a newly released film addressing the brutal fascist occupation of Ethiopia, will be screened at the Harvard Film Archive in conjunction with the exhibit.