In 1984, Sabrina Peck created a dance and theater piece to help Harvard College students tap into their creativity. She never dreamed the work would blossom into the transformative program CityStep, which for the past three decades has united undergrads with middle school students.
To honor its 30th anniversary, CityStep will hold its annual year-end performance, "Time Machine," at Sanders Theatre this weekend. Tonight and Saturday more than 150 local middle school students will dance through time, with choreography based on different periods in history, even moving into the future.
"I take a lot of heart in the idea that the students continue to be inspired by the blend of performance arts, education, and public service," said Peck '84.
Today an accomplished director and choreographer who makes her home in New York City, Peck said the original work that fused choreography and music was an instant hit on campus. When she and several Harvard College students performed an excerpt from the show at a local Cambridge school, sparks flew.
Watching the young faces in the crowd light up, Peck spontaneously invited the audience onstage to join in the fun.
"From that moment I realized, wow, this is an opportunity to leverage the resources of the University and the enthusiasm of the students to enrich the lives of these public school students."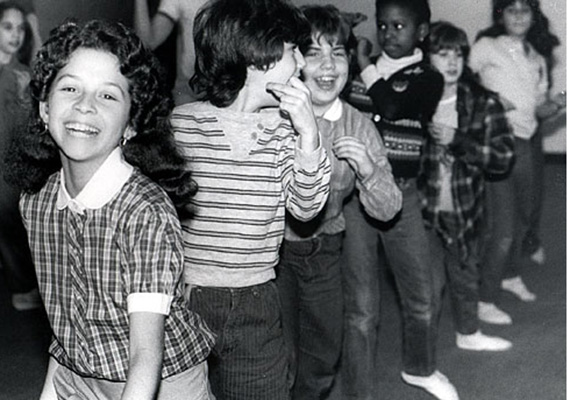 Since then, CityStep has partnered teams of Harvard undergraduates with Cambridge middle schools. Each week the College students visit fifth- through seventh-grade classrooms, teaching the youngsters funky dance moves. CityStep also helps the youngsters develop social skills, creativity, self-expression, self-confidence, and a sense of community through exercises, dance and music workshops, and field trips.
With its local success, the program has expanded well beyond Harvard's gates. In 2004, CityStep was launched at the University of Pennsylvania. This year, Princeton University started its own CityStep program.
But the outreach initiative is much more than just a way to help middle-schoolers engage with the arts. It's also about helping Harvard College students engage with their passions and give back.
Before arriving at Harvard, freshman Emma Kantor danced for years with the National Dance Institute in New York City. It was there she combined her love of dance with public service, helping teach dance to blind and visually impaired students. When looking at colleges, Kantor said she faced a quandary.  "What was I going to do to fill that void?"
At Harvard, CityStep was the perfect fit. Her involvement with the program, Kantor said, affirms her belief that "the arts can inspire children to achieve and to succeed and make them work harder in all parts of life."
"Having been on the other side I can say that arts education changes lives," she added.
And Kantor expects CityStep — or a similar program — to play a role in her life after Harvard. "I think it's something that, wherever I end up in life, I will try to find a program like this," she added.
CityStep will perform "Time Machine" tonight at 7 and Saturday at 1 and 5 p.m. at Sanders Theatre. For more information, visit the Office for the Arts website.