PETERSHAM, Mass. — In heavily wooded New England, forests are dynamic ecosystems that support a range of plants and animals, and their ability to soak up carbon also makes them an important piece of the climate-change puzzle. How changes to forests over time affect the flow of carbon through the atmosphere has long been a focus of researchers at the 3,700-acre Harvard Forest. Now, three wood-fired boilers are providing those scientists with a new tool to expand their understanding.
The new, super-efficient, thermal biomass system, which provides heating to five nearby buildings, is expected to reduce greenhouse-gas emissions because it is fueled by wood that has been responsibly harvested by the woods crew. The system will allow researchers to explore how using plants can be an integral component of an actively managed forest that supports long-term conservation and local economies.
"With this project, we are putting our assertions into practice and providing a practical application to our fundamental research exploring the role of forests as infrastructure," said Forest Director David Foster. "We can address looming questions about carbon dynamics, and the linkages between conservation, use of resources, and the way our land can figure in as a solution toward climate change."
The Harvard Forest in Petersham has long maximized using renewable sources for energy and heat. The trees used to fuel the boilers are harvested as part of a sustainable management plan. The woods crew focuses on taking low-quality material out of the forests for use as biomass, therefore improving the growth and quality of trees with a higher economic and ecological value.
This strategy is important in New England, which has seen a dramatic increase in its forests in the last 150 years. The increase has resulted in a net storage of carbon, but because most forests are not managed optimally, they may not be capturing carbon efficiently or producing wood that could be used for limited commercial purposes.
"One of the very clear facts is that if you look across New England and most landscapes, it is direct impacts by people that are having the strongest effect on changing natural process," Foster said.  "Our recent 'Changes to the Land' report showed that the greenest scenario for the long-term viability of nature and society is not only to conserve but actively to manage the land."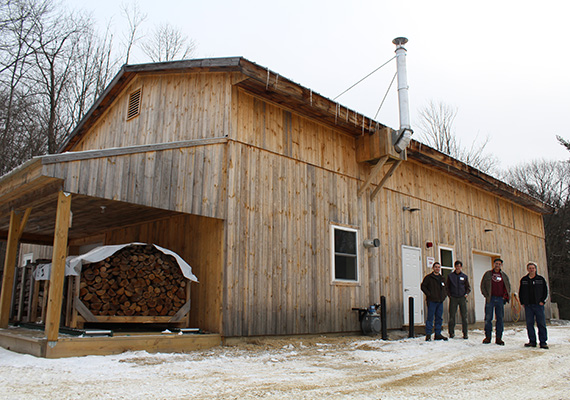 The decades-long, interdisciplinary research projects in place in the Harvard Forest focus on tracking carbon emissions in the air, measuring how much of that carbon gets stored in trees and soil, and understanding how the carbon flow is affected by changes such as logging or hurricanes.
"Without thinking about it, we have greatly expanded our research team," said Foster. "Our woods crew now tracks their activities, collecting and analyzing data in order to benefit the larger research being conducted here."
Carbon emissions are a major contributor to global climate change, so an improved understanding of what role forests play in taking carbon out of the atmosphere would help policymakers and governments determine more effective strategies for conserving and managing land to improve the environment.
A dedication ceremony for the facility on Tuesday attracted local, state, and federal officials, including state Senators Stephen Brewer and Mark Pacheco and Steve Marshall, the U.S. Forest Service assistant director for cooperative forestry. A dozen Harvard undergraduates, participating in a weeklong Wintersession program, joined a tour of the field research sites. The tour was led by Bill Munger, a senior research fellow in atmospheric chemistry at the School of Engineering and Applied Sciences.
"The Harvard Forest is truly leading by example, not only by demonstrating sustainable forest management, but also by using its renewable wood resources to provide heat and reduce the carbon footprint of its facility," said Stephanie Cooper, assistant secretary for land and forest conservation at the Massachusetts Executive Office of Energy and Environmental Affairs.
A 2010 state report said development of large-scale biomass plants for electrical generation would be unwise because of negative effects on the forests' diminished ability to store carbon, as well as the inefficiency of the electrical generation system.
However, small-scale biomass systems for heat, like the Harvard Forest, have net-positive benefits because they are more efficient, have less impact on forests, and haul wood over less distance.
Wood is fed into the boilers at least three times a day to heat a large thermal storage tank that pushes up to 100 gallons of hot water per minute to heating loops in the various buildings.
"This project continues our 20-year effort to increase efficiency and move toward greater sustainability, while at the same time serving as a beautifully integrated system for science and education," said Foster. "There is a community-wide emphasis and spirit in increasing sustainability efforts."
Harvard has a longstanding commitment to sustainability, including comprehensive green building standards and a goal to reduce greenhouse-gas emissions 30 percent by 2016, including growth. As part of this commitment, additional sustainability efforts at the forest include a 10-kilowatt solar photovoltaic array, a gray-water recycling system, and using wood for building projects.
Primary support and funding for the biomass project was provided by the Harvard Forest woods crew, Harvard Forest Director of Administration Edythe Ellin, the Faculty of Arts and Sciences, and the U.S. Forest Service: Northeastern Area.