A quick look at the demographics of Harvard's Class of 2017 yields a few basics: 1,600 members, more men (52.4 percent) than women, 57 countries and every state except Wyoming represented.
But take a closer look at the makeup of the 375th freshman class. The exclusive group represents a record-low 5.8 percent of applicants. (The pool of applicants totaled 35,022, also a record.) And the class is receiving record-high financial aid. That means the freshmen represent a new level of economic diversity.
There are other kinds of diversity too, with social meanings that go as deep. For instance, the freshmen come from 14 African countries, from Ethiopia to Swaziland to Zimbabwe. Some, including students from Tunisia and Egypt, experienced the Arab Spring at the street level. Harvard also accepted its first freshman in decades from Iran.
Dig deeper, and the class yields other demographic gems, such as a freshman from Easter Island, a territory of Chile so remote that the nearest inhabited place is 1,289 miles away. (That's Pitcairn Island, with about 50 residents.) Class members come from distances small as well as great. Ten freshmen are from Harvard College's own ZIP code, 02138. Of those, at least three could exit their own homes and be in Radcliffe Yard inside a minute. At the other extreme, six come to Harvard from Australia, where people drive their cars on the left and water faucets open to the right.
The student from closest to Harvard Yard (about 1,000 yards) and the one from farthest away (almost 11,000 miles) are both women, both competitive rowers, both drawn to the sciences, and both have names that begin with "B" and end in "ow."  Victoria Basedow is from Eden Hills, a southern suburb of Adelaide, Australia. "It sounds more exciting than it is," she said. Her family home, about 10,758 miles from Harvard Square, puts Basedow, who now lives in Grays Hall, four miles farther than classmate and fellow Australian Jack Kelly.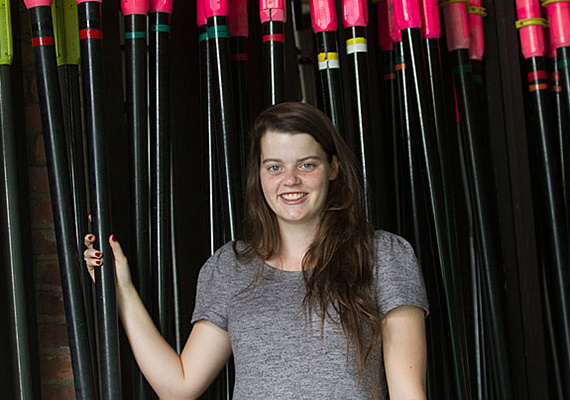 Serena Blacklow's Ash Street, Cambridge, home is one minute from Radcliffe and seven from Harvard Yard. The house was where T.S. Eliot boarded while he was at Harvard College more than a century ago. (Blacklow's brother, she said, sleeps in the poet's onetime bedroom on the third floor.)
"I haven't been home since move-in day," she said, and, despite the proximity, settling into her neighborhood college "was still a big deal to me." Blacklow, a graduate of Buckingham Browne & Nichols, a Cambridge day school, comes from just a few hundred yards closer to Harvard than two other new freshmen from nearby Hawthorn Street.
Blacklow enrolled in a freshman seminar on the iconic modern dance choreographer George Balanchine. But the rest of her courses are in math, physics, and the life sciences. Blacklow, who lives in Straus Hall, spent the last two summers as an intern at a Harvard crystallography lab.
Basedow won mathematics prizes in Australia and will concentrate on math or engineering at Harvard. Rowing was another draw. "That's the main reason I came," she said of crew, in which she won medals and recognition at home. Universities in the United States, Basedow added, do a better job of integrating athletics with studies, and intercollegiate competition is more robust here.
Crew also drew Blacklow, a competitive rower for five years. "The Charles is right there when you live in Cambridge," she said. And despite some pollution, "there's still some nature," said Blacklow, "and a great view of Boston." She plans to join the Radcliffe lightweight crew, whose roster last year included students from Canada, Germany, Australia, and 16 U.S. states.
Basedow's plane trip to Harvard required 25 hours in the air, plus stopovers. But the continental United States was not exactly a surprise. "All of our TV shows and music come out of America," she said, and clothing and landscapes seem familiar, too. But portion sizes in American restaurants are big, added Basedow, and "when you enter a building here, you pull the door to yourself." Harvard Yard itself, on first sight, was "pretty amazing," she said. "The buildings are so grand."
To Blacklow, of course, not much about the Yard is a surprise. (She spends a lot of time giving people directions and said, "I don't mind being from Cambridge.") But before move-in day, "I hadn't ever really just stood in the Yard and looked at it," she admitted. "I love that all the buildings are brick."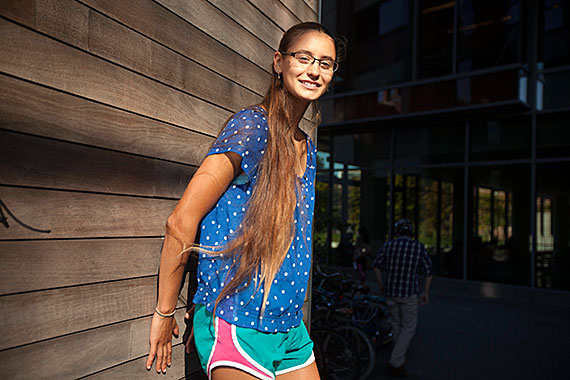 As for having home so close, her parents set down just one rule: no dropping off the laundry — a chore that Blacklow likes doing at Harvard anyway. The food in Annenberg Hall is fine, though a "really good meal" can be had on Ash Street when she feels like it. "They'd love to see me, but I don't know that I want to see them." Her point there is that she's so busy: open houses for concentrations, trying out for the freshman talent show, and meeting other rowers.
Blacklow and Basedow say they were both bowled over by the economic, ethnic, and geographic diversity of the fellow students they met in the first two weeks. "I've met so many people from all around the world," said Blacklow.