When Francisca Palacios left El Salvador 23 years ago, she carried along her clothing and her dreams. Over the course of her journey, which included days without eating or sleeping, she lost her bag of clothing.
When she finally arrived in Washington, D.C., all she still had was her dreams. "Without dreams, we are not alive," she recalled.
She spent the next two decades working full time at McDonald's during the day and cleaning at night. Today, Palacios works as a custodian at Harvard and is a U.S. citizen, thanks in part to the Harvard Bridge Program's citizenship preparation sessions for employees.
Palacios, along with two dozen other program participants who recently received citizenship, were honored Tuesday evening at the annual citizenship celebration dinner, held in the sun-drenched penthouse of the Littauer Building at the Harvard Kennedy School.
"Dream and work hard," Palacios said she teaches her children. "This is why we are here today, to celebrate a dream realized."
The Bridge Program connects its participants with student volunteer tutors from the Faculty of Arts and Sciences and the Institute of Politics (IOP) for weekly, hourlong tutoring sessions that prepare them for the citizenship test.
"What we hear is 'tutoring is the highlight of my week,' " said Carol Kolenik, the founder and director of the Bridge Program. "It's life-changing to be a U.S. citizen, and life-changing relationships are developed through the program," for both immigrants and the students who tutor them. The experience is "fascinating and heartwarming," she said.
The program, founded in 1999, offers classes in English, office and computer skills, and preparation for college courses, among other opportunities.
IOP Director Trey Grayson said the Harvard program should be duplicated at other schools. He quoted President John F. Kennedy's 1963 speech at Vanderbilt University: "The educated citizen has an obligation to serve the public … he must be a participant, and not a spectator."
"We have too many spectators in this country," Grayson said, and he encouraged other citizens to follow Kennedy's advice.
Harvard President Drew Faust has attended the celebration dinner for the past six years, since she took office. "This is a highlight of my year," she told the dinner's 80 attendees, all program participants, collaborators, tutors, new citizens, and their families. "I wonder if all of us born as U.S. citizens would pass" the citizenship test that those being honored had mastered.
"We're not asked to be reflective of the meaning of citizenship," she continued, giving thanks that the dinner offered the chance to think about "what citizenship means" and "not take it for granted."
"Citizenship," she stressed, "is about rights, but it's also very much about responsibilities and obligations."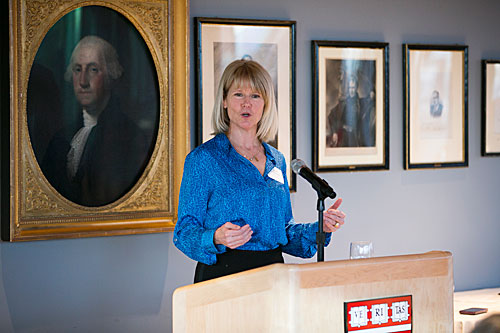 Freddy Malpartida is well aware of that. He attended the dinner with his 5-year-old son, his expectant wife, his sister-in-law, and her family. Malpartida came to the United States from a small town in Peru, "to work hard for a better life for my family." He worked at the Staples store on JFK Street for seven years. He would go to Harvard's Human Resources Department every week, sometimes twice a week, on his days off. He showed up there so frequently that the workers started calling him "Mr. Staples." Finally, after a year of such visits, he was offered a position in campus services at Quincy House. He accepted, went into the Bridge Program, and received his citizenship last September. He proudly said that he voted in the 2012 election.
"I'm trying to set a good example for my family. This is my country," he said, "and I exercise my rights and responsibilities to my country. God bless America."