Imagine spraying the nape of your neck with a skinlike substance that keeps you cool as you jog in the August heat. Imagine generating electric power with every step you take. Imagine stopping along the way to pick a container of refreshing water from a tree.
This is the kind of future that the students of "Engineering Sciences 20: How to Create Things and Have Them Matter" (ES20) are working to create. Sixteen students are enrolled in the annual spring course, offered by the Harvard School of Engineering and Applied Sciences (SEAS). In teams of three to five, they have imagined products designed to change the world. Each team presented its project at Oberon on Monday.
Class co-instructor David Edwards opened the presentations before about four dozen students and friends, saying that after an intense week it seemed fitting to start by talking of dreams of what could be.
Edwards also provided a peek at plans for the Lab Cambridge, part of the Idea Translation Laboratory, which is scheduled to open in 2014. The lab will be a permanent home for educational programs such as ES20, for cultural work, and for commercial enterprise exhibitions. The Idea Translation Laboratory is an international educational model spanning from Paris (at Le Laboratoire) to Singapore, Saudi Arabia to Minnesota, Cape Town to Cambridge.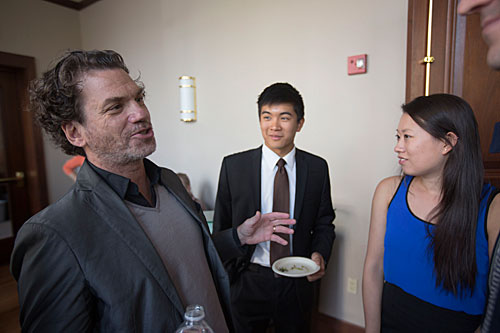 Edwards kept his remarks short, giving time to four teams introducing their projects. Amanda Lu '13, Ana Sofia Guerra Rodriguez '15, Suvai Gunasekaran '13, and Sharon Stovezky '15 were the first presenters, as Team Smart Skin. The product, they explained, would be a breathable, elastic, spray-on that reacts with both the body and the environment. It would keep you cool during exercise, could be worn like a garment, and could be disposed of in a day or two.
Smart Skin, like all the ES20 projects, would have a humanitarian purpose: Used for disease control, they said as an image of a mosquito flashed on the screen, Smart Skin might eventually save lives. The students plan to file for a provisional patent for Smart Skin at the end of August.
Team Energy Click presented next. Ashley Mendelsohn '14, Juliana Cherston '13, Maurine Nkatha Gitonga '15, and Anna Ondaatje '13 developed The Click, a device that slides into special shoes and stores the energy generated as you walk or run. Removing The Click from your shoe and plugging it into an outlet that stores the electricity could power a lamp or an appliance.
Twenty percent of the world lives with out electricity, they said, but The Click could help change that. A class of students could "click" together to help provide power for their school. The Click also could work with anything that moves, from bicycles to door hinges, to generate and store electricity. The device is easily rechargeable, using piezoelectricity. Once the team proves it works, its members look forward to translating the concept to the field. They will experiment with that this summer in Windhoek, Namibia.
Next, Team CoCoCup heralded their plan to genetically modify the coconut into a bottle shape that could be picked from a tree, and grown anywhere in the world, with different liquids inside. Danni Xie '13, Marissa Gutierrez-Vicario '13, and Yacoub Kureh '13 are looking forward to "a redesigned specialty product without plastic. We will grow beverage bottles on trees." Even "water will be grown."
Team Canary Paint's Mengqi (Melissa) Niu '13, Sam Peinado '15, Sarah Gondela '13, Stacy Morton '13, and Eric Lu '14 hope to develop a "library of Canary Paint" that changes color when it detects hazards.
Inspired by the 350 million people in the world with food allergies, the high number of deaths from disease spread in hospital environments, and the threat of cholera, Canary Paint would be a safe and affordable smart-spray, usable on everything from food to hospital curtains, from billboards to well faucets, that would change color to indicate the presence of allergens, poisonous gas, airborne contagions, pollution, and water-borne disease.
All of the teams are looking forward to going to both Le Laboratoire in Paris and Cape Town, South Africa, on fellowships this summer to further cultivate their projects.
A catered reception followed the presentations, and the group had a moment of silence at 2:50 p.m. to honor the victims of the marathon bombing.
"Engineering Sciences 20: How to Create Things and Have Them Matter" is funded by the Harvard Global Health Institute, the Wyss Institute for Biologically Inspired Engineering, and the Experiment Fund, and is supported by Harvard School of Engineering and Applied Sciences and ArtScience Labs.