A recent performance in Harvard's vaulted Sanders Theatre looked more like a rock concert than a recital of early Renaissance music. Standing in the first two rows, a group of young boys and teens clad in jeans and crimson sweatshirts hooted and hollered for the singers onstage.
The fans weren't undergraduates, but members of a choir in the Boston neighborhood of Dorchester that has a deep connection to the Harvard Glee Club, the country's oldest college chorus, founded in 1858.
Much of what the Glee Club is today can be traced to the efforts of Archibald T. Davison, a Harvard man with a passion for music and song. A member of the Harvard College Class of 1906, Davison returned to the University for his graduate studies in 1907, joined the Harvard Music Department in 1910, and eventually took on the role of Harvard organist and choirmaster. In 1912, at the urging of singers in the Glee Club, Davison became its "coach." Several years later, "Doc," as he was known, became its first official conductor. His hard work and strong musicianship, together with his openness to a broad repertoire, transformed the club.
"He possessed shrewd but ever-tactful skill; a desire to lead men, not force them; and as well an uncompromising idealism," wrote the Harvard Crimson in its obituary, in 1961, for the longtime Harvard conductor and music professor.
But before his return to campus, Davison conducted another choir: the All Saints' Choir of Men and Boys for the Parish of All Saints, Ashmont, in Dorchester.
"When we discovered the connection we went, 'Oh, wow,'" said Andrew Sheranian, director of the Dorchester choir. "Archibald is the one who turned the Harvard Glee Club into what it is today."
Harvard and the Dorchester program have joined forces over the past two years, a partnership that has produced concerts, performances at services, and a fellowship in honor of Davison. On Saturday at Sanders Theatre the Dorchester choir will join with the Harvard-Radcliffe Collegium Musicum for a performance of Bach's "St. Matthew Passion."
Sheranian, who takes a firm but kind approach to leading an often rambunctious group (with members as young as 7), said his first encounter with Harvard came purely by chance. Seeking advice about ways to recruit for his program, a mix of boys and teenagers as well as professional and volunteer men, he sent out an email to a national list of music directors. The only reply came from Andrew Clark, Harvard's director of choral activities.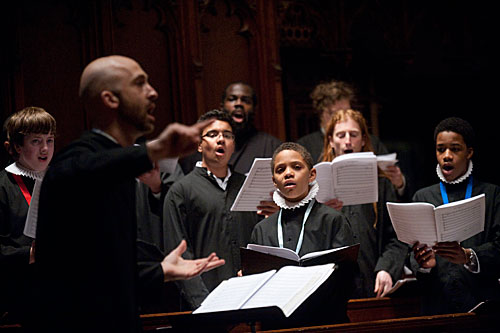 Over lunch they struck on the idea of partnering for concerts. Building on that success, they started looking for a way "to really cement the relationship," recalled Sheranian. "That is why we founded the fellowship. Really at its heart it's a mentoring program."
For Sheranian, changing the minds of boys who think being in a church choir is uncool is a constant struggle. He called the experience with the Harvard Glee Club "a shot in the arm" for his program. "To really have these kinds of role models encouraging them and helping them out right there in the room with them … we are just beginning to see the benefits."
One of those role models is Harvard sophomore Michael Raleigh, a music concentrator with a burgeoning interest in conducting. "I was working as a summer choir manager with Andy and he told me that he had an offer that I couldn't refuse," said Raleigh.
As the first Davison Fellow last fall, Raleigh worked with the students on Thursday afternoons and sang with the choir during Sunday Mass. Much of his early coaching, he admitted, consisted of fixing the singers' postures and keeping them from distraction. But soon he began to focus on the music.
"It's great to see them develop — they are sort of like sponges. They learn how to identify 12 keys more quickly than I can teach my friends to do it," said Raleigh, whose guidance of the students goes beyond sight-reading and ear training skills to include tutoring in subjects such as Greek and Latin, and help with homework before rehearsals.
"Watching them learn and make connections [and seeing that] little 'aha' moment is always a lot of fun."
An autoimmune disease that has left him temporarily confined to a wheelchair forced Raleigh take a medical leave from Harvard this spring, but he hasn't allowed his health issues to cut him off from the choir. After a brief hospitalization and ongoing rehab, he was with the students last week for their Holy Thursday service. During a pizza break between final rehearsal and the beginning of Mass, the singers gathered round Raleigh, welcoming him back with warm smiles and hand slaps.
"He's awesome. … He helps us with our voices, helps us with our solos, he's just a really nice person overall," 11-year-old Mayal Levy of Dorchester said of Raleigh.
Working with such young singers involves navigating a musical landscape dominated by technology and a popular culture obsessed with self-promotion.
"Andrew and I talk about how countercultural choral music is as an activity in the age of 'American Idol' … [and the notion] that music doesn't necessarily always have to be a 'me' activity," said Clark. "The idea that you come into a community for what I call the 'we' activity, and you concentrate on your craft for an hour plus at time without being tethered to Facebook or your iPhone and you really sort of sacrifice yourself for the greater good of the community."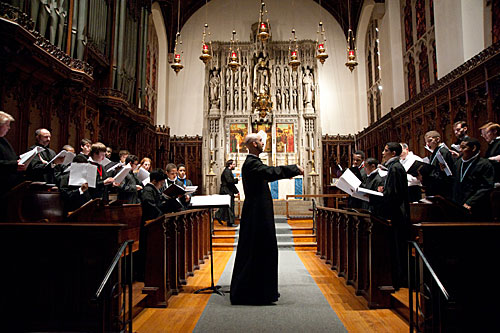 But while uniting the choirs shows the younger singers how much fun it can be to work in a broader musical community and elevates the "cool factor," the project's effects hardly stop there.
"As it often happens in service," said Clark, "I feel like we are the ones being changed, impacted, educated, maybe, more than the people that we are aiming to serve."
The Glee Club's president, Matthew Tufano, agreed. "The guys have really enjoyed it and really felt like they're giving back, that's … what I've seen in everybody's eyes. Whenever we sing with the boys … we really feel like we are giving back."
Sixteen-year-old Joseph Edwards, who has been with the Ashmont choir for nine years, said that performing with members of the Harvard Glee Club during a recent concert at Memorial Church was one of the high points of his singing career.
"It was really fun actually, just singing with them and knowing that yeah, I am a part of this," said Edwards. "Just to be in that environment; it's like, Harvard."
Asked if he hoped to attend Harvard one day, Edwards nodded. "Yeah," he said, with a smile.