As many parents can attest, rousing a child from sleep to make it to the bus stop can be a difficult task. Doing so during a vacation week would seem near impossible. But on Thursday, a group of students from Boston and Cambridge happily rose from bed and made it to class. The reason? Wynton Marsalis was in the house.
For an hour and a half the famous trumpeter conducted a master class at the Boston Arts Academy, the city's only public high school for the visual and performing arts.
Double bass player Daniel Winshall, a 15-year-old from Jamaica Plain, was running behind for the session and feared his teacher would yell at him for being late. Instead, Marsalis singled out his playing.
"My man on the bass, you are an unbelievable bass player. I've got to give you an A-plus, plus, plus, plus, plus," said Marsalis, who joked about taking Winshall on the road. "You are for real, man."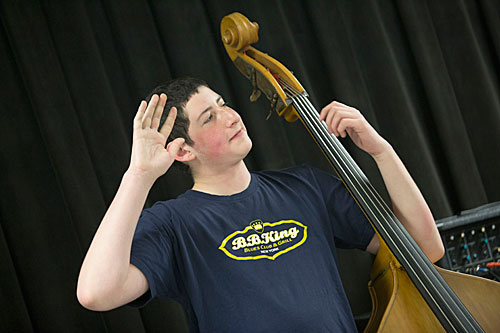 Since 2011, Marsalis, the artistic director of Jazz at Lincoln Center, has wowed audiences at Harvard with a six-part lecture-concert series, "Hidden in Plain View: Meanings in American Music." On Wednesday at Sanders Theatre, he delivered the fourth installment, looking at collaboration and improvisation.
Education is important to the jazz great — in his role at Lincoln Center he acts as a mentor and rehearses and performs with student musicians — and in all his visits to Harvard he's made time to engage with local students and fans. Thursday morning he was in full teaching mode, listening to jazz ensembles from the Academy and the Berklee City Music program and offering advice.
"I am going to joke around with y'all and mess with you," he told the students. "It's all out of love."
The trumpeter was true to his word, offering encouragement but not hesitating to gently reprimand the young players for not being familiar with some of the early recordings of the music they were playing, sometimes even the artists themselves.
"How many people actually know the style of this band?" he asked a group on stage who had just played the standard "All of Me," about Count Basie's famous orchestra from the 1950s. "Don't lie, 'cause I'm going to ask you to name some of the albums." No hands went up.
"You are not going to sound good playing this music without listening to it," he said, urging the students to not only listen to original and early recordings but to research and learn about expert musicians and their styles.
When it comes to playing together, listening is crucial, said Marsalis, who also nudged the young players to listen to each other, and to simply "play soft."
"One of the many things you learn about playing jazz is how to play in balance.  What does playing in balance mean? Shhhhh."
Faraday Julien Fontimus waited anxiously for Marsalis to arrive for the class. When it happened, just before 10 a.m., he was almost too excited to look, briefly covering his face and turning to the wall in disbelief. A longtime fan, the 18-year-old trumpeter, who plans to attend Berklee College of Music, hopes to follow in Marsalis' footsteps and become a music educator.
"He teaches how much jazz can affect one person's life," Fontimus said, adding, "I want to be able to give that on to my own students in the future."
Fontimus was in the audience in Sanders Theatre the night before, carefully studying Marsalis' movements, hoping to "snatch something that he does with his hands," and observing the intensity he brings to the stage.
During the class Marsalis urged the young trumpeter to study the music.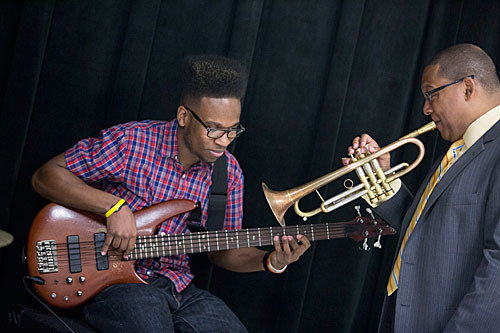 "You've got a lot of feeling, you're lovable … I don't know you but I want to hug you," said Marsalis. "But that doesn't mean you don't have to know the chords for this tune. … You need to get with the rhythm section and learn these chord changes. … I want the level of your playing to be up on the level of your humanity."
Afterward, Fontimus remained upbeat, despite the critique.
"It was very fun, it was very informative and it added a lot to my playing, and now I have a lot of stuff to practice. … He showed that he loves us. He is enthusiastic for the music. I am not taking it to heart. I know what to do now to become a better musician and luckily, in the future, if we meet again, he will hear the difference."
Marsalis told the students to practice the rhythms and the dynamics of every piece before trying to play it through, to learn notes backwards and forwards, and to be accurate. And play without music, Marsalis added. Develop your ear, he told the students, by trying to repeat jingles and everyday tunes.
Marsalis also encouraged the students to play as much as possible and to work on perfecting their character as much as their musicianship. "Try to find gigs, because there's an axiom that says what you do is what you will do. If you complain, you're going to complain. If you don't practice, you're not going to practice. If you whine, you are going to whine. If you work gigs, you are going to work gigs.
"You are always making yourself into you," Marsalis added. "At every moment, you are making yourself into yourself. So if you have a work ethic, you are going to have a work ethic. So the things you want to do and be, do that right now."
Marsalis tapped 16-year-old bassist Christoff Glaude to help him make a point about chord progressions. Glaude admitted to being nervous. But his fear quickly subsided, he said, as the pair started to play.
"It felt good because me and him kind of connected. When you play music … you have to kind of feel the other person. I kind of felt what he was playing and I tried to have a conversation through music."