Looking for a little excitement? How about spending the afternoon with a couple of hungry monsters, one fuming dragon, and a fearless warrior ready to face all three?
Members of the Harvard community and beyond can do just that at a reading of the 3,182-line poem "Beowulf" in its original Old English at the American Repertory Theater's (A.R.T.) second stage, Oberon. The free reading of the ancient epic on Thursday afternoon is open to anyone curious about the tale, or just looking to sample a little Old Anglo-Saxon.
"We often do this out-loud reading of 'Beowulf' for fun because we love the poem, so we thought: 'Why not have it be almost a lead-in'" to the A.R.T. play, said Harvard College Fellow and medieval scholar Steven Rozenski, who along with Matthew Sergi, a colleague at Wellesley College and sometime A.R.T. actor, collaborated on the reading with producers of the theater's current production, "Beowulf — A Thousand Years of Baggage." (The A.R.T.'s version, which runs through May 5, puts a musical spin on the poem, incorporating elements of Weillian cabaret, '40s jazz harmony, punk, electronica, and Romantic Lieder.)
The public reading of the epic also taps into the poem's early oral tradition, allowing attendees to experience the work in its truest form. "It's what the poem was meant to be 1,300 years ago," said Rozenski. "Beowulf" most likely originated in the 700s as spoken word and was recounted or sung from memory at dinnertime, around the fire, or in mead halls. Spoken forms of entertainment were widely popular in an age when most people, except for the nobility and the clergy, were illiterate.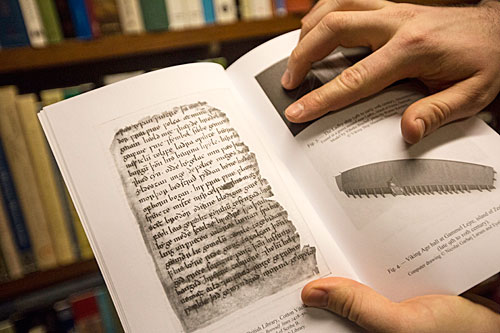 "It was almost certainly an oral poem that existed first … but at some point it was written down and copied, and then copies of that copy were made." (Today only one ancient copy of the poem survives as part of a medieval manuscript housed at the British Library in London.)
The poem tells the story of the Swedish hero Beowulf, who rescues a group of Danes under attack by the monster Grendel. Beowulf kills Grendel and his vengeful mother. But he is mortally wounded years later while slaying a gold-hoarding dragon.
The Thursday reading is in keeping with the A.R.T.'s ongoing mission of expanding theater's reach through panel discussions, outreach initiatives with local schools, Harvard courses, and more, all tied to the theater's productions.
"At the A.R.T., we are devoted to all sorts of additional programming as a way to enhance what is happening on the stage as part of our season," said Ari Barbanell, the A.R.T.'s director of special projects, who met with Rozenski about the project. "There was no chance of saying 'no'; the reading was such a great idea."
Rozenski, who has helped to organize readings of the work for Harvard's English Department, said the poem has enjoyed something of a revival in recent years, thanks in large part to famed Irish author and poet Seamus Heaney. While a visiting professor at Harvard, Heaney worked on a new translation of the poem. His resulting 2001 "Beowulf: A New Verse Translation" became a bestseller. (Since 2003, Daniel Donoghue, Harvard's John P. Marquand Professor of English, has offered a Harvard Extension School course titled "Beowulf and Seamus Heaney." He will teach the same class at Harvard College for the first time next year.)
The enduring work of another famed medievalist and scholar of Scandinavian mythology has encouraged others to explore "Beowulf" anew. While some readers come to medieval literature through Arthurian legend, explained Rozenski, many others are drawn to the literature of the period by the writings of J.R.R. Tolkien. The author of "The Hobbit" and "The Lord of the Rings" trilogy, Tolkien, who was an Oxford professor, was first and foremost a scholar of the older languages and literatures of northern Europe.
"He wrote a really influential essay on 'Beowulf' called 'The Monsters and the Critics,' and was influential in a lot of different ways in the study of Old English early in the 20th century," said Rozenski. "It's always exciting when something like 'The Lord of the Rings' or 'The Hobbit' movies come out," he added. "You get a little surge of interest, and it's nice to keep that going."
"Beowulf" enthusiasts will help do that with their reading at Oberon, during which copies of the text will be projected on a screen in both Old and modern English. The approximately five-hour marathon begins at noon and will include brief breaks and question-and-answer sessions with some of Harvard's medieval scholars.
Interested attendees are encouraged to stay for as little or as long as they like, said Rozenski, and to take a stab at using Old English, or simply sit back and listen. "When you are hearing it, you focus on just its capacity to entertain. You are not trying to write brilliant thoughts about it, or write an article, or come up with great things to say. You are just enjoying it."
The free reading of "Beowulf" will take place at Oberon Thursday from noon to about 5 p.m.,  prior to the A.R.T.'s performance of the classic at 7:30 p.m.