Legendary Atlanta architect and developer John C. Portman Jr. — inventor of soaring atria in city hotels — stopped by Harvard's Graduate School of Design (GSD) this week to offer advice and wisdom.
"It's all about people," he said of architecture, a practice meant to "enhance life," but which more commonly may call to mind showmanship and technology. His signature hotels, starting with the 1967 Hyatt Regency Atlanta, feature bold interior spaces. They bring the outdoors inside, adding grandeur to the traditional hotel paradigm: boxes within a box.
His brand of architecture, along with its holistic relationship to cities, rewrote hotel design, and in the decades that followed made Portman among the most widely imitated architects in the world. His work appears in 60 cities on four continents. In 1979, he delivered this new vision of dramatic interiors to China.
At GSD on Tuesday, Portman visited a studio class, listened to student proposals, and offered spirited critiques. "He was inhaling the information," said K. Michael Hays, the Eliot Noyes Professor of Architectural Theory and a Portman expert. "There was a swirl above his head."
That evening, in a crowded Piper Auditorium at Gund Hall, the 88-year-old Portman engaged in a ruminative conversation with GSD Dean Mohsen Mostafavi.
First, introducing the totality and impact of his work to the audience, was Mariana Ibanez, a GSD associate professor of architecture. She confessed to weeks in a "Portman immersion" before the visit. "Mr. Portman invented practice," Ibanez said — the concept of the developer-architect who has to master a confluence of factors in a project: economics, technology, market pressures, artistic sensibility, and social sensitivity.
Hyatt triumph

By now, Portman-style interiors are familiar to most. But in 1967, when the Hyatt Regency opened in Atlanta, its neck-craning, 22-story atrium was a completely new idea. "Everyone became a country bumpkin when they walked into the Hyatt," remembered Civil Rights icon and Atlanta native Andrew Young in "John Portman: A Life of Building," a 2012 documentary. "You had to say: Oh, my God, what is this?"
The Hyatt was one of the first buildings in what is now the 20-building, 17-block Peachtree Center, a hive of urban structures connected by enclosed walkways that in turn link to transportation hubs, including the airport. "From my office I can go all the way to Frankfurt, Germany, without putting on a coat, or getting wet," Portman said.
The project almost did not happen. It was a concept so radical that many potential investors (including legendary hotelier Conrad Hilton) and fellow architects backed away. But it was Portman's dream, atrium and all, that wowed the Pritzker family, excited them about architecture for the first time, he said, and so — in a way — inspired the now-famous Pritzker Architecture Prize.
Portman — who also draws, paints, sculpts, and designs furniture — is equally well known for his two self-designed residences, Entelechy in Atlanta, and Entelechy II in Sea Island, Georgia. The second, with columned interiors and sky-lighted walkways, blurs the line between nature and the pavilion-like interior. That's another Portman signature: buildings that seem porous and open. "The roof is a grill supported on columns," he said of his seaside home. "It floats."
In part, the Piper event formally noted the creation of GSD's John Portman Visiting Chair in Architecture, announced last fall. Starting in September, the professorship will fund a prominent designer to teach and exhibit at the GSD for one to three years.
In conversation with Mostafavi, Portman revealed his early inspiration for the hotel atria that were to make him famous: a Georgia rest home. "Old folks' homes in those days were filing cabinets," he said. "We filed [the elderly] away." To escape that paradigm, he designed an open interior for the building, lighted and ventilated from outside.
On the edges, people could have privacy, as in a hotel. In the middle was communal space. "I approach every project that way, from the human side," said Portman. He remembered the rest-home client worrying that "it looked so expansive, it looked expensive."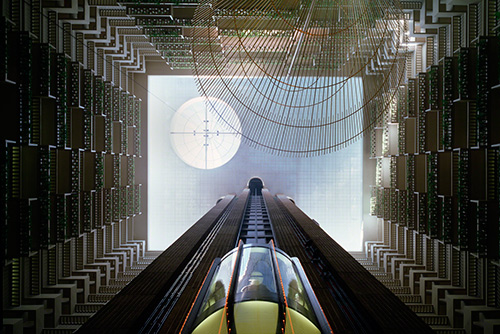 'Imposition art'
Architecture is "an imposition art," said Portman. "It sits out on the sidewalk. We're imposing it on everyone." So practitioners have to be sensitive that buildings are not just structures, but elements within the living human ecology of cities. "I'm a humanitarian," said Portman. "I'm interested in people much more than things."
Portman started dealing with large-scale structures, and their social implications, with the Merchandise Mart in Atlanta, which opened in July 1961. Just a few months before, in April, he had traveled to Brasilia for the opening of the world's first planned city. "I was so disappointed," he said of Brazil's new capital, with its aridly large plazas and giant boulevards. "What really overwhelmed me was: It wasn't built for people."
Back in Atlanta, Portman was determined to keep people at the center of his architecture, acknowledging that public space always has social resonance, and can even create meaning. "I'm interested in taking the physical world and the individual, spiritual world together," he said — a holistic vision of architecture that depends as much on Emerson and Toynbee as it does on engineering. "I would like to reset how we look at architecture."
That includes bringing nature back. When the Peachtree complex began more than 50 years ago, there was one tree in that section of Atlanta, a Dutch elm. ("It died," said Portman.) But, inspired by the memory of a stroll along a leafy street in Zurich, he lined two city blocks with trees.
In turn, the complex's interlaced pedestrian bridges were inspired by the bridges of Venice, Portman's favorite city — nearly car-free. Meanwhile, streets in Atlanta and elsewhere had become "vehicular rivers."
"We have piled density on top of density and we haven't created any public space," said Portman of American urban landscapes. "I wanted to create space in the middle of the city."
Toward the end of the conversation, the man who has spent a lifetime looking ahead paused for a moment to look back. "I'm a child of the Depression. We didn't have anything," said Portman, who was born in rural South Carolina and raised in Atlanta. "I saw the breadlines. I saw it all."
He had five sisters. "That made a loner out of me," he said. But Portman had two steady consolations as a boy: a self-educated mother who seemed to know everything, and a mound of dirt in the backyard. He would build little cityscapes there. Along the mud streets he drove medicine-bottle cars, fully immersed in a built environment of his own creation.
"That made a huge impact," said Portman of the mound of dirt, and the invented worlds it invited. "That may have been the best thing that ever happened to me."