The final "s" sounded the loudest at the "Africa Remix: Producing and Presenting African Musics Abroad" conference on Friday, jammed into a busy, blustery morning ahead of two feet of snow.
"In France many people speak about la musique Africaine. This singular is shocking to me. I see it as a denial of an incredible variety of music," said Francis Falceto, originator and editor of the 29-volume "Ethiopiques" CD series, giving the keynote address of what had been intended as a daylong symposium at the Barker Center.
Noting that appreciation of African music has flourished since the earliest recordings in the years after World War II, Falceto said the plurality of African sounds during the "golden years" of the 1950s and '60s eventually and inevitably became influenced by Africa's technological dependence on the West and its efforts to bring its music outside the continent's borders.
"We are no longer in the presence of African music made in Africa" but in the presence of a new offspring of world music, he said. In its new form, "It is the music of Africa that has found the most resonance worldwide."
The effect that musical emigration has had, on both the countries to which it has traveled and the music itself, was the subject for three graduate students who took the podium to discuss issues of appropriation and collaboration in modern African music. Sarah Hankins in "Iron Lion in Zion" discussed the shifting identity of the "other," and the Afrodiasporic influence in Israel, as demonstrated by musicians such as the Groove Ambassadors and the Idan Raichel Project. As Israelis adopt material previously perceived as foreign, a new, "glocal" sound has emerged, "presented in ways that speak specifically to the Israeli-African experience," she said.  "As [African music] increasingly carves a place … a greater space may emerge for the African self within Tel Aviv."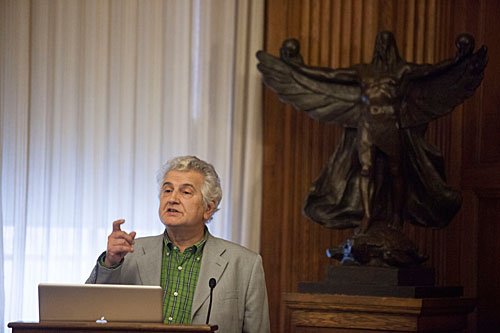 In "Remix and Relevance," Sharon Kivenko focused on the political role Malian artists have assumed since a military coup last year unseated the elected government and the country devolved into a battleground for Tuareg rebels and Islamist extremists. Artists such as Amkoullel and Oumou Sangare blend traditional and new styles to keep their sound relevant while making the point that national unity can coexist with ethnic and cultural diversity.
"It has become clear to me that in a time of crisis and shifts in national identity, Malian artists turn to remix as a way to make an impassioned plea to help restore the unity of their nation," Kivenko said.
While Hankins and Kivenko looked at collaboration, Warrick Moses explored appropriation, focusing on the hip-hop band Die Antwoord as an example of white South Africans assuming elements of black culture to "confound centrist notions of black and white." In his James T. Koetting Prize-winning paper, "White Skin, Black Masks," he proposed that the band's "careful selection and performance of familiar South African cultural tropes and possessions ultimately reflects an all-inclusive and nationalist aesthetic."
The question of appropriation fixated other speakers at the conference. Ingrid T. Monson, the Quincy Jones Professor of African-American Music, pointed out that although music can easily cross borders, "what's stickier and less fluid are the social positions and economic and structural relationships."
"It's not that you can't cross those boundaries, but you'd better think about the politics and economics and the history of color," she said.
Russ Gershon, the founder, leader, and principal composer for the Either/Orchestra, countered that musical ideas cannot be appropriated like property: "You can borrow ideas, play with them, transform them, but you can't possess them."
Jacob Edgar, the founder and president of the record label Cumbancha, put in the final word. Pointing out that Elvis Presley and the Beatles borrowed freely from musical traditions that were not their own, he said, "Music is as much about individuality as it is about the music itself.
"There's just something that clicks with people in a different way, and that's a big part of what makes music work, is the individual personality behind it."