After a few Crimson-tinted triumphs at the Sundance Film Festival last month, more awards may be ahead for some Harvard filmmakers — fellows, professors, students, and graduates — who are showing, speaking, and mingling at the Berlinale, the Berlin International Film Festival.
The glittery winter festival, in its 63nd year, will be held through Feb. 17.  It commonly showcases 400 films and brings together 20,000 cinema professionals.
Among them this year are Lucien Castaing-Taylor and Verena Paravel, both at Harvard's Sensory Ethnography Lab. They will screen their co-directed "Leviathan" (2012), a wordless, sensual, and phantasmagoric portrait of commercial fishing aboard a trawler out of New Bedford, Mass. (Paravel is also a fellow this year at the Radcliffe Institute for Advanced Study.)
On the same program is "Yumen" (2013), set in a near-ghost town of the same name in China's arid northwest. It's co-directed by J.P. Sniadecki, a Harvard Ph.D. candidate in the Department of Social Anthropology who has six other films to his credit. He is at the Berlinale with his two Chinese co-directors, Xu Ruotao and Huang Xiang.
"The Berlinale is a big, buzzing festival," he wrote in an email from Berlin, "and … 'Yumen' was received well." His audiences were large, he added, the question-and-answer session went long, and "the last screening is already sold out."
"Yumen" and "Leviathan" are being screened in the Berlinale's Forum Expanded, where the festival's most experimental films (and their related installations) are shown.
At the forum, a venue reserved decades ago for daring cinema out of the mainstream, four-film director Andrew Bujalski '98 is screening his latest, "Computer Chess" (2013), a wry look back at the early days, circa 1980, of ascendant computer nerds. It won the Alfred P. Sloan Award at Sundance this year, an honor given to films with science or technology themes.  The onetime visual and environmental studies concentrator is known as "the godfather of mumblecore," a branch of indie film defined by its micro-budgets, non-professional actors, and naturalistic dialogue.
While in Berlin, Bujalski is also teaching a one-month master class in film. Late last month, he presented a program of his previous directorial efforts: "Funny Ha Ha" (2002), "Mutual Appreciation" (2005), and "Beeswax" (2009).
Also at the Berlinale is Argentinian Matías Piñeiro, director of five films and a 2011-2012 Radcliffe Fellow. He will screen "Viola" (2012), whose largely female cast reimagines Shakespeare's "Twelfth Night, or What You Will." This 400-year-old romance of courtship, disguise, and sexual ambiguity morphs easily into a modern tale.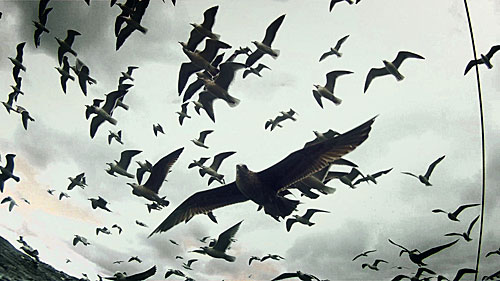 Crossing creative paths
Since Harvard is a relatively small place, and its film world even smaller, there are creative overlays among those at the Berlinale. For instance, Paravel and Sniadecki co-directed the award-winning documentary "Foreign Parts," released in 2010.
Weaving his audio art through two films at the Berlinale is Ernst Karel, who did the sound editing for both "Leviathan" and "Yumen." At Harvard, he is a lecturer in anthropology, manager of the Sensory Ethnography Lab, and assistant director of the Film Study Center — the University's cinema creative commons. Paravel and Sniadecki are both fellows there this year.
Karel also did the post-production sound mix for "People's Park," a 78-minute documentary that Sniadecki co-directed with Libbie D. Cohn. (Having two films on the festival circuit at once, wrote Sniadecki, is like having two children running in different directions — both loved, but requiring "attention and care, and a lot of work.")
Sniadecki's joyful, eclectic film of a park in Chengdu, China, is a single-shot work covering multiple sound environments, a project that presented challenges, said Karel. But "Leviathan" presented even more. Some of the shipboard audio was captured on conventional stereo equipment, but most of it came from monophonic sport cameras encased in waterproof housings. They were plunged into the sea on sticks, dangled overboard just above the waves, or rigged to fishermen as they worked.
The resulting audio was eerie, otherworldly, and strange, said Karel, "a gift" that pushed the boundaries of naturalistic sound.
A revolution in film
"Leviathan," which shows oceanic soundscapes and images, follows no straight narrative lines. Instead, it hits the viewer with an icy wave of sounds and sensations.
"The film has generated very strong reactions," wrote Paravel from Berlin. "No one is neutral about it. Most people think it is a new step in cinema, a kind of revolution."
In an earlier interview, Castaing-Taylor said, "What we're trying to do is make films that don't say anything." The aim is films that are not "reducible to a point," he said, or tied to a single narrative strand, but that immerse a viewer in an unfamiliar world of sensations.
For their "Leviathan" installation in Berlin, the co-directors wrote that "the Deep" was their filmic subject, "the tomb of lost utopias, shipwrecks, drowned mariners, and human detritus … both monstrous and beatific."
One scene — lingering and long, with a sound track of gasps and burbles — is typical of the immersive aesthetic that "Leviathan" lays bare. It is shot from a vertiginous angle along the port side, as ship motors noisily forward through a heaving green sea. From the bilge pour blood-red gushes and globs of trash from the fish slaughter on deck. The camera dips crazily, and in place of a distant streaked horizon appears the roiling Brownian motion of the undersea, gurgling and flecked with discarded fish parts. Then the camera tips upward, revealing a sudden thicket of seabirds crying in the frigid air, frantic for a meal.
"We saw those birds flying," said Paravel, "and we wanted to fly with them."