Harvard College students looking for a little Broadway inspiration don't have to make the four-hour bus ride to Manhattan. Thanks to a popular program sponsored by Harvard's Office for the Arts (OFA), Broadway comes to them.
On Friday, three lucky undergraduates had only to brave bitter temperatures and a quick trip across campus to Agassiz Theatre in Radcliffe Yard to perform for the two-time Tony winner Christine Ebersole.
Since 1975 the OFA has sponsored Learning from Performers, an interactive series that offers students a chance to engage with professionals from a range of artistic fields. In addition to lectures, discussions, seminars, residencies, and performances, the program also hosts master classes — opportunities for students to receive on-campus coaching from film and theater veterans. Renowned directors, dancers, singers, songwriters, visual artists, and musicians have taken part in the program.
Last week it was Ebersole's turn to briefly step away from the spotlight to offer a nervous trio of aspiring artists her suggestions and support in an OFA master class. (The songstress was back on stage the following evening for a Sanders Theatre performance sponsored by the Celebrity Series of Boston.)
Mark Mauriello '15 kicked off the afternoon session with the emotional song "Perfect," about a failing relationship. Praising the performance, Ebersole suggested a type of delicate detachment. As the storyteller, the singer must convey the feeling, she said, but also maintain some emotional distance.
"When you do the work for us, then we don't get to experience the emotion, it's a funny, weird chemistry," she told Mauriello.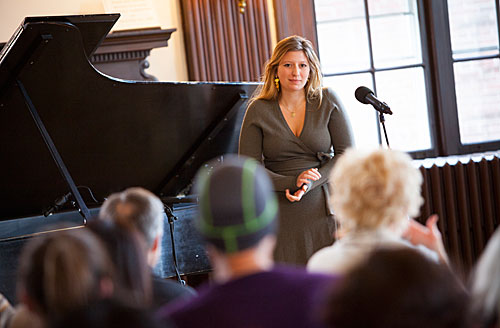 Ebersole encouraged Lily Glimcher '14 to try for a softer sound at the moving climax of "Lying There," from "Edges." "When you sang it really loud, it took me out of the experience. … What if you almost did it as a whisper?"
Glimcher obliged. Her effort brought Ebersole to tears. "Did you see that?" she said. "You made me cry."
Ebersole's stage and screen credits include roles on the soap operas "Ryan's Hope" and "One Life to Live," a stint on "Saturday Night Live" in the early 1980s, and appearances in the Oscar-winning films "Amadeus" and "Tootsie."
A much-lauded Broadway regular, she won the Tony for best leading actress in a musical in 2001 for her work in "42nd Street," and again in 2007 for her powerful turn as both Edith Bouvier Beale and her daughter, "Little Edie" Beale, in "Grey Gardens."
Ebersole praised David Sheynberg '16 for his "beautiful sound" during his performance of "Good Thing Going" from "Merrily We Roll Along." Referencing her own career, she urged the freshman to think about his approach to the craft as a type of personal journey.
"It's never an event; it's always a process," she said. "It's peeling the layers of the onion so you get down to you. … Then the power of who you are and what you bring to it … that's what gets transmitted."
Ebersole also interacted with the crowd, at one point responding with nuanced perspective to a question about technology and the trend toward the use of amplification in theatrical performances. The mother of three teenagers, she said that she has had to change with the times and be open to new advances and trends in music and sound systems.
"I am always trying to stay open to what's happening," she said.
After the class, Glimcher praised the Harvard program for connecting students with performers. "Any opportunity to get an outside eye of someone who doesn't know you so well … and to just hear honest feedback … is incredible."
Ebersole, who found success on Broadway after hearing in Hollywood she was "over the hill," urged students to follow their dreams, but cautioned that rejection is part of the process. "You've got to love it, really, really love it," she said, "and be willing to commit to it in the face of the world telling you 'no.'"