For a small gathering of Harvard College students, their graduation celebration would be different from the norm. But for the 114 students who followed a different path through their undergraduate years at Harvard, "different" was just fine.
The students, along with their families and friends, gathered in the Radcliffe Gymnasium on Dec. 6 to celebrate the 2012-13 Midyear Graduates Recognition Ceremony. The event recognized students who graduate in November or March, off the usual Commencement cycle.
Students become midyear graduates for a variety of reasons. Some take time off for family or health reasons, others choose to explore an entrepreneurial dream or travel, and some industrious souls simply graduate early. For these students, the ceremony is of great significance because some are not able to return for Harvard's annual Commencement in May.
"I'm extremely proud to be a member of the 2012-2013 midyear class," said ceremony emcee Yi Han '12-'13. "Later this month, 114 of us will walk into a tumultuous world facing unprecedented challenges, a world that demands leaders who can exercise autonomy, change makers who do not bow to conformity, and visionaries who are not afraid to be in the minority."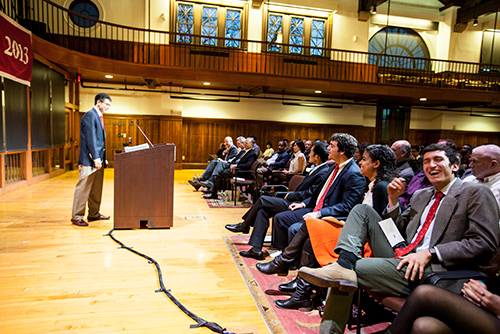 Evelynn M. Hammonds, dean of Harvard College, addressed the audience of graduating students, their friends, and family members.
"I have special confidence in the group before me today because each of you has, for your own individual and wildly varied reasons, cut an unconventional path through the dense and sometimes stodgy woods of this venerable institution," she said. "In the famous words of Harvard graduate Robert Frost, you are the ones who have taken 'the road less traveled.' "
"Once in a while, the media focuses on people who decided they didn't really need to finish at Harvard to realize their dreams — Mark Zuckerberg, Matt Damon, Bonnie Raitt," Hammonds continued. "But then there are those who used Harvard to their own unconventional, individual, and often brilliant ends, clearing their own way through difficulty, or even opposition. Like W.E.B. Du Bois, Harvard's first African-American Ph.D., who observed that while he had been 'at Harvard,' he was not 'of Harvard.' But he used the intellectual skills he honed here to reshape the intellectual and social landscape of this country."
Hammonds also mentioned Helen Keller, author Michael Crichton, and basketball player Jeremy Lin as examples of Harvard graduates who forged unconventional paths to success.
"Their paths may have been less obvious, but their influence has still been great — and you, too, have the ability to influence the broader world by cutting new paths," Hammonds said.
In the event's prospective faculty address, Andrew Berry, lecturer and assistant head tutor in Organismic and Evolutionary Biology, drew upon the life of Charles Darwin to encourage graduates to maintain the academic connections and friendships that they had made at Harvard, and to continue to learn from those networking relationships as they left the institution.
"Darwin's 'Eureka!' moment didn't come when he was standing, spray-flecked, on the prow of the Beagle," Berry said. "It was as a young man six months after the return of the voyage of the Beagle, sitting in the office of Mr. John Gould, curator and preserver at the museum of the Zoological Society of London, who not only took Darwin to task for not labeling his collections correctly, but first noted that the specimens of birds from the Galapagos Islands were all very closely related. That's when the penny dropped."
Berry pointed out that it wasn't Darwin the individual who made the great discovery, but "Darwin the networker."
"Darwin was smart enough to seek the guidance of others," Berry said. "The same applies to your every endeavor. Every enterprise is a collaborative enterprise, and you should remember that."
Speaking as one of the graduating seniors, Han expressed his thanks to the Senior Class Committee and the Harvard Alumni Association for coordinating the ceremony, and affirmed that taking "the road less traveled" had prepared the midyear graduates for success.
"I have the conviction that, precisely because of the initiatives we have taken in structuring our education, the challenges and doubts we've had to deal with along the way, and the lessons that we learned in ultimately overcoming diverse circumstances, we midyear graduates are uniquely prepared to embark upon the journey that many of our dear friends began just a few months ago. We're ready to take what we've learned from these ivy acres, and move some mountains."