In 1959, a young Japanese architect named Kiyonori Kikutake introduced two concepts that shook the design world — so hard that the vibrations are still felt today.
See for yourself at "Tectonic Visions Between Land and Sea," a room-filling, eye-filling exhibit up through Oct. 16 at Gund Hall at the Harvard Graduate School of Design (GSD). Kikutake — whose work influenced architects from Louis Kahn to Rem Koolhaas — died last year. This solo retrospective of his work is a first in North America.
One of Kikutake's ideas was futuristic, and to this day remains a dream: a marine metropolis — self-sustaining, flexible, clean, safe. Tower-Shaped Community (1958), for example, would be built on circles of steel more than two miles in diameter. Below, bottlelike forms would keep the floating city stable, while doubling as farms teeming with aquaculture. It called for towering structures holding 1,250 steel living units in place — magnetized so they could be popped in and out like light bulbs.
It was this vision that Kikutake never abandoned, because he saw the borderless oceans as the land of the future. "Over these past fifty years, from the beginning to the end," he wrote as an old man, "I have held fast to the dream of making a residential environment upon the splendor of the sea."
Another early concept from Kikutake was smaller scale, practical, and very real. Sky House, built in 1958, was his Tokyo residence. A solid 10 square meters, it sat — and still sits — on four piers 21 feet high. Its open, flexible floor plan — with verandas on all four sides — recalls the style of traditional Japanese interiors. It is also an embodiment of one of Kikutake's lifelong design principles: Architecture has to embrace change.
So, under the concrete shell roof of Sky House, he devised a system of movable furniture and utility units that would change as the needs of the family changed. Kikutake called it the "movenette" system. In 1962, for instance, he hung a children's living unit on the concrete pad, and devised a ladder entry. More changes came through the years as sunroom, living room, bedrooms, kitchen, and bath clicked into different places. "It keeps changing to this day," said the show's curator, Ken Tadashi Oshima.
In 1959, he added, Kikutake's two concepts — modular house and city on the sea — "were absolutely radical."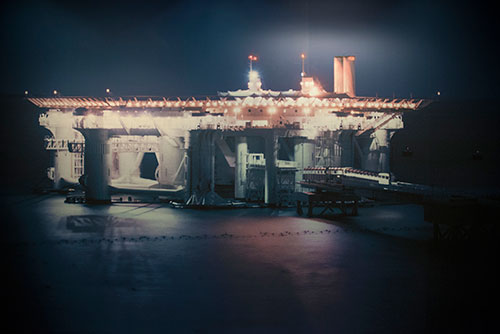 Oshima, a graduate of both Harvard College and GSD, is an associate professor of architecture at the University of Washington.
Sky House embodied a concept that Kikutake helped popularize in 1960 — Metabolism, a vision that defied the design norm of fixed forms and functions. Instead, "metabolist" practitioners imagined buildings that were changeable and that could grow organically. "It's all about a building that changes, but in an organic way," said Oshima. "It embraces biology and the whole organic system we live in as a model."
Sky House is as flexible as a plant — but as sturdy as a rock. Kikutake called his home a "fundamental resistance unit." It signified protection against the earthquakes, floods, and typhoons of his boyhood on coastal Kyushu, Japan's southernmost and third-largest island. It was protection too from the noise and pollution of city life. In 1958, Kikutake was proud to offer his own home as both his first major project and as the signature design of the future. "An architect's ability," he wrote, "is said to be best judged from the house he lives in."
A platform house that is aesthetic but fortresslike. This idea came from a man who was 17 when World War II ended. The cities of his native land were scorched and flat. (One of them, Nagasaki, was on Kyushu.) His wealthy family — landlords over big tracts of land for 600 years — was suddenly land-poor after postwar reforms.
"Japan being bombed during the war, and so many economic changes — that was the whole context in which he was growing up," said Oshima. "He was confronting this barren landscape and trying to think: How do we live in this context?"
There are echoes of Buddhism's mutability of things in Kikutake too, beginning with the plantlike changeability of Sky House.
But Sky House was also "a test case for a larger structure," said Oshima. He wanted to expand the idea of modular living units — to go from a small residence to residential living on the scale of a skyscraper. In 1966 Kikutake experimented with the idea of tree-shaped mass housing — living platforms suspended on a common structure, with gardens and social spaces below.
That was never built. But Hotel Tokoen was, in 1964: an eight story building overlooking the Japan Sea in southwest Japan's Tottori Prefecture. It is metabolic architecture writ large — "a collection of Sky Houses," said Oshima. Six primary columns link to three tie-beams, creating a treelike superstructure. The fifth and sixth floors, suspended like observation platforms — hang from a steel superbeam. "You feel like you're floating," said Oshima of the space. "It's organically connected to the environment."
Kikutake — whose practice began 60 years ago — can inspire practitioners today, said Sanford Kwinter, a GSD professor of architectural theory and criticism. "This is like air, like oxygen, for modern designers. It's systematic, but also very free."
There is renewed interest now in the metabolist ideal of organic flexibility in architecture. "Metabolism — The City of the Future," an exhibit at Mori Art Museum in Tokyo, closed earlier this year. And one year ago, "Project Japan: Metabolism Talks" appeared in hardcover, co-edited by Rem Koolhaas, who teaches at GSD. It's based on interviews with surviving practitioners, done from 2005 to 2011. Kikutake is one. (A "Project Japan" exhibit, a satellite show to "Tectonic Visions," is on view in the GSD's Loeb Library.)
And there is only one way to end a Kikutake exhibit, said Oshima — and that is with a talk by Kikutake protégé Toyo Ito. "What Was Metabolism" is scheduled for 6:30 p.m. Oct. 16 at Gund Hall's Piper Auditorium.