On the gridiron, the legendary Harvard-Yale clash is simply called "The Game." Off the field, the competition between the two Ivy universities can be equally intense. Students from the schools frequently engage in a war of words and wit in an effort to outdo each other.
In the end, it took an infamous French queen to bring the two longtime rivals together, at least on the artistic front.
For the first time, Harvard's American Repertory Theater (A.R.T.) and the Yale Repertory Theatre are collaborating on a stage production, the world premiere of "Marie Antoinette." The "barbed and brassy tragicomedy," as it is billed, traces the life of French King Louis XVI's wife, an 18th-century child bride from Austria who was initially embraced by the French, and later condemned by them to the guillotine. Legend has it that she once said of hungry French peasants, "Let them eat cake," though there is no proof of that.
A.R.T. Artistic Director Diane Paulus, who calls Marie Antoinette the most "famous 1 percenter," said the new work, written by David Adjmi, appealed to her because it is "theater that is reflecting the world we live in," including political and economic parallels.
"It's a historical subject matter that is making a detonating comment on America today," said Paulus, referring to the nation's widening income gap. "So I said, of course 'yes.' Little did I know that this would be the first … co-production with Yale." She joked that it "takes the theater to bring Harvard and Yale together."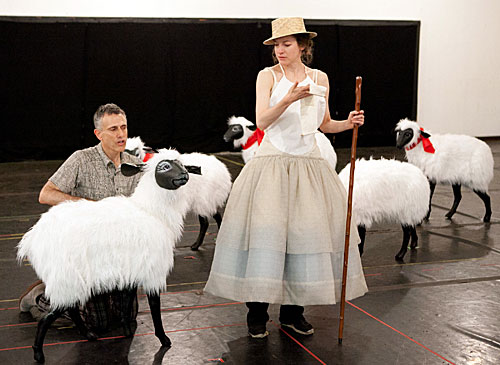 The two theater groups share a rich set of connections, including a founding father. Theater director, playwright, educator, and critic Robert Brustein created the Yale Rep as dean of the Yale School of Drama from 1966 to 1979. He then moved his model — which unites professionals with talented students, promotes new works, and reinvents the classics — to Harvard. In 1980, Brustein founded the A.R.T. in Cambridge, and served as artistic director until 2002.
In addition, James Bundy, who now leads the Yale Rep, attended Harvard as an undergraduate and haunted the A.R.T.'s halls as a member of the Harvard-Radcliffe Dramatic Club. While a student, he worked with Harvard alum and director Peter Sellars on the A.R.T.'s Loeb Drama Center stage. Bundy met Paulus when he was a graduate student at the Yale Drama School in the 1990s. His mission, he said, was to try to woo Paulus to the program. She ultimately chose Columbia University, but they kept track of each other through the years. Now they can learn from one another.
"There is such a legacy and a continuation between the two institutions … and there is the increased brain trust that has been created because of this collaboration … this amazing cross-fertilization," said Paulus.
Bundy, who commissioned the play, quickly realized he needed a collaborator to help stage the lavish production, which calls for a large cast and elaborate costumes like period-inspired "magnificent frocks and wonderful tall wigs." He sent an email to like-minded colleagues to gauge their interest. Paulus jumped at the chance.
"He has continued to be such a friend and colleague as a fellow artistic director, so when he emailed me over a year ago to say 'There's this play, and maybe we could do it together,' it caught my eye immediately," said Paulus.
Paulus and Bundy collaborated early on key decisions. Working closely with Adjmi and director Rebecca Taichman, they helped to cast actors and select members of the production and creative teams, establish a time frame for the work, and create a shared budget. As the show evolved, weekly telephone conference calls, often with upwards of 30 participants from the theaters, became the norm. In July, the two collaborative teams, a group of more than 100 people, gathered in the Loeb's lobby for a "meet and greet."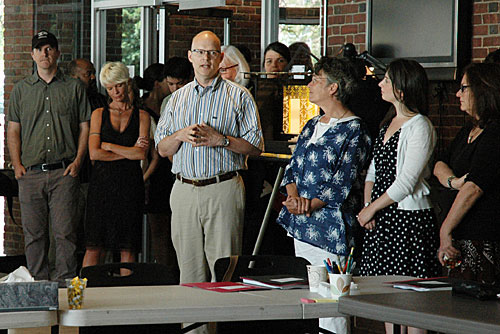 "To see Diane lead that room was absolutely thrilling because her spirit is infectious, and she's such an inclusive person," said Bundy.
The artistic directors continue to work closely on the production. "James and I will be side by side through the buildup to the opening night, being able to support the production and give notes," said Paulus. "It's just like double the firepower."
The show will open at the A.R.T. and run from Sept. 1 to 29. It will then move to Yale on Oct. 26, where it will continue to be fine-tuned. The production's fall timing is no coincidence. Paulus and Bundy were each keen to release the production in the run-up to November's presidential election.
"We were very eager to stage it in a political season and to examine how cultures both create and drag down the demons that they imagine exist," said Bundy.
Paulus called Adjmi a "writer of great imagination," who "has this incredible way to point at the world that we live in today."